"At that moment, everyone's the same; Ed is one of the crowd and no different. That's important; it's important to feel accepted for who he is." Liz Osborne, Ed's Mum.
One year ago on 13 March 2020, football was suspended with the Premier League releasing the following statement:
"Following a meeting of Shareholders today, it was unanimously decided to suspend the Premier League with the intention of returning on April 4th, subject to medical advice and conditions at the time."
Football did not return on 4 April. 100 days passed before we saw another ball kicked. When football did eventually get back underway on 17 June with Aston Villa hosting Sheffield United, it came at a cost – to the fans.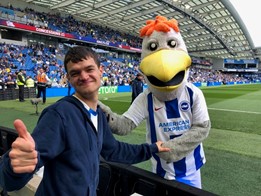 Today marks 365 days (and counting) since supporters have been able to watch a live game of football, unrestricted.
365 days since we have been able to meet up with friends and family in a foreign town or city for a European away day.
365 days since we have been able to interact with that one season ticket holder who's never satisfied, and find yourself asking, "Do I even like football"?
In Ed's case, it's been 365 days since he's been able to sing, arms aloft, "Glory Glory Brighton & Hove Albion" in the North Stand.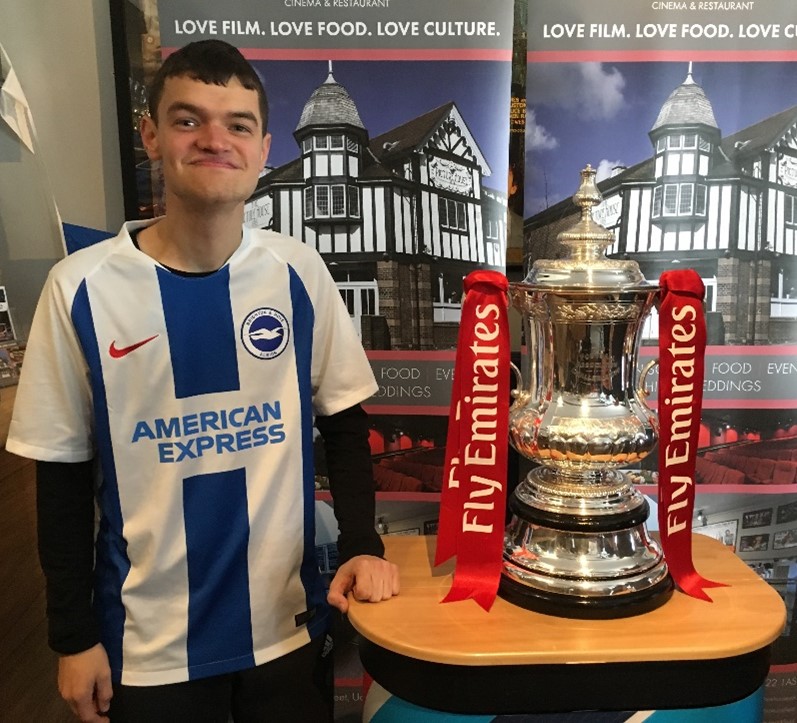 As he's sat at the kitchen table, Brighton coffee mug in hand, alongside his mum Liz, who is interpreting, and dad Andrew, he says:  "I miss going to the Amex with my friends and having a beer and a pie at half time; I miss shouting at the opposition goalkeeper, I'm missing watching the game… football is my life."
Ed is no 'fair weather fan'. He's been attending live football since he was a child. He's seen the highs and lows as an Albion supporter, as Andrew explains: "It was Ed who got me into football. I did not follow a team, but when Ed was about 9 or 10 we went to watch a game at the Withdean Stadium because we had a friend who was a season ticket holder and they couldn't attend, so they offered up their ticket, so me, Ed and his brother went along and it was really enjoyable.
Seeing the pleasure Ed got from watching Brighton also made me a football fan. So if it wasn't for Ed's passion for football, I wouldn't have got this now childish supporting attitude, where you become wholly focused on Brighton.
Going to watch football together has indirectly brought about great father-son time. Time we might not have had this time together if we weren't going to watch football."
Ed's Mum Liz, adds.  "I think football, in general, has brought us all closer together.
In lockdown, we are all living here together. Nothing is happening. You have nothing to talk about. You don't want to talk about the coronavirus anymore, but football has always been there each week; we have something new to talk about and Ed is leading that conversation though his passion for the sport."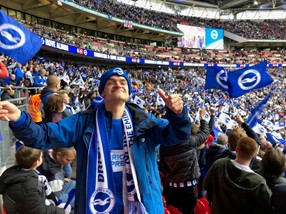 As human beings, we are in constant search of something to identify with. This is one of the reasons why we as sports fans, spend a significant amount of time going to watch our favourite teams play — the feeling of connecting with thousand's of other fans, striking up a connection with the person seated next to you, or in Andrew's case, high fiving everyone in an arms shot!
Social distancing wouldn't be ideal for Ed. Liz agrees and stresses that this is one of the reasons why Ed didn't attend a pilot home match when limited numbers of fans temporarily returned to the Amex stadium towards the end of the year.
"I think it would have been stressful for Ed to go to a game with social distance restrictions in place, not being able to embrace everyone and anyone around him when Brighton score", Liz explains.
Ed has Tourette's Syndrome, a condition that can cause a person to make involuntary sounds and movements. Ed also has a rare genetic condition called 'Joubert Syndrome', which affects Ed's balance and coordination and also means that he has a profound speech impairment and some learning difficulties. He uses sign language to communicate, although he is not deaf.
Just like every football fan, Ed is craving a sense of normality and has been trying to figure out ways of bringing this back to his matchday experience by watching Brighton matches with one of his Personal Assistants (P.A.'s), Emma.
Ed explains: "We try and watch the game together via zoom using 'screen share'.
We get the beers in and try and get that match feeling, but sadly, Sky Sports does not allow you to screen share. You can do it on Prime Video, BT Sport and BBC but sadly, most Brighton games are on Sky, which is very frustrating."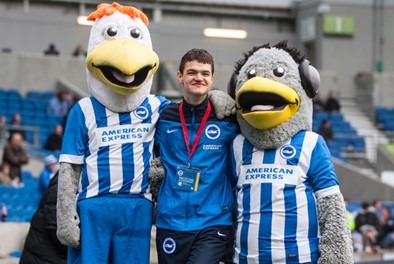 That frustrating feeling of being away from the stadium is a familiar one amongst many supporters across the country. The sense of 'belonging' is one that's missed the most by disabled supporters.
"One of the most important parts of Ed's life is his connection with the local community", Liz says. "Being part of Brighton's fanbase enhances that. He goes down to the local pubs in our village after the game and talks to his friends about football.
Football gives Ed a common link with people. When I have been to match with Ed and seen him there amongst the other fans, shouting at the referee in the 'North Stand' and calling for a penalty, he is just the same as everyone else. At that moment, everyone is the same; Ed is one of the crowd and no different to anyone else. That's important; it's important to feel accepted for who he is."
Andrew commented on our ongoing Weeks of Action campaign: "Weeks Of Action is important for all the things we just discussed. Ed meets up with his friends and you can see the joy the games give him; why would we not want to celebrate that? Every disabled supporter should have that opportunity to enjoy the game as much as Ed does."
As our chat with the Osbourne family draws to a close, Ed reminisces about a Brighton game against Nottingham Forest in 2016, the year Brighton gained promotion to the Premier League, and Liam reveals he was also in attendance. With a smile on his face, Ed apologies for any bad language he might have directed in Liam's direction.