On May 4th 1991, Wimbledon played its last ever game at its spiritual home Plough Lane, before starting what was meant to be a short-term ground share with the team they coincidentally played against in a 3–0 loss, Crystal Palace. At the final whistle, 10,000 supporters swarmed onto the pitch to bid farewell to a ground they have called home since 1912.
Little did those pitch invaders know how much the football would change for them!
Wimbledon would never have a place they would come home to again, spending the rest of their days playing at Crystal Palace's home Selhurst Park, before being controversially relocated to Milton Keynes and re-named Milton Keynes Dons in 2004.
Wimbledon FC was gone… long live AFC Wimbledon!
AFC Wimbledon was founded in 2002 by supporters of Wimbledon FC who were very strongly opposed to moving the club 60 miles north. AFC Wimbledon started in the Combined Counties League, in the ninth tier of English football. In a period over 18 years, AFC Wimbledon has risen from the ninth tier of football to the 3rd, EFL League One.
However, the crowning of the club journey peaked on November 3rd, sadly without the fans that had supported them through thick and thin to get there, AFC Wimbledon was finally home, back at Plough Lane. Just 200 yards from its original site, one supporter with his camera in hand has witnessed the stadium transform from a dirty, derelict site, to home.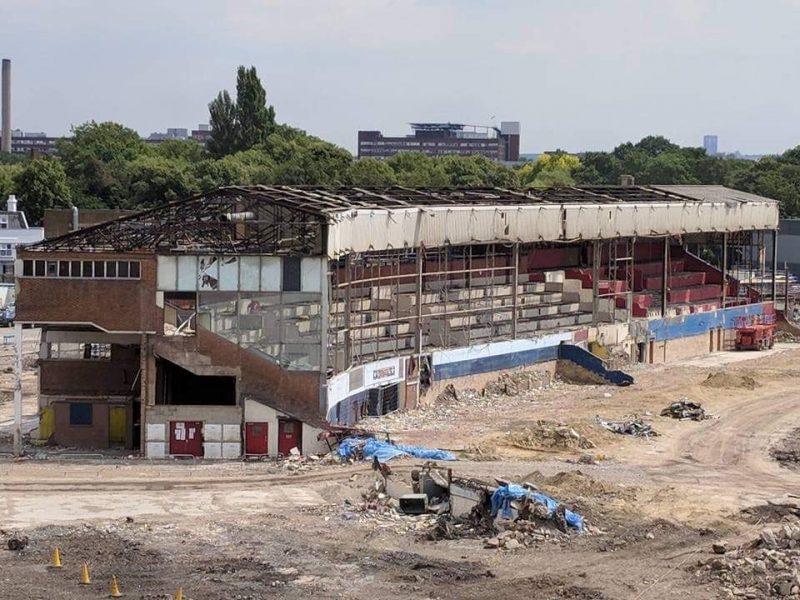 Kirk Pritchard has autism and at the age of 13, he discovered a new love… AFC Wimbledon.
"I was introduced to the club by a friend. My first experience was how different it was to watch a team play in front of you, rather than on the television. I found myself more engaged with the match and the atmosphere." 
Kirk went from just being a fan with a passion for the club to becoming the club's official 'build' photographer and 'honorary' board member!
Fans Liaison Officer Liam spoke to Kirk via social media the day before AFC Wimbledon would take to the pitch of their new home and talk about autism, photography and seeing his club finely home.
Liam: Kirk, what's your earliest matchday experience?
Kirk: I am an autistic fan, I remember finding the travelling daunting and I was nervous about the number of people at the stadium. I also worried about navigating the stadium, but having a friend beside me helped me ease my nerves. After attending several matches, I got more used to the environment and the crowds.
Liam: You mention your autism, how does this affect your matchday experience and in your opinion, what is the public's biggest misconception regarding autism?
Kirk: Part of my condition means that I do not always speak clearly, and I have some involuntary jerky body movements which happen when I am excited or nervous. People stare at me and make me aware of my differences. People do not seem to understand that I am just like them, with the same passion for football. I think people should be more accepting of others, not only autism, but anything. We are all different.
Liam: As I prepare these questions, tomorrow AFC Wimbledon will be taking to the pitch in their new stadium for the first time. A Stadium you have seen grow from the ground up because you are the club's official 'build' photographer. How did this role come about?
Kirk: In 2016 AFC Wimbledon won the bid to demolish the old greyhound track at Wimbledon and to redevelop both the new stadium and the surrounding housing. This was one of the best days of my life when I realised it meant AFC Wimbledon would be coming back to Plough Lane. So being the passionate fan that I am, I began to visit the building site weekly (where possible) and take photos of the demolition with my mobile phone, I would then go home and upload all my pictures onto social media for the other AFC fans to see, and I soon got a good following. Then in 2018, with a real camera which my grandad bought me for my birthday, I was taking my usual photos but had accidentally wandered onto part of the building site where I wasn't supposed to be. Following an incident with a building contractor, I was told to leave the ground and not come back. I went home and posted on social media about the incident and said I had been banned from going back, and I was sorry that I wouldn't be taking more photos. To my surprise, there was an uproar from the AFC Wimbledon fans. This got the attention from the Dons Trust and long story short, they contacted the builders and advised I could have access to the site, and I was now the official build photographer for the club. So, I still take my photos and post weekly. I cannot describe how lucky and how fortunate I feel to have been able to take my photos and with the club hosting its first home game since 1991 this Tuesday, it will be so emotional.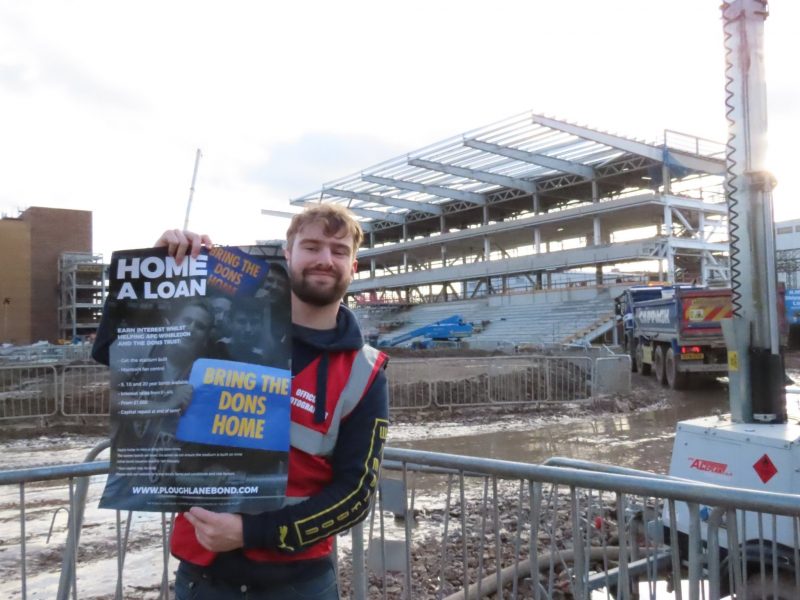 Liam: What has been your favourite photo and why during the build phase?
Kirk: My most favourite photo is one that was published by a local newspaper, which features the main stand and the pitch. I love this picture as it shows the completion – something that we AFC fans have been waiting for- for nearly 30 years – it's an incredible sight.
Liam: Have you taken photos on match days? What the most memorable sporting photo you have taken?
Kirk: I have not taken any pictures of AFC playing as I haven't had the opportunity, you can't take good pictures from one spot in the stands, but I would love the chance. I do take match pictures for my local grassroots club – Glebe FC and they are published in their weekly programme. The photo's I like best are when I capture a goal, as it's difficult to get the timing right.
Liam: What's your favourite part of the new stadium?
Kirk: The best part of the new stadium is the main stand with yellow and blue seating. It looks absolutely fantastic.
Liam: How has being unable to watch AFC Wimbledon live been for you?
Kirk: It is frustrating not to be able to attend matches. I am gutted for the players and fans as we can't take part in this epic return to Plough Lane. I know if the fans were there, the atmosphere would be emotional and totally indescribable. Not being able to see AFC play live and to support our team on site is depressing and frustrating.
Liam: What will the new stadium give AFC Wimbledon and its fans in the future?
Kirk: The new stadium is "home" and will attract more fans. I hope to see the club expand within the community, hopefully, offer job opportunities. I have spent time speaking with the Dons Trust regarding making the stadium more inclusive to all and look forward to people with special needs/disabilities being able to attend match days more easily than they might have been able to do previously.
Liam: How important is it for clubs like AFC Wimbledon to provide a fully accessible stadium for disabled supporters?
Kirk: Inclusion and diversity are hot topics at the moment, and it is so vital that all clubs, professional and non-league should be able to include everyone, regardless of disability, race or gender. Everyone is entitled to a safe environment to enjoy the game, and it's essential that everyone feels welcome and comfortable, and they are not discriminated against.
Liam: If you could be "King of football" for a day, what one change would you make to football, so it's more autism-friendly for autistic supporters when we eventually return to live sport.
Kirk: If I could make one change to ensure football is inclusive, not just for autistic people, but for all. I would ask all clubs to supply a family stand or area, which is accessible to those who have more diverse needs, perhaps with a room, where those who are unable to cope with loud noises or large crowds can retreat. It would be fantastic if the FA would fund a special needs coordinator to work with clubs, so they understand what issues need to be addressed. I am incredibly passionate about inclusion, and with the help of my friend Grace McMillan (owner of Glebe FC), Anwar Uddin, a former professional player who now works with Kick it Out, Dr Behbinn Hoyne. a child physiologist and my mum have started a group called #AFCAutism to tackle these issues at the grass-root level.