'Arsenal For Everyone – Embracing Diversity & Equality' is a new book written by Arsenal fan Dave Seager that examines the incredible Arsenal disabled community of fans and the inclusivity and accessibility of the north London club.
It is set to be released tomorrow (27 November) when Arsenal host Newcastle United at the Emirates Stadium.
The book includes 16 chapters of fan stories, as well as two chapters of club officials.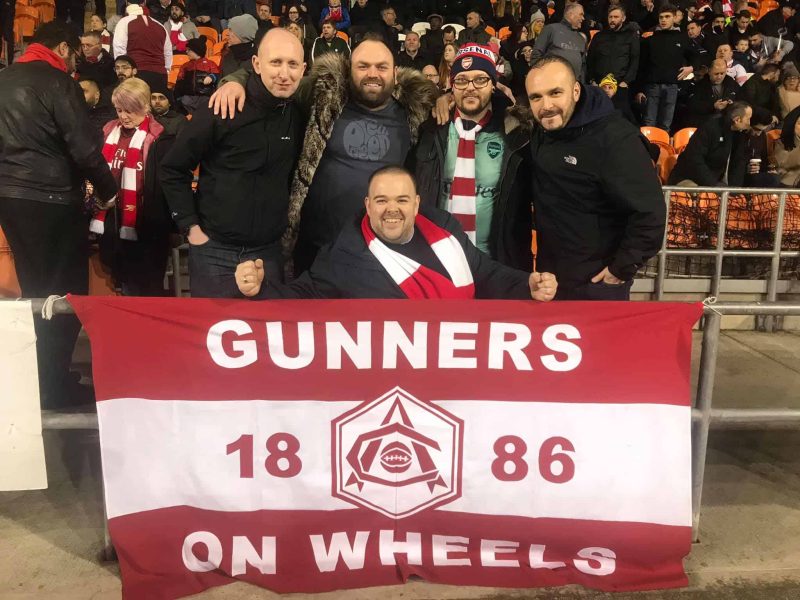 From every sale, £1 will be donated to 'Panathlon Challenge', a charity that gives thousands of young people with disabilities and special needs every year the opportunity to take part in competitive sport.
This is Dave's fourth Arsenal book, but the first since the loss of his son and his Arsenal soul mate. The book's journey began, in part, as therapy, but became so much more. Having found his own relationship with football and Arsenal had dramatically altered, Seager wanted to explore and highlight the stories of fellow fans who, through no fault of their own, had their support for their team framed differently.
The result is a fabulous, moving, revealing, amusing, and rewarding book – made so by the stories of the disabled Arsenal fans that he interviewed. The heroes of the book, including an ex Paralympic athlete, a well-known TV sports journalist and a Member of the British Empire, perhaps cannot see their team play beautiful football, hear the crowd roar, or jump for joy when Arsenal score, but their passion and commitment to following their team is no less than that of the able-bodied fan who takes these things for granted. We know you will love this book and be inspired by the stories you read.
Author of the book and Arsenal fan Dave Seager, said: "I hope this book will be a voyage of discovery and enlightenment for able-bodied football fans who take how they support their team for granted.
"Reading the inspirational and amazing stories of their peers with wide and varied disabilities and conditions will be a humbling experience, as it was for me on my interviewing and writing journey.
"The Arsenal fans will be proud to learn just how much work their club does in this arena, striving for a day when Arsenal really is for everyone."
Disability Access officer at Arsenal Alun Francis said: "I am very proud of the work the club has done and will continue to do to make Emirates Stadium an accessible and inclusive place for all our disabled supporters.
"As a disabled person and an Arsenal Football Club employee, I was delighted to be involved in this amazing book, that truly reflects that Arsenal for Everyone is so much more than just a soundbite."
The official launch of the book will take place in the Arsenal club shop, 'The Armoury', after the Newcastle United home fixture on 27 November.
Dave will also be hosting a book signing at The Tollington Pub on the day Arsenal play Southampton at the Emirates Stadium on 11 December.
Click here to find out more about the book.
You can find Dave on Twitter at @goonerdave66