According to Wrexham DSA the commentary will be provided by three trained audio describers. Nine receivers are available, and will be free to use but need to be booked in advance by contacting the DSA. This is a good opportunity for young and old alike with sight loss who have never been to a match to give it a try – and for existing supporters to continue their attendance. If you would like to attend a match, please contact Wrexham DSA on wxmdsa@gmail.com or Steve Gilbert on 076961 44 55 45 in advance to confirm the arrangements.
Steve Gilbert, Co-chair of Wrexham DSA said "Wrexham AFC Disabled Supporters Association are delighted that over 3 years of work have finally come to fruition as we launch Audio Description Commentary at Wrexham AFC. We are indebted to our sponsors North Wales Masons and The Maesgwyn Hall, who were key to moving the project forward – as was our DLO Kerry Evans.
Since its launch we have been able to offer the service to one fan who has been watching since the 1940's, to return to the club he loves, as well as an 8-year-old girl having her match day experience beautifully enhanced. We have also today heard of a fan who is now going to bring his nephew along, who has been blind from birth. New fans coming and old fans returning.
We are proud to deliver another project based on accessibility and inclusion and that we have managed to place a £4000 project with the club and that it includes four years of management and maintenance at no cost to them. We are also extremely grateful to Alan March Sports Ltd for their patience and world class training and look forward to a long and happy working relationship with them."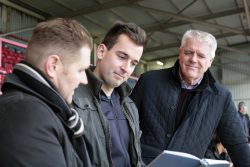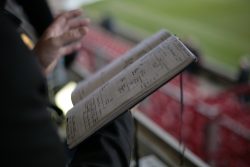 Ruth Hopkins, General Manager for Level Playing Field said "We are so pleased to hear about this addition to Wrexham AFC's provision for disabled fans and applaud the hard work that the DSA have been putting in to get this in place."
You can find out more about Wrexham DSA on their Facebook page here and their Twitter feed here.
You can read the BBC's News story on this subject here.
With thanks to BBC Wales for the images used in this story.