Level Playing Field's new website looks fantastic (If we don't mind saying so ourselves). But what information can you find if you are a member of an already established DSA or a supporter looking to set up a new DSA at their football club or maybe you are searching around the website to see if your club already has a DSA?
The new website has you covered!
Let's say you are already a member of a DSA or looking for more information on what a DSA does? On the new website go to the home page, there you will find a tab named 'Support and Information'. If you hover over this tab, this will bring up a page with multiple options like the one in the image below.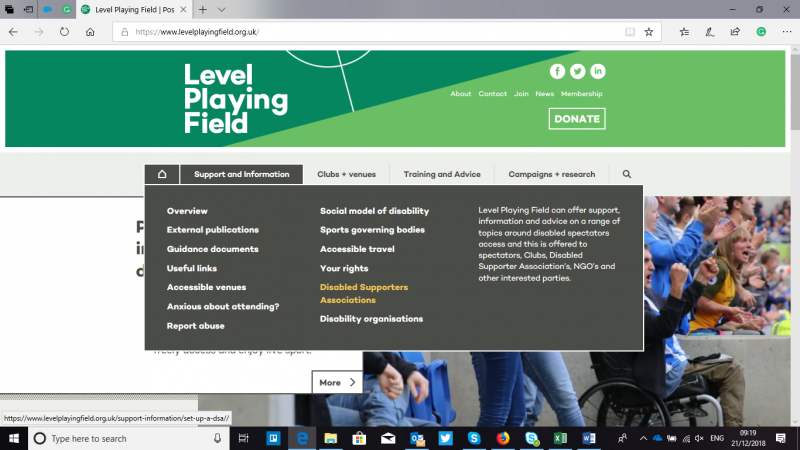 Click on 'Disabled Supporters Associations', this will take you to a brand new DSA Page!
On this page you can find information on what a DSA is and how we at Level Playing Field can actively support the creation of a new DSA and continue to offer advice and guidance to establish DSAs alongside examples of DSAs at "bigger" and "smaller" clubs and, of course, contact information for LPF's Fans Liaison Officer.
You will also find a sidebar that offers advice on 'Reporting Abuse' and understanding 'Your Rights' as a disabled supporter, to name a few.
If you are a disabled supporter looking for more information for an away day or a member of a DSA looking to see which other DSAs are in your area to build communications, go back to the home page click on the Clubs + Venues tab and find your relevant sport.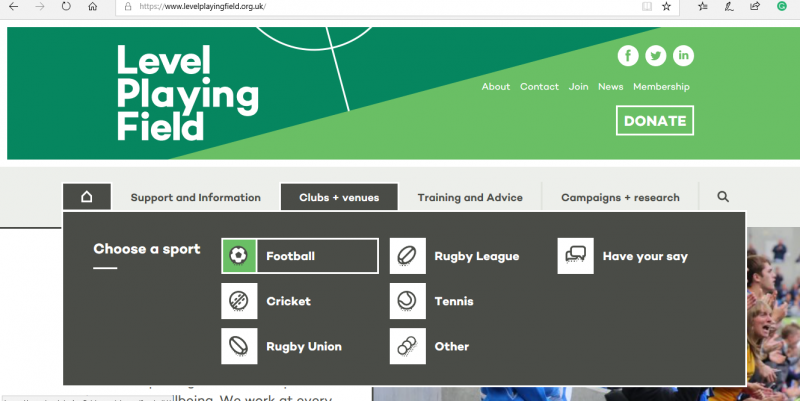 You will find information on all 72 national football league clubs as well as non-league clubs, and we will be working with Rugby and Cricket clubs to provide similar, relevant and up to date information on their accessible features as we do with football.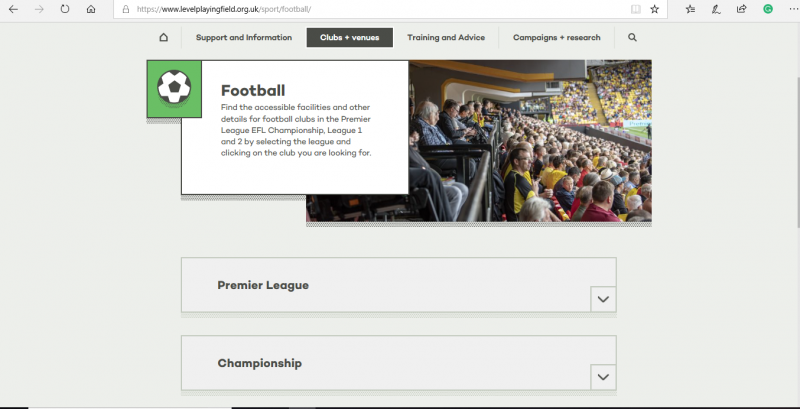 We at Level Playing Field want to amplify the efforts that the Disabled Supporters Associations (DSAs) put in, in an attempt to make the game more accessible to everyone. The new website will go a long way in doing this by making sure that the DSAs have a way of encouraging more disabled supporters to take part in live sport.
The website will be constantly improving and updating. If you have any suggestions on how you think we should be doing this then please email us at : info@levelplayingfield.org.uk