"This is everything! For all Birmingham City fans this game means everything and why should a person miss out on this game just because they are disabled" – Steve Portman Chair of AccessiBlues DSA.
It's match day, but it's no ordinary match day. Today is the day that every Birmingham City and Aston Villa fan waits all year for.
It's the first fixture that they check for when the fixture list comes out in June.
Weddings are cancelled, all social events are irrelevant because, on derby day, nothing else matters.
Today will be the 127th meeting between the two clubs and the atmosphere around St. Andrews is building, but in a small school car park behind the Gil Merrick Stand, Joanne McKibbens (Chair of AVDSA) and Steve Portman (AccessiBlues DSA) are dressed in their respected club colours discussing the game ahead.
"Games against Birmingham ties me in knots, I always feel sick pre-game. It's just nerves and excitement… We have to win " – Joanne.
Joanne and Steve have put their fierce rivalry to one side because they have an even bigger common goal than just their respective teams getting one over each other.
They are meeting up in aid of Level Playing Field's 'Weeks Of Action' to show that by building unity off the pitch they can achieve much more than the players on it.
"It doesn't matter what your colours are, at the end of the day we are here to speak up for our disabled supporters and no matter if you are a blue or a villa fan, we all just want to enjoy the game we love without boundaries or obstacles" – Joanne.
A view that Steve echoes.
" Poor access doesn't care what team you support. Bad access is just lousy access. By working together, we can bring about consistency at our clubs, and by talking with one another, we can share ideas and get things done. "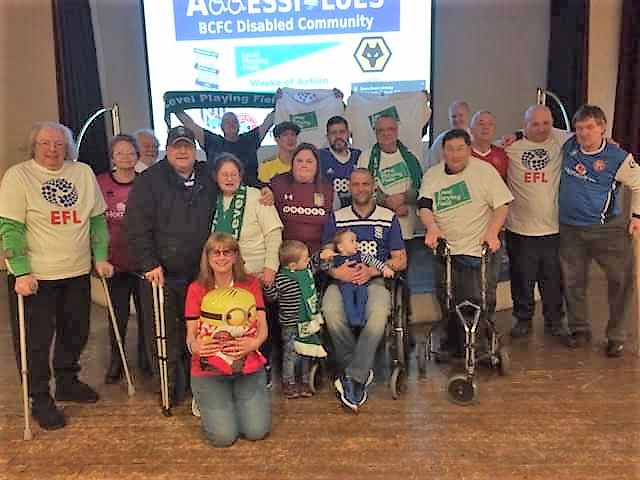 The two DSAs have already seen the positives of taking the 'friendly rivalry with no barriers' approach to the broader DSA community.  Only a few days before the second city derby, The AccessiBlues DSA had arranged for several DSAs and the local community in the region to come along to a Coffee Morning where fans (disabled and non-disabled) can pop along for a coffee and cake and talk about how to create a practical better match day experience.
"We know it's working, for a few years now I have been working to make sure that people who might have issues attending a game have a carer, who can assist them to a game when they might otherwise have just sat in their house. From that the Baggies (West Bromwich Albion) now have their 'Baggie Buddies' campaign. By meeting up and just talking and then going back to our respective clubs, we can inspire each other to do more" – Steve
Research by the UK disability charity 'Sense' found that 23% of disabled people feel lonely most days, rising to 38% for young disabled people. And this feeling of isolation is something that Joanne has experienced firsthand.
"I had a stroke a while back, and I didn't come out the house for over 3 years. It was only because of the Villa that I actually started to come back out into the world myself."
With only 50 % of disabled people having attended a live event in the UK.  AVDSA and AccessiBlues have shown that by putting aside their club rivalries, DSAs can play an active and vital role in helping their fellow disabled supporters have a better match day experience and help improve the perception that no matter your disability, you too can enjoy that derby day feeling.
If you would like to know more about AccessiBlues DSA, please click this link
For information on AVDSA, please click this link.
To see if your club has a DSA or want to know more about the Weeks Of Action campaign then head to the Level Playing Field Website for more information or email liam@levelplayingfield.org.uk