"It's immensely important that everyone, regardless of their disability, has access to a quality experience. I understand that some people may like the commentary from radio or TV pundits which is fine, still after listening to our commentators, I have been converted to listening to this way. They cover every aspect of the ball and matchday experience in general" – Laura Wright Wolverhampton Wanders DAO.
It's football, but not as we know it!
Gone are the long queues for the toilet and paying £5 for a questionable burger and it's hello to the fake crowd noises and hearing mangers and players swear like sailors!
We now live in a new footballing world where Premier League and Championship football is being played behind closed doors. Every game can be enjoyed from the comfort of your home, on TV, Radio or streaming online.
If you're a Blind or partially-sighted football supporter, the game being played behind closed doors on TV, streaming or radio could still mean no football at all! 
Some Blind or partially sighted supporters rely on ADC (Audio Descriptive Commentary) as part of their matchday experience.
ADC is a matchday commentary service that is entirely focused on explaining what's happening on the pitch. From body language, player expressions and movement to what's taking place on the bench. This kind of descriptive commentary paints a much clearer picture of what's on the pitch, unlike commercial radio and TV when sometimes the commentators will be talking about themselves, have "banter" or promoting what's up next on the channel, while missing out what's happening in the game.
Brian Clough once said, "it only takes a second to score a goal", and that's why ADC can be so valuable to the match day experience of Blind or partially-sighted supporters.
There are approximately 350,000 people who are registered as blind or partially-sighted in the UK. Many of these people will be football fans missing out on the return of sport because of the lack of ADC provision.
"I decided to offer the audio descriptive commentary after the footballing broadcasters stated that they would be offering the games free of charge to season ticket holders. I knew that some visually impaired supporters would miss out if we didn't provide something."
Wolverhampton Wanderers DAO (Disability Access Officer) Laura Wright, took it upon herself to make sure that all her supporters would not miss a moment of Wolves' potentially historic end to the season.
"We have five regular users of ACD at Wolves' home games, plus any away supporters.
By working with Alan March Sports, who provide our matchday commentary, we came up with an idea using Zoom – a video conference software. 
I invited people to join us, making sure it was invite-only to keep everything secure, and with permission passed email addresses onto Alan March Sport.
The team then create a Zoom call 30 minutes before kick-off and hey presto, we have ADC commentary!"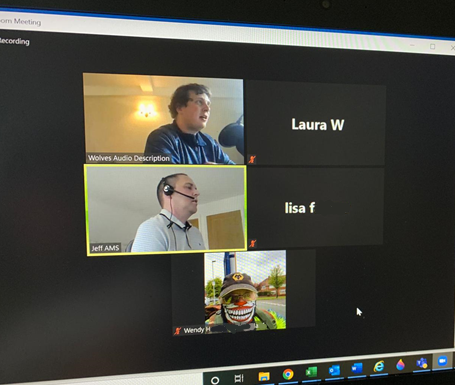 Wendy is one of the Wolves supporters who uses the service.
"Going to 'watch' Wolves was my guilty pleasure. It was my escape from my role of carer for my partner who is physically disabled with dementia. So when football was suspended, I did miss going very much.
Since the restart, Wolves have, in my opinion, gone above and beyond in providing supporters access to online matches, as I would have been disappointed if nothing had been provided.
Laura texts me to remind me to log in to Zoom. I had no idea what Zoom was, so they supported me in setting up the Zoom channel and the audio description has been great, but I can't wait to get back to a live game again with my guide dog Barley". 
With the suspension of live sport, it has undoubtedly had an impact on disabled supporters' mental wellbeing, as seen in the Level Playing Field Covid-19 Fan Survey. Laura understood the value of making sure Wolves games were available to all.
ADC will be available for the remainder of Wolves' season – home, away and cup games.
If you support a team that will be playing against Wolves this season, Laura invites you to make use of the ADC commentary provided by herself/the club and Alan March Sport.
Email: LauraWright@wolves.co.uk for more details.