Johnny Haynes aka "the Maestro",  looks over a stall outside Craven Cottage, as a couple of Fulham DSA members battle the elements, spending their match day educating the Fulham faithful.
The Level Playing Field t-shirts might be wet, but the DSAs spirits are high!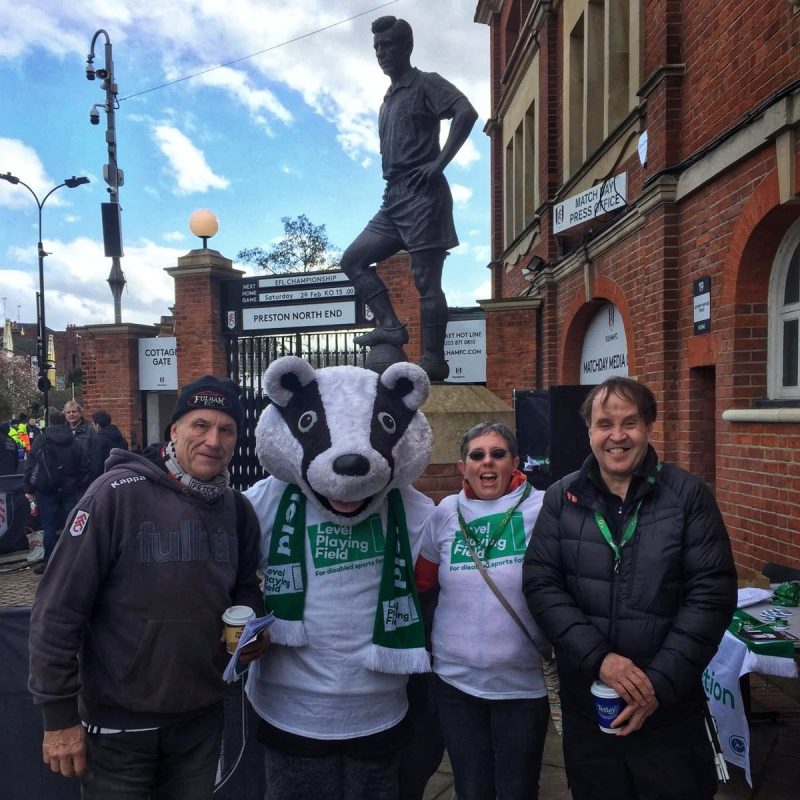 Disabled Supporters Association
"So what's this all about then?" asks one inquisitive Fulham fan.
Chair of Fulham DSA Mark Davies, who was running the stall on the day, responds:
"We are the Fulham Disabled Supporters Association, we are an independent supporters club that work with the club to bring about better access and all-round match day experience for all disabled supporters."
"Well you're the man I want to talk to then" replied the Fulham fan.
With that, Mark and the supporter start talking about the supporter's match day experience and Mark began explaining how the DSA can be of assistance to him.
Later on, Mark spoke about the importantance of making a big deal about the DSA:
"Being visible is vital for people to know who we are. Social media is great, but when supporters see boots on the ground, it makes a huge impact – it's great to talk to a few new and regular faces.
"Level Playing Field's Weeks Of Action is all about that, visibility. We're disabled and we're here to enjoy watching Fulham play football."
How the Club celebrated
It's not only the DSA who have got behind this years Weeks Of Action, the club have put the annual campaign front and centre of their crucial game against Preston North End.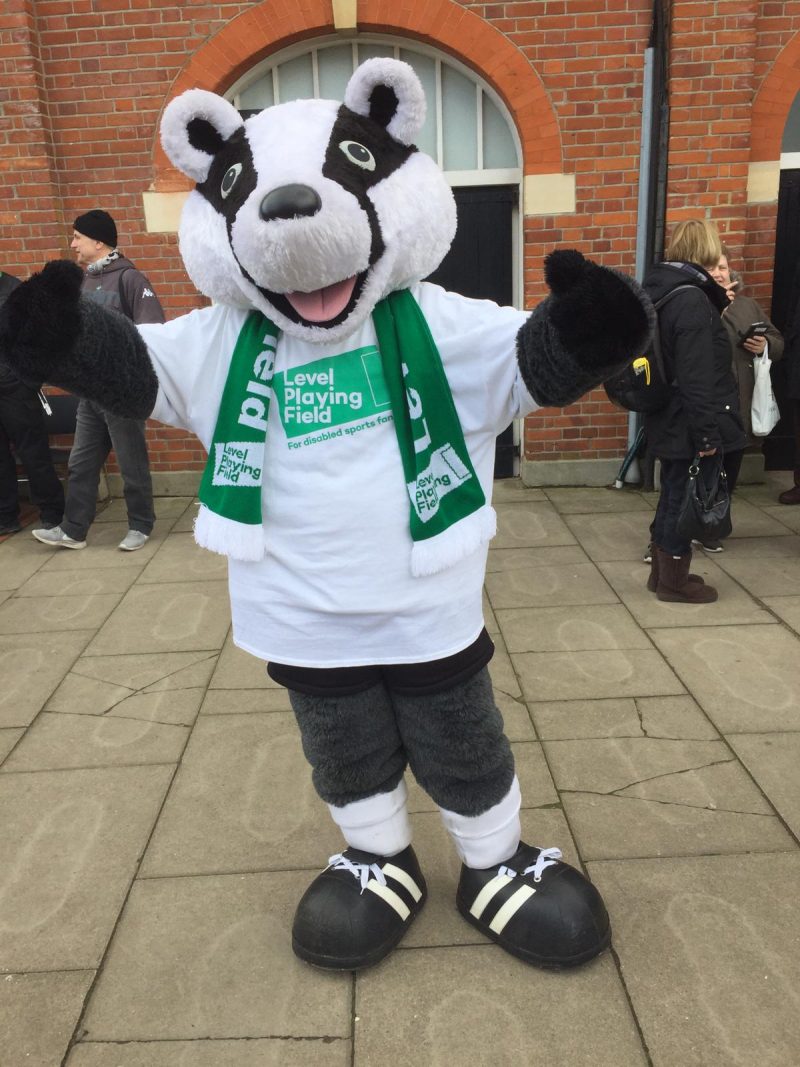 Nicola Walworth, Fulham FC Supporter Relations Manager and Disability Liaison Officer, commented on Weeks of Action:
"We at the club are delighted to support Level Playing Field's weeks of action at today's game against Preston. We have a great understanding and collaborative relationship with our Disabled Supporters Association and Level Playing Field's guidance has been instrumental in this. 
"We are sure this campaign will showcase what fantastic work they do."
Former Fulham, Chelsea, Newcastle and West Ham midfielder, now in the dugout at Craven Cottage, gave Level Playing Field a nod in his match day programme notes:
'Today's fixture is our designated Level Playing Field's Weeks of Action game. The mascots leading the teams out this afternoon represent either our Disabled Supporters Association or participate in the FFC Foundation's disability programmes. We're proud of the Club's and Foundation's work in promoting accessibility and inclusivity for all.'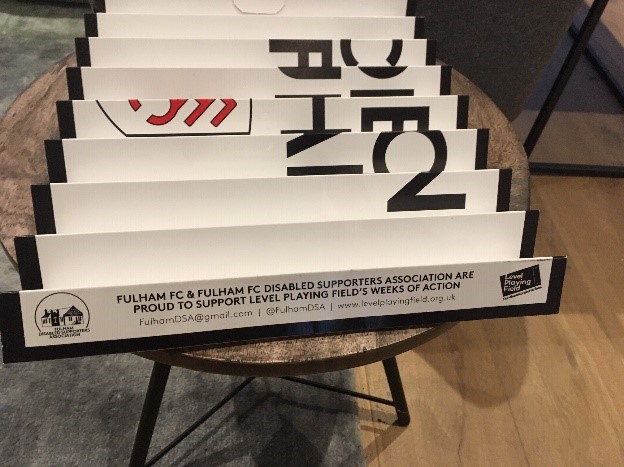 Fulham also took the opportunity to launch their new sensory packs that came about through working with the DSA.
You can read more about the sensory packs here.
A special day for Ian – Q&A
It was a memorable day for DSA member Ian, as he watched his two autistic sons lead the team out.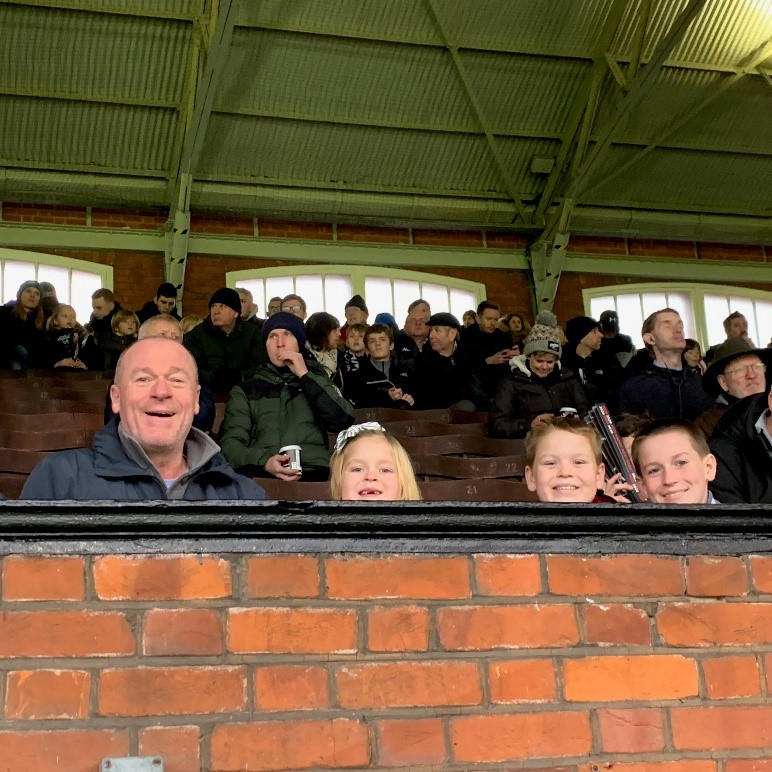 Post-match I sat down with Ian to see what that moment was like, both as a father but also as a fan.
Why did you became a member of the Disabled Supporters Association?
"Due to our sons Autism, my wife and I are disabled and carers season ticket holders at Fulham, and so consequently we were contacted by the club and informed of a meeting to discuss the formation of a DSA at Fulham just over a year ago.
"I jumped at the chance to be involved and try and see if we could help other Fulham supporters who attend games home and away."
How long have you been supporting Fulham and your favourite moment as a supporter?
"It was while moving jobs that brought Fulham and me together, I've been going to The Cottage since 2003!
"I feel that I've been really lucky in that time to have been part of some wonderful occasions with Fulham,  the comeback against Juventus springs to mind, Danny Murphy's header against Portsmouth is up there and of course the Play-Off Final in 2018, my favourite though, the 2-1 Europa League Semi-Final win against Hamburg.
"The Cottage under the lights is always special but I've never seen the place quite like it was that night, and the feeling that Fulham were in a European final was unbelievable!"
How did it feel to see your boys lead out the team for this year's Weeks of Action game?
"It was wonderful and made my wife and I both incredibly proud.
"Like all parents of children with disabilities, we see what they have to go through every day and how hard they work just to cope with the stuff those around the boys find easy and take for granted, so to see them so relaxed and confident with the team on what was a huge occasion for them was really something very special."
Why are campaigns like Weeks of Action important?
"Many disabled supporters, Fulham DSA and yourselves at Level Playing Field are lucky enough to know what goes into making the matchday experience inclusive and enjoyable, but also what the issues, pitfalls, and problems that still exist.
"Weeks of Action gives us the chance to share what we have achieved, but seek the views and opinions from those who would like to know more and potentially get more involved. Having a national campaign like Weeks Of Action helps supporters who want to talk about access and inclusion to come together and shout about it."
Why is it essential for you that your club can provide a matchday experience so you and your family can watch Fulham play live?
"Having a hobby or pastime that all of the family can enjoy is so important, so if that's going to watch football, then you need to know that the club is doing everything it can to make is feel part of what's going on.
"The boys know that when they go to Fulham, it's an environment they are made to feel welcome in and their welfare is as important to the club as that of any other fan."
What do you think the biggest misconception around disability and attending live sport is or not disable fans?
"That disabled people want to be treated differently and need to have the world rotate around them.
"Disabled supporters just want to be treated with the same level of comfort and consideration that anyone else would receive, just the smallest of changes can have the biggest of impacts on many."