Huddersfield Town announced the launch of their 'Terriers Together Inclusion Room' at the John Smith's Stadium, as part of the club's Weeks of Action celebrations.
The room has been converted from two adjoining hospitality boxes and completely refitted to ensure there is an unrestricted view of the pitch from the room, offering both indoor and outdoor spaces for fans utilising the facility.
It includes a quiet space and a separate dark room with an array of sensory equipment and toys, which may be particularly beneficial to supporters and/or individuals with Autism or other sensory processing needs.
Head of Supporter Services at the club Robyn Kennerdale said: "The idea behind the Inclusion Room was to try and create a safe and controlled environment for people with a wide range of different needs to be able to enjoy a match; some who may not otherwise have been able to have this experience in another area of the Stadium.
"Our 'Terriers Together' campaign encapsulates all our equality-related work and our commitment to being an inclusive Club, and it is our hope is that the Inclusion Room can be used by people with needs relating to disability, people who have long-term or limiting health conditions, people in end-of-life care and so on.
"It has been absolutely wonderful to welcome guests into the room already and to hear the feedback from those whom it has helped."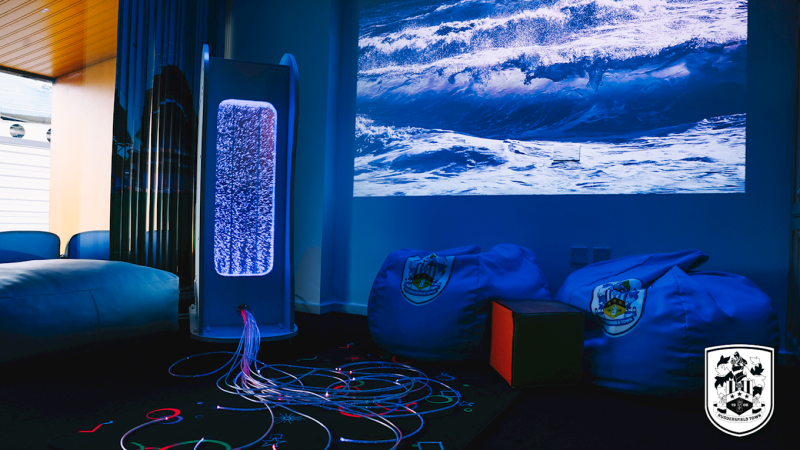 The club carried out a soft launch of the facility, inviting guests from Kirklees Council's Support for People with Autism group, members of the Foundation's Sporting Memories Reminiscence group, females from local community group Ready Steady Active, as well as three local children with additional needs, two of whom came for their first ever experience of a football match.
Some of the guests provided feedback:
Guest one: "My Grandson has already asked me when we can go to a game again! I don't think he would be able to manage a match in the general seating area, so having the opportunity to be able to move between the three different spaces really helped. Overall, it was a brilliant day and quite an experience for a young boy who has quite a lot to deal with every day, for whom this was really special."
Guest two: "My son had a great time in the Inclusion Room, it allowed him to experience something that would usually have been hard for him to access. He was able to use the rooms interchangeably and it gave him space to move. It allowed us as a family to enjoy the match day together without having to worry. This is an incredible space and I honestly can't thank Huddersfield Town enough for thinking about and developing this."