Georgia, 10, is a huge Leicester fan who has been watching the Foxes at the King Power Stadium since the age of two.
Her dad, David, has commended the club for the work they have done to accommodate Georgia and make her matchday experience as enjoyable as it could possibly be.
Georgia has Rett Syndrome, a rare genetic disorder that affects brain development and causes severe physical disability from early childhood. She is unable to walk or talk, but this doesn't stop her from following her beloved club favourite players Jamie Vardy and Jonny Evans thanks to the accessibility improvements made at the club.
David said: "I honestly don't know where to start. The staff at Leicester City have been first class with us as a family, especially Jim Donnelly (Supporter Relations & Accessibility Manager).
"They've been so accommodating of Georgia's needs and have been really welcoming to us. Jim is brilliant and is just a lovely fella. He's always there for us, even if we've got a little gripe, and will do his best to help us out.
"I couldn't ask more from the Club. We're so proud to be associated with LCFC and I know it means the world to Georgia."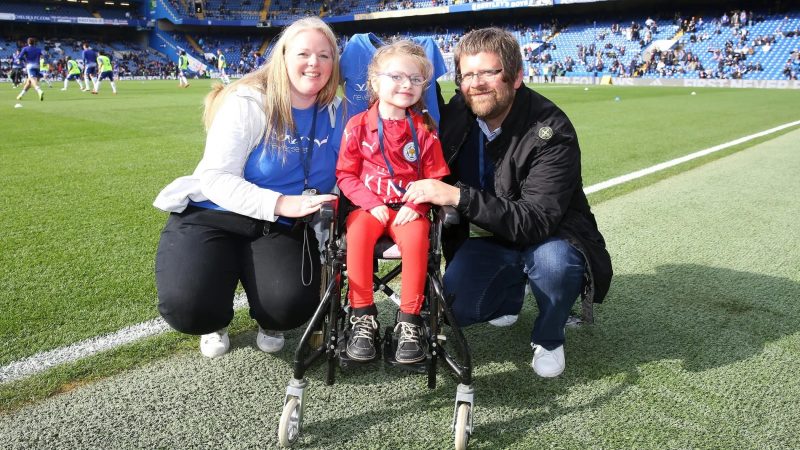 David went on to explain Georgia's condition and how Rett Syndrome has impacted the family.
"She was born in 2010 and came to her first game with me two years later. Obviously, she didn't know what was going on then as she was still a baby, but there's nothing quite like starting them young!
"Her first game was a pre-season friendly against Sunderland in 2012, and at the time me and my wife didn't know there was anything wrong with her.
"All of a sudden though we noticed a change, and at around the age of three she started to regress and lose some of the skills she'd acquired.
"We knew something wasn't right, so we ended up going through all sorts of genetic tests and it was late 2013 when we finally found out she had Rett Syndrome. It was a shock to us because we didn't know what it was.
"Her condition means she is completely reliant upon myself or my wife or a key person in school for all her daily needs. She can't talk, can't walk and can't feed herself.
"It also means she could be prone to scoliosis and breathing problems later in life, and on top of that she developed epilepsy in 2018, which has seen her spend varying lengths of time in hospital with different problems.
"Like I say, she's reliant on someone 24/7 but aside from that she's completely fully cognitive, is fully aware of what's going on and is a very kind-hearted, loving child with a cheeky sense of humour."
It's clear to David that Georgia is at her happiest when watching her beloved Leicester.
"I can honestly say every time we drive up to King Power Stadium, Georgia always has a smile on her face. She loves the atmosphere and the hustle and bustle of the people around her.
"One of the best moments for us as a family is when we're underneath the stand ready to go out to our seats and she sees the pitch, the lights and the different colours for the first time.
"Her whole face just lights up, no matter what mood she's in, and it's just a really nice feeling for me and my wife as her parents.
"She absolutely loves Leicester City, especially Jamie Vardy and Jonny Evans, and it just means everything to her to be a part of the LCFC family."
Although David is appreciative of the club's support and accessibility at the King Power Stadium to allow Georgia, and other supporters with disabilities, matchday experience to be as comfortable as possible, he does feel there are further barriers to overcome.
"One of the biggest issues we've faced, and I must stress this isn't at King Power Stadium, is when supporters decide to stand up to watch games and not sit in their seats.
"Depending on what ground we're at Georgia isn't always sat at the front near the pitch, so sometimes we could be sat in the middle of the stand.
"So, what we'd like to see is just a little bit of consideration from others as we feel that would go a long way in making the matchday experience just that little bit more enjoyable for supporters with disabilities and their families.
"I completely understand fans getting out of their seats to celebrate goals, but like I say all we ask for is some consideration.
"We've had a couple of incidents in the past where people have stood in front of us for pretty much an entire game.
"I find it strange how some people are happy enough to give up a chair for an older person on a bus or a train for example but are then okay blocking the view of a person in a wheelchair at a football stadium.
"It's just one of those bugbears that I have, but fortunately we've never experienced anything like that at King Power Stadium."
Click HERE for more information about the work Leicester City does to help supporters with disabilities.