In this review, we will take a detailed look back through  Level Playing Field's inaugural event. The National Forum was well attended by Fans, DSAs, Clubs, Governing Bodies and Organisations from all over the country. We will be highlighting key points, discussions and feedback on all topics covered throughout the day.
Owain Davies, CEO of Level Playing Field, said:
"We were delighted to welcome so many people to our first National Forum. We had attendees from all over England and Wales  including fans, club staff, governing bodies, disabled supporter associations and  more.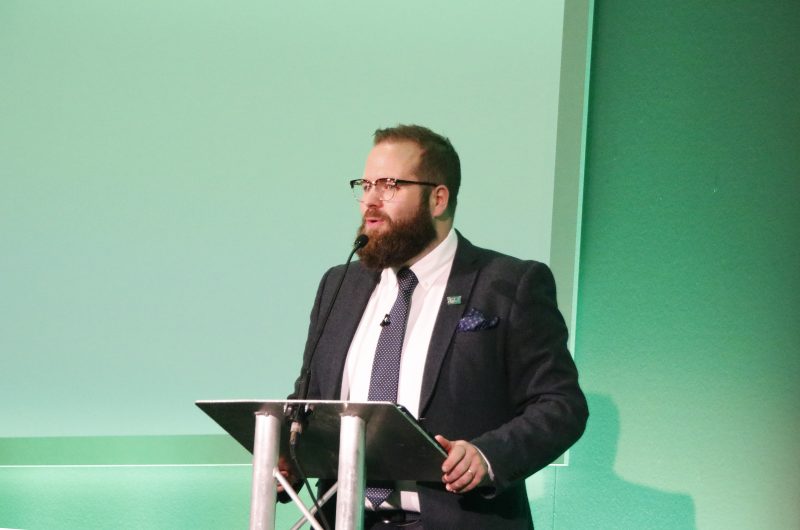 "The day provided many opportunities to discuss the barriers that prevent disabled people from either attending live sport or maximising their matchday, whilst sharing best practice that is already taking place."
Panel Q&A: How to Drive Greater Access and Inclusion
After brief introductions from Owain, Chair Tony Taylor and Vice President Lord Richard  Rosser, the forum kicked off with a Panel Q&A titled, 'How to Drive Greater Access and Inclusion'. Invited up to join Owain on stage was West Bromwich Albion Disability Access Officer, Chris Harris, joined by Rachael Lomax, Access Adviser at Everton, Michael Rice who manages Media and Communications at our sister organisation CAFÉ (Centre of Access to Football in Europe) and Level Playing Field ambassador Morgan Parry, accompanied by his father Stephen Parry, Bolton Wanderers season ticket holders.
Owain began the first segment discussing access at Everton's Goodsion Park and West Broms Hawthorne's with respective Access Officers, Rachael and Chris.
Bolton Fan's Morgan and Stephen Parry have completed the impressive task of visiting all 92 English football league grounds, as well as travelling to the Brazil World Cup in 2014, Russia World Cup last year in 2018, taking a trip to France in between for Euro 2016.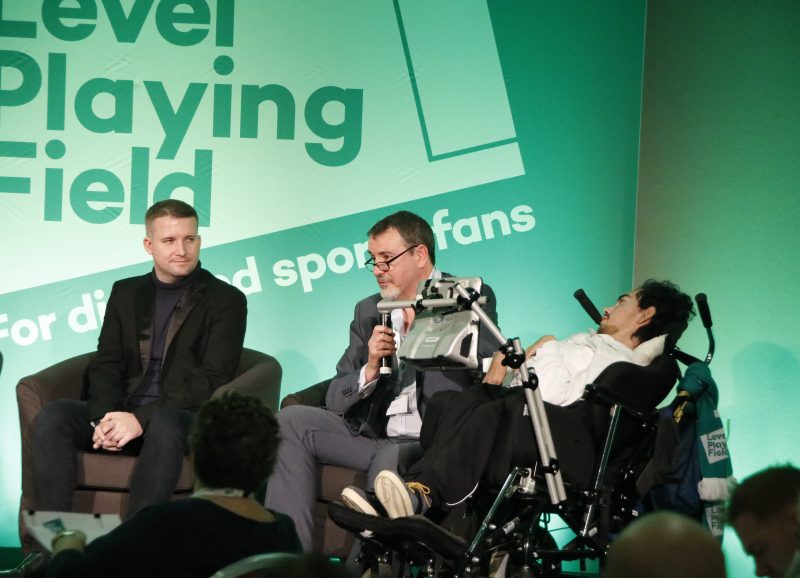 Stephen discussed some of the experiences they've had visiting so many grounds both in the United Kingdom and abroad, as a carer of his disabled son Morgan.
A vital part of Morgan's matchday experience is using a 'Changing Places' toilet. Stephen talks about how they've noticed more clubs have been introducing these facilities and that although not every club currently has them in place or can afford to have them installed, they try and do everything they can to accommodate Morgan and help him to enjoy his stay, all contributing toward his inclusive match day experience.
Michael Rice, Media and Communications Manager of CAFÉ, a Level Playing Field sister charity who campaign for total access across Europe, chipped in with some information surrounding how European clubs view Audio Descriptive Commentary (ADC) and other inclusive services such as Sensory Rooms and the improvement of Sightlines as well as welcoming fans with autism.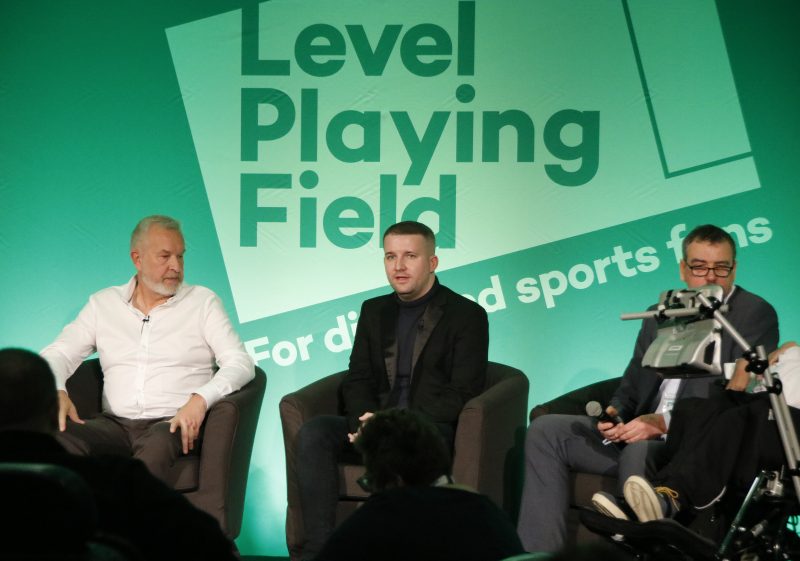 Many clubs were not aware of such facilities that could improve the match day experience for disabled fans, nor were they aware of the demand from disabled fans to come and enjoy watching live sport, and in turn their disabled following was little to none. With thanks to the work of Michael and the team at CAFE, more clubs are becoming aware of such modern apparatus.
Guest Speaker: Chris Fry (Fry Law)
Next up to the stage was the first guest speaker of the day, Chris Fry. He came along representing Fry Law – specialising in Equality Law.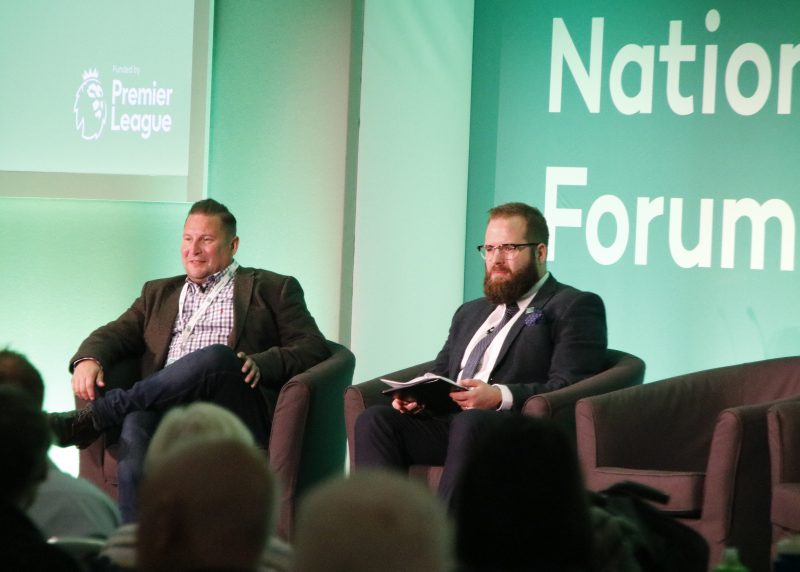 Chris began his speech talking about the legal definition of disability and the proof of disability. Throughout his speech he also touched upon the interesting facts around reasonable adjustment and the steps that should be taken by clubs to ensure Changing Places facilities are only used by disabled people.
You can read Chris' full presentation here.
Break Out sessions
Fans Liaison Officer Liam Bird and General Manager Ruth Hopkins led the breakout sessions after a break for lunch. Liam took charge of guests from Disabled Supporters Association's (DSAs) and Fan's, with Ruth leading a separate session for Clubs and Governing Bodies.
The Fans and DSA break out session focused on how to maximise their interaction with their respected clubs.  They discussed the importance of providing feedback and how this is done whilst also sharing some best practice tips for DSAs to develop.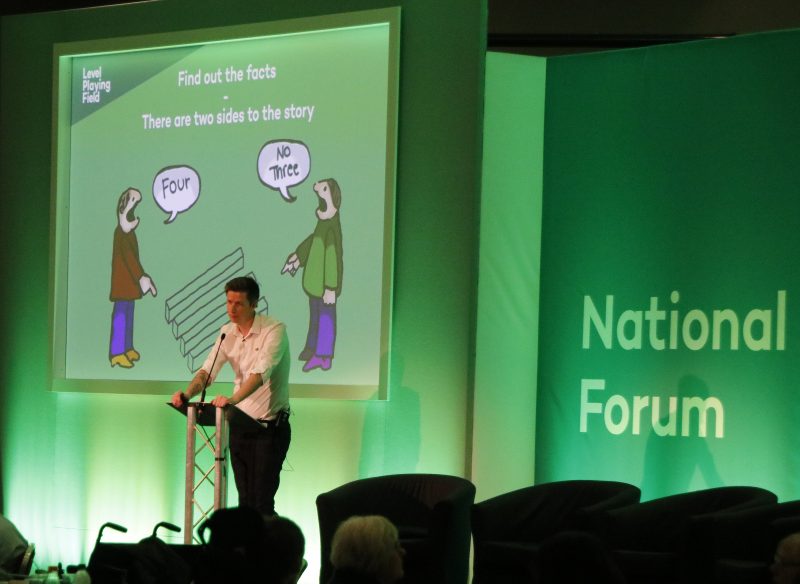 Meanwhile, Ruth was next door with Clubs and Governing Bodies, joined on stage by Level Playing Field Development Officer Daniel Townley and Fry Law's Chris Fry. This particular session focused on common scenarios that clubs face and how these were addressed. Scenarios looked at proof of disability and how clubs could maximise their access.
The Critical Friend: The DSA
Our second panel of the day included Arsenal DSA Chair Anthony Joy, Mark Davies who represented Fulham DSA, CAFE Fan Liaison and Access Officer Amy Wilson and Swansea Football Club Disability Access Officer Mark Phillips.
The purpose of this panel was to showcase what a DSA is and why Fan and DSA engagement is vital for any sporting club to bring about a better match day experience for all disabled supporters.
Subject matters such as ticketing, travel and standing were brought up as well as issues that can face DSA's moving forward as well as in the present day.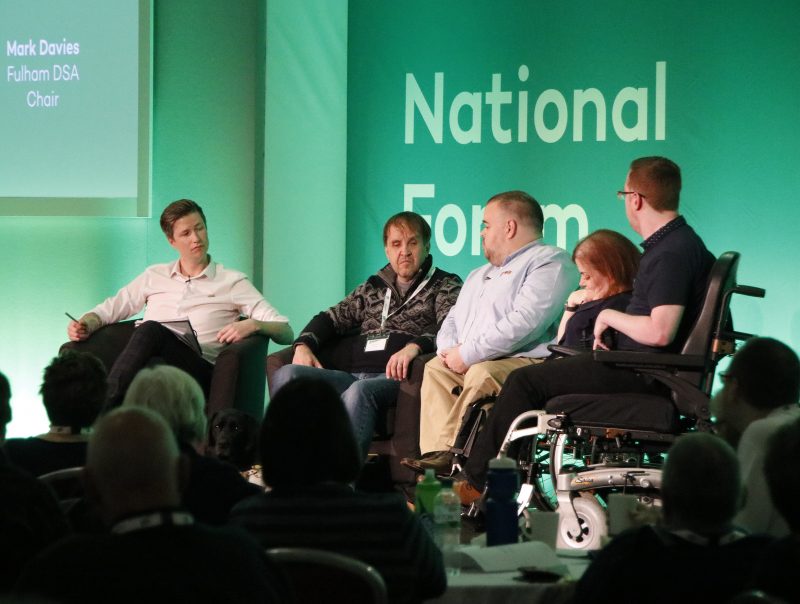 Guest Speaker: Stephen Miller MBE
Stephen Miller is a British athlete who represented Great Britain at the Paralympic Games competing in the 'Club Throw' and 'Discuss Throw'. He contended in Atalanta 1996, Sydney 2000, Athens 2004, Beijing 2008 and Rio De Janeiro 2016. He won three gold medals, one silver and two bronze during his time in the Paralympics. Stephen also competed in both the IPC Athletics World and European Championships winning a further 13 medals, seven of which were gold.
Stephen provided a powerful and inspirational talk that gave an insight of his personal experience in becoming and elite athlete. He shared some of his life experiences and his passion supporting his home town club, Newcastle United. The feedback received for Stephens talk was very positive and undoubtably will leave a lasting memory for all at the forum.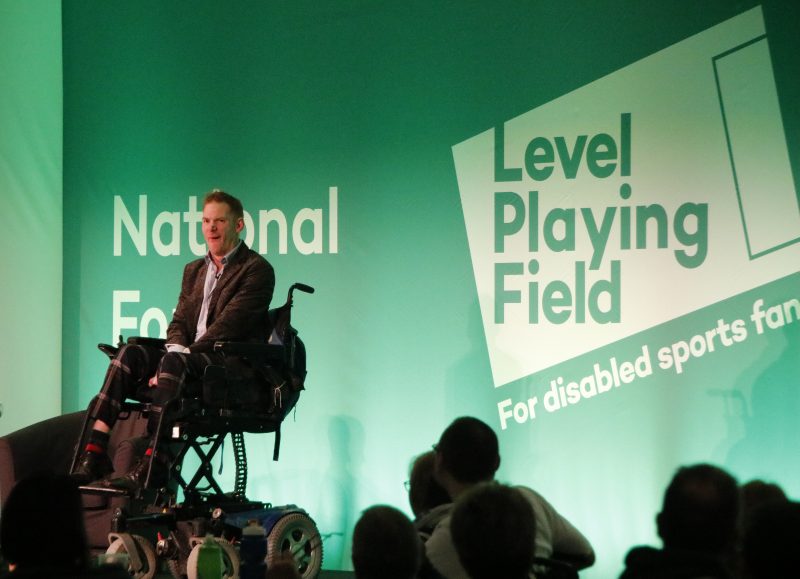 THANK YOU
Once again, we'd like to thank everyone that attended our first National Forum and for all your efforts over the past year in contributing to a positive and inclusive experience for disabled sports fans. We hope that the day was a productive one for you all, as we can look to build on all the good work and idea's we have highlighted throughout the day. We would also like to thank the Premier League and the EFL for supporting the event, without their help we couldn't have put on this event.
To help us improve for a bigger and better National Forum next year, please complete our survey here (4 minutes).
Annual Impact Report
Alongside our National Forum, we also released our Annual Impact Report, focussing on the growth and delivery of Level Playing Field during the 2018/19 season.
You can download a copy here, or get in touch with Ben (ben@levelplayingfield.org.uk) to request a hard copy.
Check out some of the photos taken on the day!