"We were delighted to promote the Level Playing Field Weeks of Action at our game on Saturday. We see ourselves as one of the most welcoming clubs around, and we do all we can to give all disabled supporters a great day at Griffin Park every time we play. I hope to see more and more fans with disabilities at our matches as we move into our new stadium and are able to provide even better facilities" – Cliff Crown, Brentford FC Chairman
And we are off… The first weekend is over and Level Playing Field Weeks of Action is off to a flying start.
Up and down England and Wales, Football Clubs from their respective leagues (Premiership, EFL and Non-league), Disabled Supporters Associations (DSA), County FA's, Community Trusts and local charities come together to raise awareness of what can be done, and celebrate what has already been done, to improve disabled supporters match day experience and to bring about the ultimate goal… Access For All.
With the Level Playing Field team attending games nationwide to support football clubs during their designated days for Weeks Of Action, here is a snapshot of their experience over the past weekend.
Making the 348-mile round trip was Access and Development Officer Nicky who went down to Exeter City to witness the work that they are doing at St James Park as they took on Tranmere
As a powerchair user, I'm very aware that when people think of disability access issues attending sporting events, they think of visible disabilities like wheelchair users. I wanted to make my way down to Exeter to highlight the work that they are doing to highlight invisible disability, in this case, the deaf community.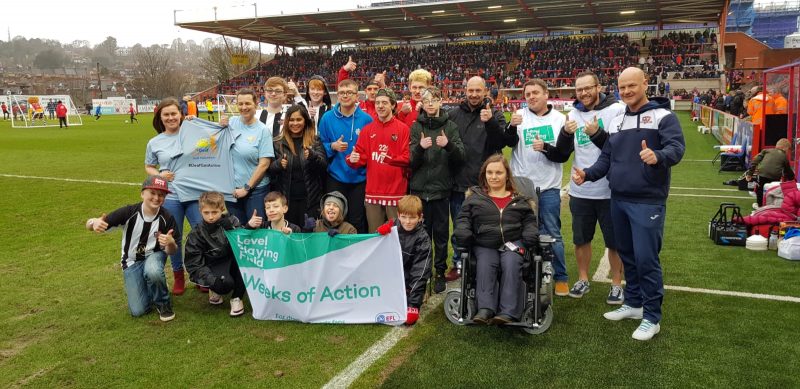 "Exeter City FC worked with Exeter in the community to bring young Deaf fans to the game and have sign language support throughout, they took to the pitch at half-time to have photos. Exeter City FC also took the opportunity to launch their new accessibility guide, which is great for anyone who wants to attend St James' Park." – Nicky.
Video stories have played a big part during this year's Weeks Of Action, and Swansea City got in on the act with this incredible video called 'Cara's matchday story.'
Attending Swansea City Weeks of Action game was ambassador to Level Playing Field, Morgan to witness the Swans team warm up in the Level Playing Field T-shirts.  As a diehard Bolton fan he watched his beloved 'Trotters' go 2-0 down, but that didn't dampen his experience at the Liberty Stadium "Brilliant view from the elevated platform sat with the rest of the Bolton fans" – Morgan.
Back in the English Capital, Development Officer – Neal and Fans Liaison Officer, Liam attended Brentford and Millwall respectively for Weeks of Action events.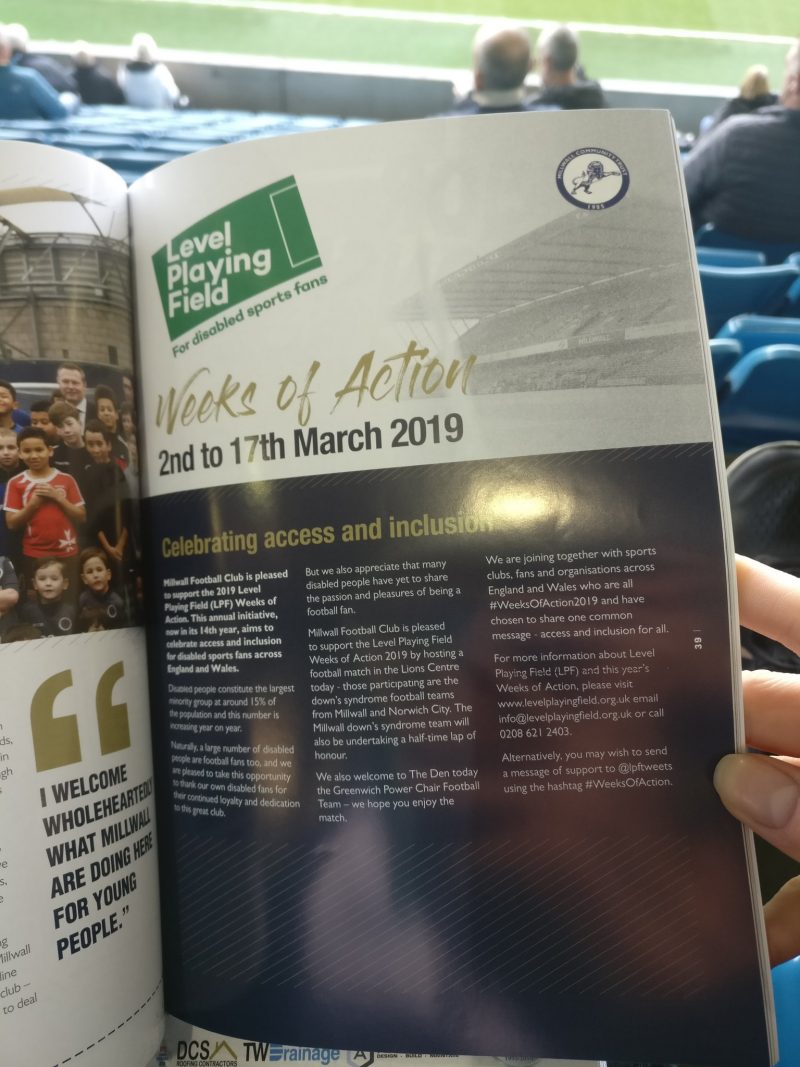 "Being at The Den for this year's Weeks of Action, Millwall showcased how a club can seamlessly create an inclusive environment for disabled people. Inviting Norwich's Down Syndrome football team to compete against Millwall's Down Syndrome team before the game and having a picture of a disabled athlete on the cover of the programme was a brilliant way of championing inclusion for disabled people at the club. – Neal
"Brentford FC and Brentford FC Community Sports Trust teamed up together to support this year's Weeks of Action by offering fellow Bees fans the chance to learn sign language before there hotly contested west London derby at Griffin Park. Set up within the Braemar Road entrance, young deaf people from the Community Trust's Social Mix project were whizzing around educating their Brentford family on the issues that can face deaf people attending games while also showing them how to sign their name. The Brentford supporters were educated off the pitch, while their team educated their west London rivals on it, with a 3-0 win." -Liam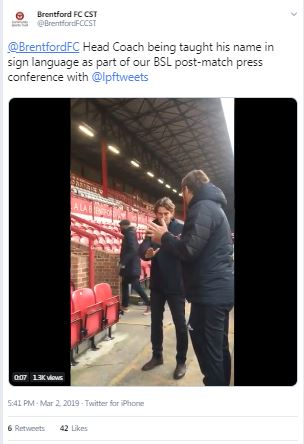 Up in the 'Black Country' Level Playing Field General Manager, Ruth was in attendance with the Wolves DSA to witness their victory over Cardiff, a match they choose for their Weeks of Action event.
"We are very grateful to Wolverhampton Wanderers, the Wolves Foundation and Wolves DSA for all their support on Saturday 2nd March.
The Molineux was packed with 31,000 fans in attendance, and this was a fantastic opportunity to raise awareness and to celebrate good access and inclusion." – Ruth
Meanwhile in the East of England Chief Executive Owain was with the Tractor Boys who held multiple events before there match with fellow relegation rivals Reading.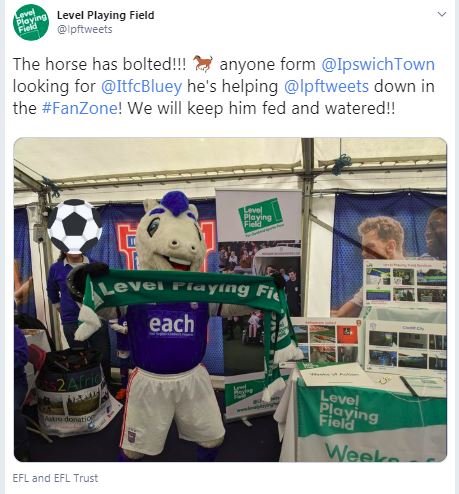 "Getting the support of clubs and fans during #WeeksOfAction is vital to increasing awareness and driving greater standards and making the beautiful game accessible for all. Ipswich Town and their fans really came out in force and got behind the campaign. With a Level Playing Field stands in the fans zone where all supporters could come and talk to Level Playing Field about the Weeks of Action campaign and ask any relevant questions. With their mascot kitted out and players warming up in Level Playing Field T-shirts, we look forward to seeing Ipswich Town continue their progressive work in the years to come" – Owian
All over the country people, clubs and communities celebrated Level Playing Fields Weeks of Action, but it's not over yet!
Over the coming weeks, the Level Playing Field team will be back out on the road working with its partners to highlight and celebrate the work that is being done to promote access and inclusion. You can follow the Weeks of Action campaign via social media by searching for #WeeksOfAction