They filed for planning permission back in May, now it's time for construction, following the July approval by Trafford Council.
Stretford End and the south-east quadrant will change for disabled supporters of both the home (Stretford End) and away crowds (quadrant).
Together with other efforts from recent years, these latest changes will help Old Trafford become fully compliant with growing requirements in terms of infrastructure for wheelchair users and other fans with limited mobility. In total 118 new places for wheelchairs and companions will be created, as will 158 amenity seats.
Manchester United's Group Managing Director, Richard Arnold, commented:
"Since the construction of new accessible facilities in 2017, we have worked closely with MUDSA to further improve the provision for disabled supporters at Old Trafford. Our revised plans address the overwhelming majority of feedback we received from supporters and key stakeholders. I would like to thank MUDSA for all of their hard work and effort in helping us to reach this point; we are proud to maintain such a strong and positive relationship with them.
"These plans will also minimise the need to relocate other fans in comparison to previous proposals. We will do everything we can to ensure the transition is as smooth as possible for anyone with seats impacted by the new accessible facilities and thank them for their understanding"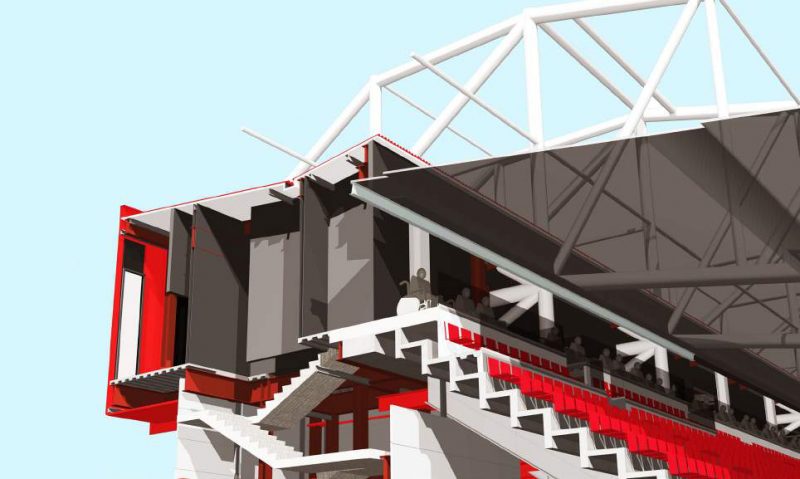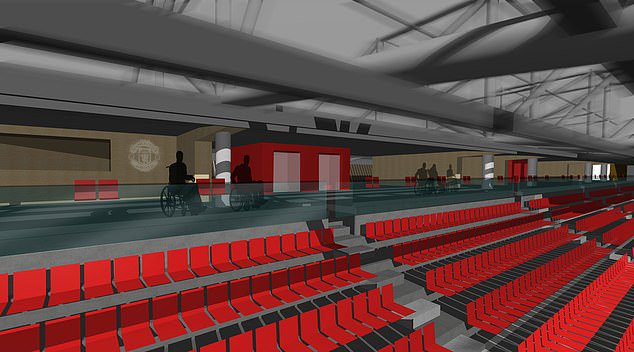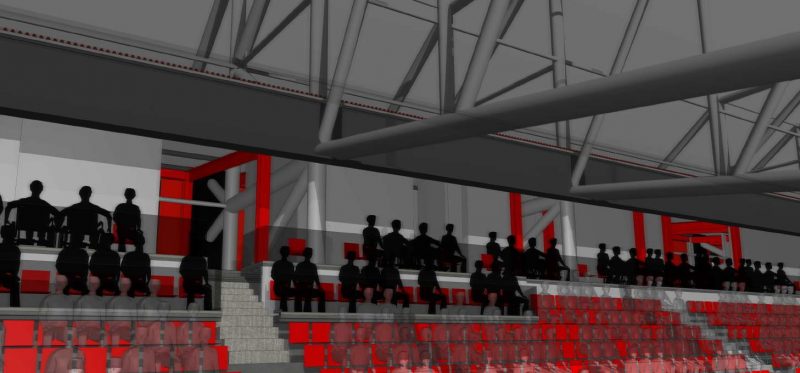 As the drawings suggest, Stretford End will be topped by bright red top tier, connected to the ground by two staircases (extension of existing ones) and two elevator towers of precast concrete.
Ruth Hopkins, General Manager at Level Playing Field said:
"We welcome the news that improvements for disabled fans in the Stretford End will be going ahead. Level Playing Field always recommends that disabled fans should have a choice where they sit in the ground and these new facilities will be a great addition at Old Trafford."
For the full article and more images, please visit the StadiumDB website.