Level Playing Field Fans Liaison Officer, Liam Bird, travelled to the East of England to speak to the good people of Norwich City as the fans and club celebrated Weeks Of Action.
"I was in the hospital for 8 months, that was 8 months without seeing my friends at football or watching Norwich play. I can't tell you how much that affected me mentally. Thankfully on my return, Norwich City had the facilities in place so I could return to do the thing I've loved doing since I was 14. Otherwise, I don't know what I would do!" – Sue, DSA member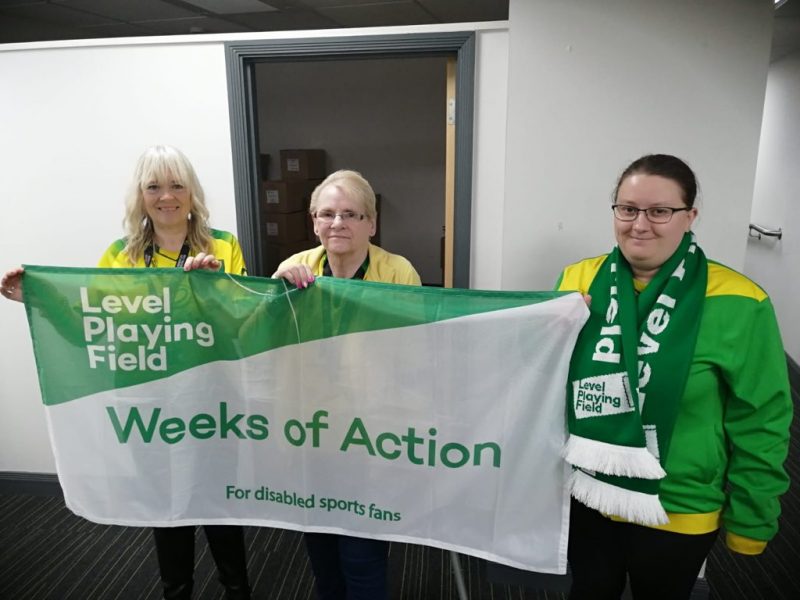 There is a myth that Norfolk is as flat as a week-old pint of beer, this myth was perpetrated by Noel Coward in his play Private Lives: 'Very flat, Norfolk.'
But, being a Norwich City supporter in recent history has been anything but flat, from down in League One to returning to the footballing promised land that is the Premier League.
This season has been no different. After their 3-2 victory over the current champions to hitting the bottom of the league, tonight's opposition Leicester City are just one more loop in this journey.
"We may be having a poor season, but at least I get the opportunity to be able to experience this time in the Premier League, and that's what tonight is all about, showing that anyone can come to Carrow Road and watch a match… Might not be a good result, but at least you watch the sport you love" – Keith, Norwich City fan
Liam attended the game vs Leicester City as this fixture was chosen by Norwich City as their designated Weeks Of Action game, but the club has not just dedicated the match to the campaign, they've decided to dedicated a whole week of activities to the cause, as Stephen Graham, Norwich City DLO went on to explain:
"It's an honour for Norwich City FC & The Community Sports Foundation to be involved in such an important campaign to showcase positive action and inclusion at this football club.
We didn't want Weeks Of Action to be about one game, so we created a great week of all-round fun and super action events for our disabled supporters, old and young. Activities like our accessible interactive stadium tours, Canary themed quiz nights or simply afternoon tea in the executive boxes overlooking Carrow Road.
The Matchday is only part of our supporters' relationship with the football club, and we wanted to showcase every aspect of the club, so our disabled community in Norwich and further afield know that all are welcome and Weeks Of Action gives us that opportunity."
Gary is a Blind supporter and has been following Norwich for the past 20 years. He's been front and centre of the club's roller coast ride:
"I am a season ticket holder, and I'm an away member too, I attend as many games as possible. My greatest moment with the Canaries was the play-off Final win against Middlesbrough which put Norwich City into the Premier League in 2015. I could only enjoy that because of audio descriptive commentary provide by Wembley. A service we now have at the club called 'Soccer Sight'."
Soccer Sight is a service that allows blind and partially sighted supporters to listen to full match audio descriptive commentary at all home fixtures at Norwich City. This service is free and provided by a group of trained volunteers like Tim & Vicky (below).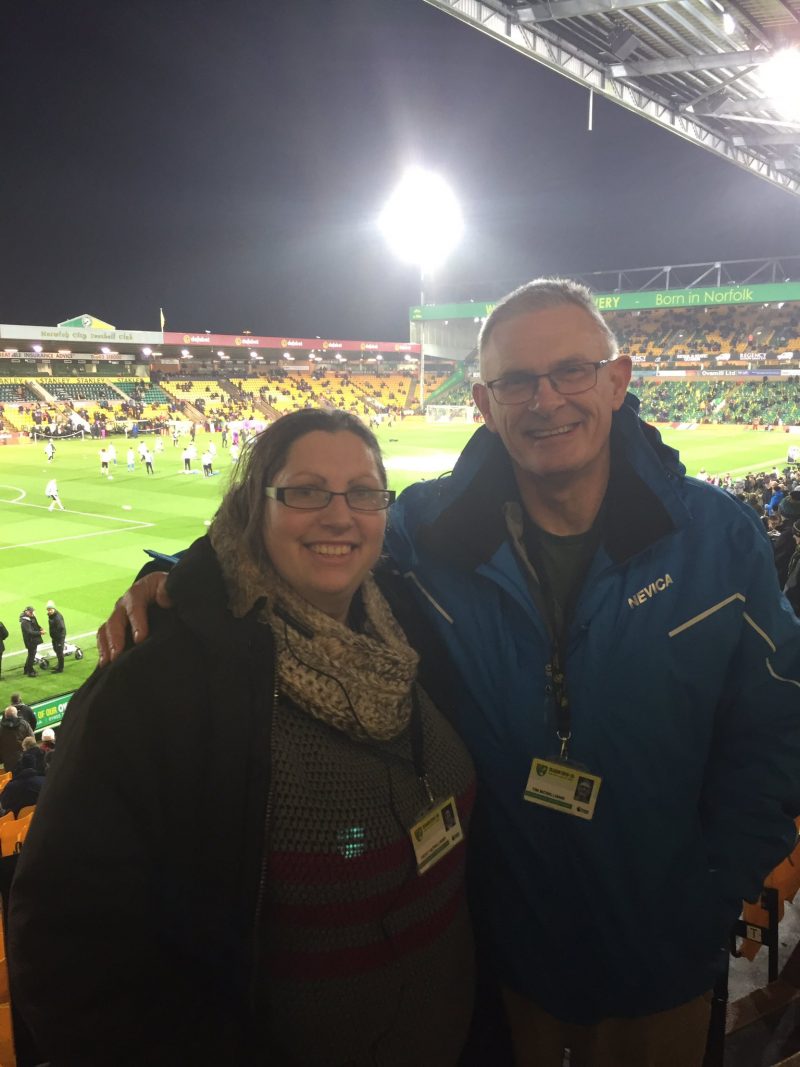 "Why should partially-sighted or blind supporters miss out on a game of football when the technology is there to assist them? We can provide a service that brings the match to life while the supports in the stadium can provide the atmosphere" – Tim, Audio Descriptive Commentator
Part of Gary's pre-match routine is for a quick chat with the ticket steward then go and collect his headset and receiver on the second floor. Then go speak to the commentators like Tim & Vicky.
I asked Tim how much feedback does he receive from his fellow partially sighted or blind supporters:
"Ha, overall it's positive, but they will let me know quick sharp if my standards are slipping."
As kick-off approaches and the rain ease up Gary talks about the game at a national level:
"Standards are improving, but there needs to be a greater understanding of what a visually impaired supporters' issues are when going to a match day.
Many clubs now have Disabled Liaison Officers like Stephen at our club, but some clubs only have ticket office contacts, and that's not helpful if that person is off sick or on holiday. Nobody takes up your enquiry.
This can lead to big problems. communication is the key to improving this situation and Weeks of Action can do that. With football attention on the campaign, we can educate the wider non-disabled public on issues that they might not have thought of before, because why would they?"
To find out more about #WeeksOfAction, click here.
Keep up to date with all of the Weeks of Action activity as it happens by following us on twitter at @lpftweets!