Mark Davies (right), Fulham DSA Chair:
"Like lots of us, I've loved the experience of going to live football over the years. As a blind supporter, the atmosphere of actually being at a game is so much better than listening on the radio or watching on the TV.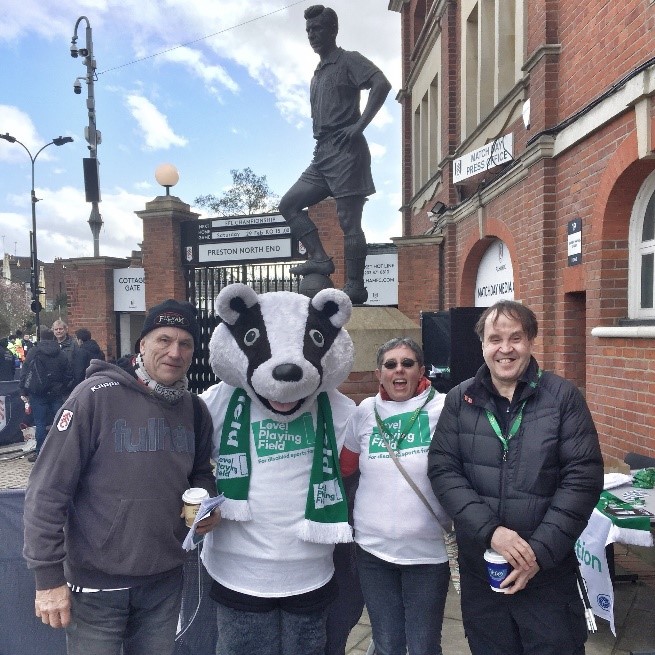 During the lockdown, following Fulham on the radio and TV felt like a pretty poor substitute, even though I understood exactly why and appreciated all the efforts of everyone involved with the club to actually put the games on.
At the start of this season, the prospect of returning safely to Craven Cottage seemed remote. Would everyone have to wear a mask all the time? Would people be able to remove their masks in their seats?
What about the people who refused to wear masks? As a blind person, could I really rely on others to keep the social distance? Even though there seemed no return anytime soon, I was nervous about it.
Football seemed to be the last thing that was going to re-open and the pandemic seemed to be getting worse again. The weeks went by and the prospect of actually returning to a game seemed to get even more remote. I honestly thought that we might not be allowed back in at all this season.
And then suddenly there was an announcement that supporters would be allowed to go back within two weeks.
The Fulham Disabled Supporters Association had been talking to the club about the return of fans, and so I was gaining confidence that things were being put in place to make it as safe as possible. The announcement from the Premier League that all supporters would have to wear masks at all times while in the ground also made me feel a lot more secure.
I entered the ballot and within a few days I got notice that I'd been allocated a ticket for the Fulham v Liverpool game. My nervousness was overtaken by the idea of actually being able to go to a match!"
"In the days before the match, I received a number of calls and emails from Fulham, each of which reassured me that things were being done properly.
On the match day, wearing our masks, we arrived at the ground at our designated arrival time, feeling a little apprehensive but more just unsure of what to expect. The first thing that struck me was that it was strange to be at the ground with less than 30 minutes to go, and there were just so few people there. We picked up my commentary radio as usual and headed towards the turnstile. An attentive steward came and asked me if I would like to move to the front of the queue, and she then showed me and my guide to the temperature check and ticket validation stewards. All the time these stewards kept a good distance from us and were calm and organised. Once we were inside the ground we headed towards the staircase near our block, and once there another steward showed us to our seat.
Another nice touch was that since the usual bars were closed, the club had provided each seat with a bottle of water.
At this point, I felt very reassured that everything had been done properly to make sure that all of us were as safe as we could be. The organisation outside the ground had been calm and efficient, the stewards had been attentive and effective.
It was great to be back inside the ground.
The game itself was surprisingly even, and it was great to hear supporters cheering Fulham on. One rather strange thing that really stood out to me as a blind supporter; because there were only home fans in the ground, when Fulham had possession there was good noise coming from both end of the grounds. But when Liverpool had the ball, it was absolutely silent. And one other advantage of there being so few supporters there, I could hear much more clearly the players shouting and so could work out where they were on the pitch. That whole audio atmosphere is a huge part of why I find going to live games so enjoyable. It really was great to be back.
At the end of the game, the different sections of the stands were let out in a controlled order, and so even this felt organised and calm.
Given the changes to the tier in London that came only the day after, it felt like a real privilege to have been there. The organisation from the club was excellent and the stewards and staff all helped to create a safe return for the lucky few. Often stewards don't get much praise, but if it wasn't for them coming out in the middle of the pandemic, this game could not have gone ahead. So big thanks to the stewards.
The whole day had been a rather unusual experience, but then in some ways it had been just like a return to the old days when we could all go to cheer on our teams. I know that lots of supporters haven't been so lucky and haven't had the chance to go back yet, but I am confident that the organisation from all the clubs can definitely make you feel safe and welcome, and when you're ready to go back I'm sure it'll mean as much to you as it did for me.
If you would like to know more about Fulham DSA please FulhamDSA@Gmail.com or you can follow them via Twitter @FulhamDSA.
---
Fulham DSA has heard from several fans who were at the game, all of whom had similar positive experiences. Here's what Richard Ming had to say about his day:
"I went in for the ballot for a ticket for one of the three home games.
I got a Liverpool ticket which was in my usual row in the Putney end (due to Riverside development) about 15 seats along from my normal seat.
The journey to the ground was surreal. Only 2,000 people going to the game, penultimate Sunday before Christmas, Covid-19 still problematic so very few people around for match day. I was worried about parking as I thought lots of residents would be at home isolating but as it turned out I parked two cars in from the Stevenage Road. My timed entry was 16:00-16:30 for a 16:30 kick-off so got there for just before 16:00.
There was the team bus parked across the players' entrance to the Cottage with barriers running as far as you could see in both directions. The queue to get into the Putney End stretched back to the Bishop's Park gate so I told a steward there was no way I could stand in a queue for that long. I was immediately shown to a marshal who held up the queue and validated my ticket. I was led through what are usually exit gates to a temperature check, a Track and Trace swipe and a further ticket validation ensuring I had filled in the medical questionnaire. As I walked to the stand one of the Stewards came over asked if I knew where I was sitting and walked me to my seat.
I am a very laid back person but I found it quite emotional being back after all this time. There looked to be a lot more than 2,000 in the ground though I'm sure there weren't and everyone was doing as instructed and stayed in their seat. The Cottage is not a noisy football stadium like many others but those few supporters yesterday were fantastic in their support and possibly because we were superb for the first 20 minutes the noise was terrific. I will not bore you with my opinion of the game as I'm sure you all watched it, merely to say Scott Parker's vision of what is required and how to bring it about look spot on to me.
There was a timed exit from the ground after the game with the tannoy announcing which sections could leave, but this was quite quick and orderly as you would expect from a Fulham crowd. When I emerged from under the stand a steward came over to check I would be alright going down the slope on my own, I said I would be fine but he walked next to me down to the pavement to make sure nobody bumped into me.
I don't think I realised how much I missed it until I went back. There seemed a larger than normal amount of stewards there but in my experience they were excellent as they always are, proactive rather than reactive to the point where you never seem to need to ask.
Although I have been going to games for many years this was very different but was well organised and felt safe and secure and if anyone has any reservations about going I hope this will encourage you to do so."