The Dale showed their support for the Weeks of Action campaign on Tuesday night during their home match against Shrewsbury Town. Sadly for Rochdale fans, the game ended in a 2-0 defeat, but supporters can still be proud of the work being done by the club to improve accessibility for their disabled fans.
The Weeks of Action campaign is a chance to highlight the importance of disabled access to sports grounds and to celebrate the work that has been done by clubs to improve access and inclusion for disabled supporters.
On Tuesday, as the Rochdale players came out onto the pitch to warm up wearing Weeks of Action t-shirts, this was not some hollow gesture by the club but an opportunity to highlight some of the work that has taken place behind the scenes over the last 12 months.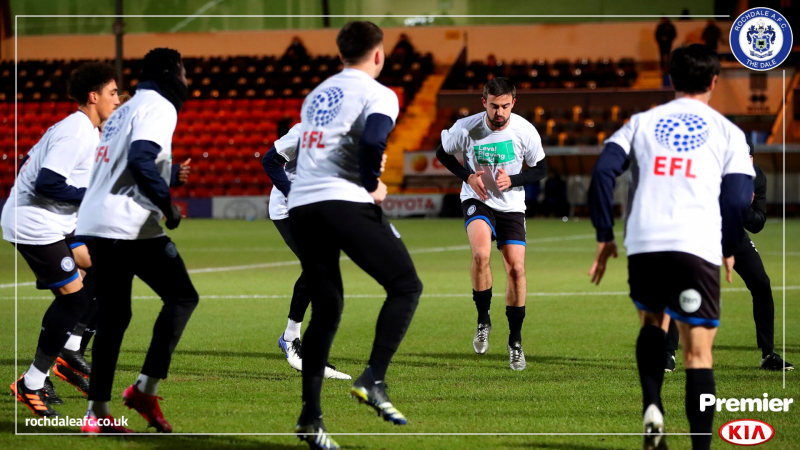 The club shop has been renovated with a new low-level counter for wheelchair users and people of shorter stature to use. There are also low-level sanitising stations available for when supporters return to the Crown Oil Arena following lockdown. Additionally, evacuation chairs are now in place to help safely evacuate disabled supporters from the stadium in the case of an emergency.
These are the kinds of changes that might make the difference between a supporter being able to access the facilities at the stadium or not. The club have also installed grab rails, to support ambulant disabled fans and others with mobility disabilities. These small changes go a long way to making a matchday more accessible to more supporters.
The Dale have also improved their accessible toilet facilities, installing coat hooks and shelves in all toilets, which may seem insignificant but can make a big difference to someone who has a stoma bag for example. They've also installed contactless lever sensor taps and hand dryers. These simple, relatively inexpensive changes can again make a huge difference for many disabled supporters and just go to show that you don't have to spend huge amounts of money to make real improvements to accessibility.
The club have considered a wide range of disabilities with the new measures they've put in place. There is now colour contrast on steps to help fans who are partially sighted; indicators on fire alarms for deaf or hard of hearing supporters; and improved accessible signage that will benefit most of their disabled supporters.
Celebrating these kinds of improvements to access is what the Weeks of Action campaign is all about. We want disabled supporters to have an equal matchday experience with non-disabled supporters and these changes that Rochdale have made really help to make that a reality. Thanks to Rochdale for supporting us on social media and on their website too.
We're proud to be supporting this year's @lpftweets' 'Weeks of Action' campaign 🤝

As part of that, we're helping spread the word about Level Playing Field and the work that they do, and how they can assist disabled fans 💙

Read more 👇#RAFC

— Rochdale AFC (@officiallydale) March 1, 2021
Rochdale are just one of many clubs throughout the country and throughout the leagues who are working hard to achieve the goal of #AccessForAll. If you know of good work being done to improve accessibility at other clubs then get in touch and let us know: daniel@levelplayingfield.org.uk