"Statistically in the Norwich vs Everton game, 3 of the players could be colour blind! There may have been players playing in that game who might not have been able to see their own teammates!" – Chief Constable of the Leicestershire Police Force and Norwich City supporter, Simon Cole.
The term 'colour-blind' is a confusing one. If a person is colour-blind, it usually doesn't mean they can't see colour, although there are small cases of people who can see only see in black and white, it's far more common for someone to have difficulty telling specific colours apart.
The most common type of colour blindness makes it hard to tell the difference between red and green.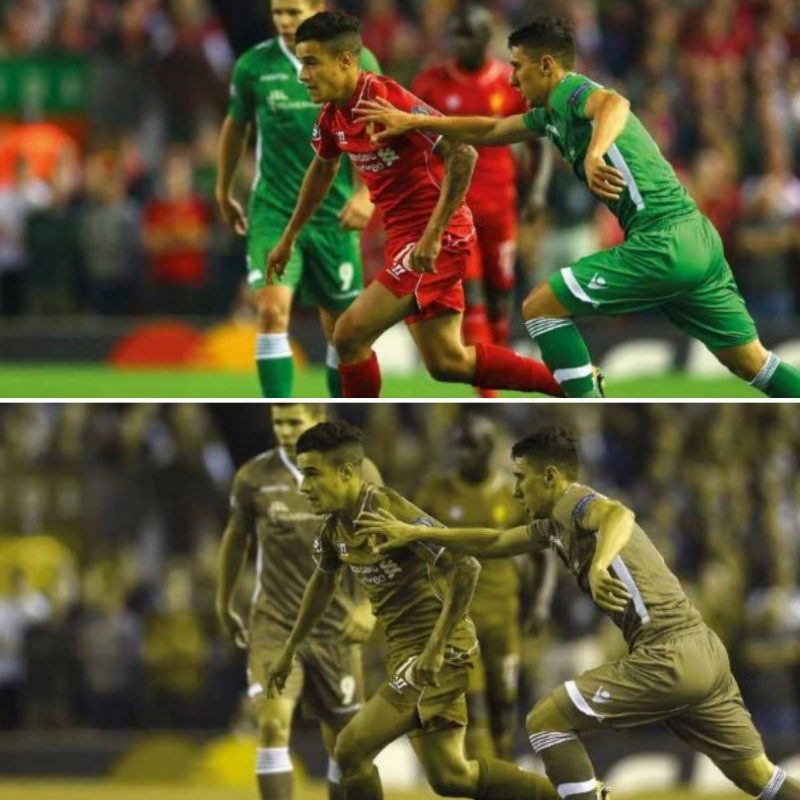 Chief Constable, Simon Cole, of the Leicestershire Police Force, is one the 3 million men in the UK with colour vision deficiency:
"It's been a difficult enough season being a Norwich City fan already without not being able to see who's who when they're playing. Some people have said that its probably for the best!"
Like all of us, Simon has been watching his football from the comfort of his home, but on 24th June, as he got ready to watch his beloved Norwich take on Everton, he turned on his TV, the teams walked out on to the pitch at Carrow Road and instantly he knew there would be a problem.
Norwich walked out in their classic home kit colours of yellow and green, but Everton were not in their traditional blue and white kit, but in a light pink kit. This was going to be an issue for Simon and he turned to Twitter to vent his frustration.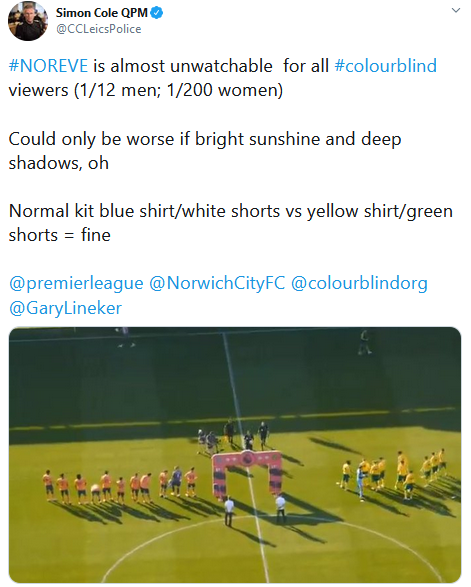 The game was being shown live on the BBC. So in Simon's tweet he 'tagged' in the England legend and Match of the Day presenter, Gary Lineker. And to Simon's surprise, he got a response: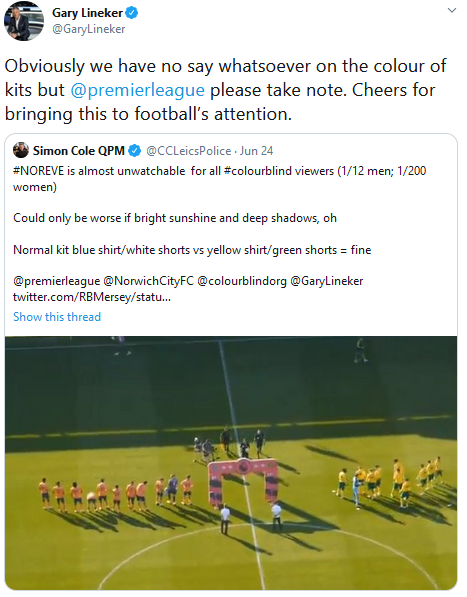 All of a sudden, Simon's twitter feed lit up! He discovered other supporters venting their frustration at their inability to watch the game.
With the season now at a close, Fans Liaison Officer Liam Bird caught up with Simon via Skype to discuss his experience with being colour vision deficient.
Liam starts by asking Simon if he was surprised that his tweet seem to resonate with so many people who were colour blind and if he was surprised that Gary Linker responded to his tweet in the first place?
Simon: I was surprised, yeah. I have commented about colour blind issues before, but my tweet about the Everton kit just took off! Obviously, Gary Lineker retweeted it and commented on it, and then it became a huge thing.
Not least because it was not the best game of football ever, so if you are watching it, it was nice to have something to talk about! But in all seriousness, it would not have been difficult for that game to be different and be enjoyable for everyone watching.
For the 1 in 12 men and 1 in 200 women watching that game, it was near impossible to follow what was going on in the match! If Norwich had their yellow shirt, green shorts and Everton in their dark blue with white shorts it would had been much easier to follow, it's a light-coloured shirt against a dark-coloured shirt!
Liam: Was there a lot of reaction from fans to your tweet?
Simon: It is really interesting how many people reacted to my tweet, obviously after Gary retweeted it, there were lots of people saying, "Well, I cannot see this. I am just going to turn it off! "If you look on Twitter, when kit clashes happen because sadly the Norwich v Everton game was not a one-off, that is quite a regular reaction! It is so frustrating because it's such a simple thing to overcome. If Everton just played in their Blue shirts, we would not be talking now!
I think an excellent way for the general public to understand the extent of how many people are colour blind is like this… Wembley is around 84,000 + seater capacity. If the stadium were filled with men, 8% or 6720 in attendance are colour blind! Or we can do it this way; matchday squads are now 20 players because of Covid-19, so there are 40 players in total from each team. Statistically in the Norwich vs Everton game, 3 of the players could be colour blind!
There may have been players playing in that game who might not have been able to see their own teammates!
Liam: When was the first time you became aware that you were colour blind?
Simon: The first time I became aware that I was colour blind was at school. I'm in my 50's, the school medicals in the early 70's was a book of dots that was put in front of me and I was asked what numbers I could see? I could see a different number from the numbers my mum could see. She said to me, "stop mucking around, this isn't the time", I said back, "I'm not mucking around!" My mum didn't believe me!
She said, "that's the number 66" and I'm telling her back, "no that's the number eight!"
Liam: Do you remember the first-time being colour blind had an effect on you watching live sport?
Simon: I'm not sure I do, because I think one of the things for me is you get used to it, I don't know any different. It's hard to explain because it's a perception thing. When I was young watching football, I would think "Oh, these kits are quite hard to tell apart".
I wouldn't necessarily have thought "I can't tell the kits apart because I'm colour blind".
How stupid does that sound! It is hard to explain because I don't know any different.
Let's say that you're not colour vision deficient, you and I would look at something, and we would say, "that's red". We would say it's red because whoever brought us up taught us that the object is red.
Still, the actual reality is we see something that's different because I see colours just slightly different to how you would see colours.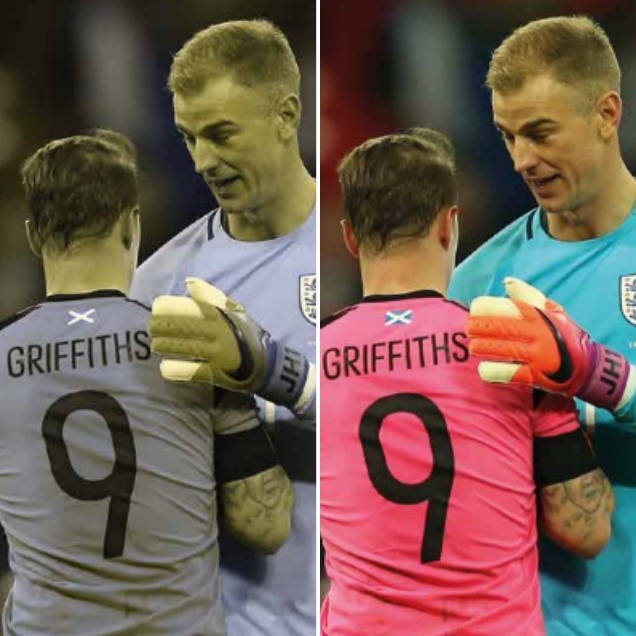 Liam: What do you think the public perception of being colour blind is, and do you think peoples understanding is getting better?
Simon: I think because of the phrase 'colour blind', a lot of people believe that you cannot see the colours. That is why I use 'deficiency', but even that's not right. My perception of colour is different to your perception of colour, and your perception of colour is shared by 92% of the male population. I think with the world now being online it is getting more accessible for people to understand.
When I was a child, only medical proffesionals had books with the 'Ishihara test' (a test used to see if a person is colour blind), now you can go online, and you can do the Ishihara test in minutes.
I think it is easier to explain now perhaps than it was, but there are still issues in day to day life like signage. Emergency signage, like evacuation signs for example, done in a way that someone whose colour vision deficient cannot see it! If your emergency evacuation signs are combinations of red and green, or if you're text online is a combination of red and green, for a significant chunk of people, that's going to be a struggle!
Liam: The FA/UEFA guidance that was created in collaboration with Colour Blind Awareness is a guidance that is there to support clubs, within the EFL, Premier League and beyond, on the issue of kit clashes and more inclusive coaching.
Burnley wore a one-off, all-white fourth strip in the win over West Ham United after it was flagged a colour clash between the two sides. There seems to be positive movement there. Do you think more clubs should be showcasing a one-off change of kit?
Simon: Yeah, absolutely! I think what Burnley did was great. It was really simple, and it means that straight away 8% of men who otherwise maybe could not tell, can now know which team is Burnley and which team is West Ham.
I think there is also an interesting thing for grassroots sports. And particularly coaching grassroots sports. The colours that we are using for bibs, the colours that we use for cones. They are all essential issues because you do not know if a child or player is colour vision deficient.
Last winter, I went to watch my daughter play football. On the pitch next to us was a game being played between two boys' teams. They had a kit clash, and they dealt with it by playing in bibs. One side played in very light green bibs, and the other team played in an orange bibs, it was a sunny day, and I couldn't tell the teams apart!
Again, it comes down to statistics; some of these young boys are going to be colour vision deficient, and they wouldn't have been able to tell who was who. But if we explain and educate that kits should be light and dark, as the key colour of match day shirts, then it's done isn't it, everyone can enjoy the game.
I think that's why my tweet got such a reaction, it's such a simple thing to get right, so let's get it right!
You can follow Chief Constable Simon Cole on twitter @ccleicspolice.
We would like to pass on our thank you to Colour Blind Awareness for their support in setting up this interview, you can follow them via twitter @colourblindorg