This is an excellent example of proactivity from the Owls and demonstrates how clubs can work with Level Playing Field to make significant improvements. Sheffield Wednesday have upgraded the disability terminology in their communications to visiting clubs, their stadium signage around Hillsborough, and will be looking to ensure that the most appropriate disability terminology is used on all communications moving forward.
The changes have come about after a 'cover letter', which the club share with visiting Disability Liaison Officers, was identified as requiring more inclusive terminology. Sheffield Wednesday acknowledged the need for a thorough review but then went well beyond that in considering how the guidance could be implemented in other areas too.
This prompted a stadium-wide review of their signage, which included consultation with Level Playing Field. One of the key changes suggested by Level Playing Field was changing the word "disabled" to "accessible", in relation to services and facilities. For example, "accessible toilets" and "accessible parking spaces" is preferred to "disabled toilets" and "disabled parking spaces" respectively. This follows the "social model of disability" rather than the 'medical model of disability' – feel free to get in touch if you'd like more information about this.
Sheffield Wednesday forwarded a selection of images showcasing their new and improved signage, which will enhance the matchday experience for both their own disabled fans and visiting supporters.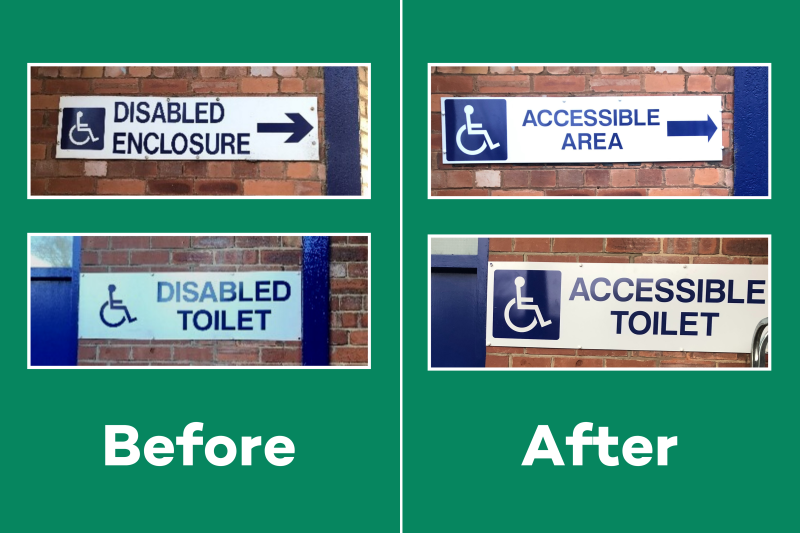 Other suggested changes that were made by the club included switching the term(s) "carer" to "companion", "wheelchair bay" to "wheelchair user bay", and "disabled kiosk" to "disabled supporters".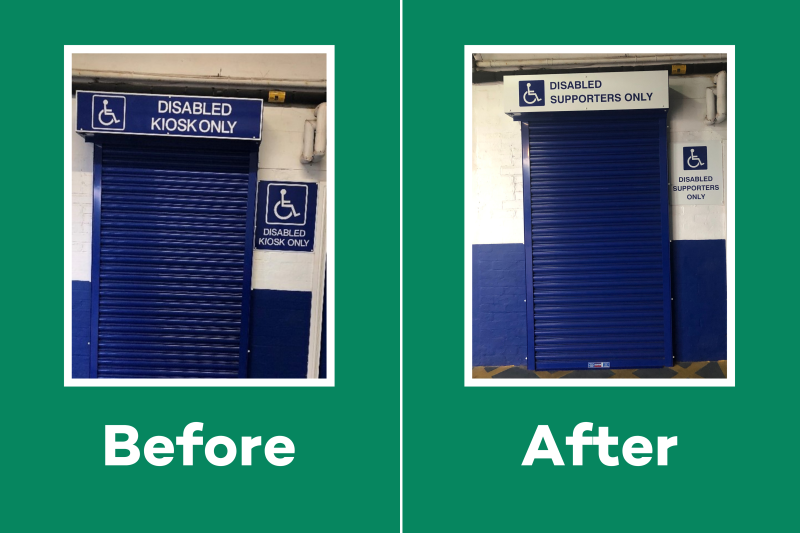 After reviewing Level Playing Field's suggestions, a club spokesperson said: "We have taken the opportunity to review our signage and reworded key messaging in accordance with Level Playing Field's suggestions.
"We have also implemented training suggestions made by Colour Blind Awareness, and our current signage is now in contrast of a dark blue against white, or white against dark blue.
"We are also in the process of reviewing the wording on our website more in line with the revised signage messaging."
Level Playing Field would like to thank Sheffield Wednesday for including the organisation in the process of improving the inclusive terminology around Hillsborough. The changes will no doubt have a positive effect on disabled supporters, both home and away.
Level Playing Field is currently running an 'Away Fan Survey', which asks disabled supporters about their experiences of attending away matches. You can answer the survey here.