To sign up to the Level Playing Field newsletter all you need to do is follow these few easy steps.
Step 1: Scroll to the bottom of the homepage of our website and click the box that says "SIGN UP"

Step 2: Fill in your Name and what email address you want to receive the newsletter to. Then click "Submit"
Step 3: Once you've done that. We will send you a confirmation email just to build the suspense a little bit more. All you need to do is click "Yes subscribe me to this list".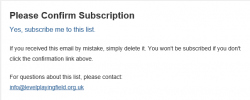 This email might go in your junk or spam folders. But we can guarantee our newsletters have nothing to do with junk or spam for that matter.
Step 4: You are so nearly there! All you need to do now is prove that you are a human and not a Robot. The test is whether you can click the box.  Once you do that, there will be brilliant content coming your way.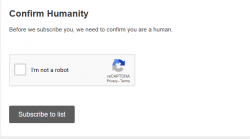 Nicky Baker, current newsletter editor states: "We are excited to bring you even more relevant content, tailored specifically to you. We look forward to you signing up and keeping up-to-date with what's going on at Level Playing Field."
Level Playing Field's newsletters will let you know what is going on in the world of accessibility. If you have a story to share with us around what your club are doing, or how your match day experience has changed we would love to hear from you.