On a glorious sunny day with the sun beaming down on the Theatre of Dreams, 14 Disabled Supporters Association groups (DSAs) and 12 club representatives from across Football and Rugby attended the 3rd annual Level Playing Field North West Forum. Also in attendance at the event were representatives from the EFL and the FA.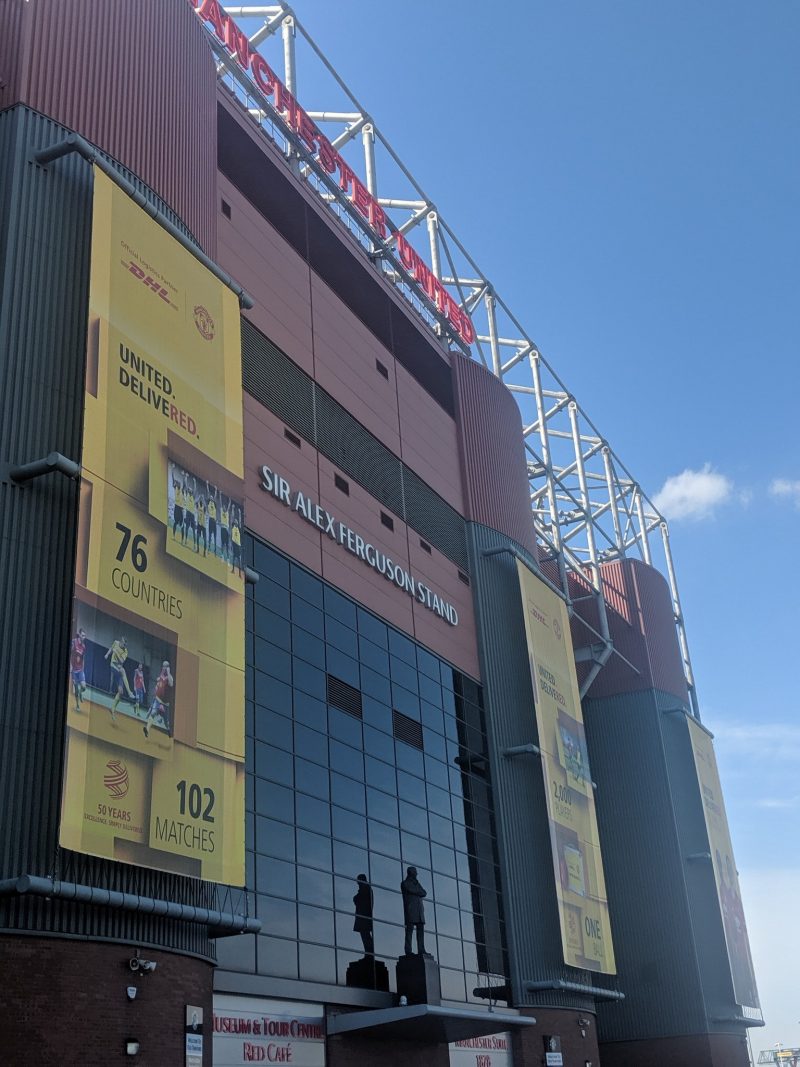 "We are pleased to work closely with Level Playing Field throughout our work within the important area of accessibility. Hosting the North West forum was a small part of that and demonstrated the strong partnership that Manchester has with everyone at LPF. We're looking forward to continuing to develop this relationship" -Rishi Jain, Equality & Inclusion Manager at Manchester United
With the continuing change of format to previous years, under the guidance of Liam Bird, (Level Playing Field Fans Liaison Officer) the forum was packed with presentations, tasks, discussions and guest speakers to create a day of engaging and informative content
"The forum covered a wide range of topics which, given the fact it was an afternoon event and not a full day, I thought the time was used well." – DSA attendee
Liam kicked off the Forum with a game of "Raining Champions " to get the forum guests' blood flowing, inviting the people in attendance to shout out European cities that have had more rainfall than Manchester's 86.71cm a year!
Level Playing Field's Chief Executive, Owain Davies was up next. Mic in hand, Owain explained to the audience the journey that Level Playing Field has been on since the last North West Forum and how the charity has been listening. Owain also set out Level Playing Field's plans moving forward!
Kicking off the first presentation for the day was MUDSA Secretary Chas Banks, who took the audience on the journey of MUDSA's 30 years of existence and how the DSA went from a few people to over 1,000 members.
"It was a real pleasure to be part of the Level Playing Field North West forum and especially being invited to speak. It gave me the opportunity to tell the delegates about the excellent relationship MUDSA has with the club. 
Not just supporting us with our social events (although we really appreciate all they do) but consulting us at every stage about the expansion of disabled facilities at Old Trafford." – Chas Banks, , Manchester United DSA Secretary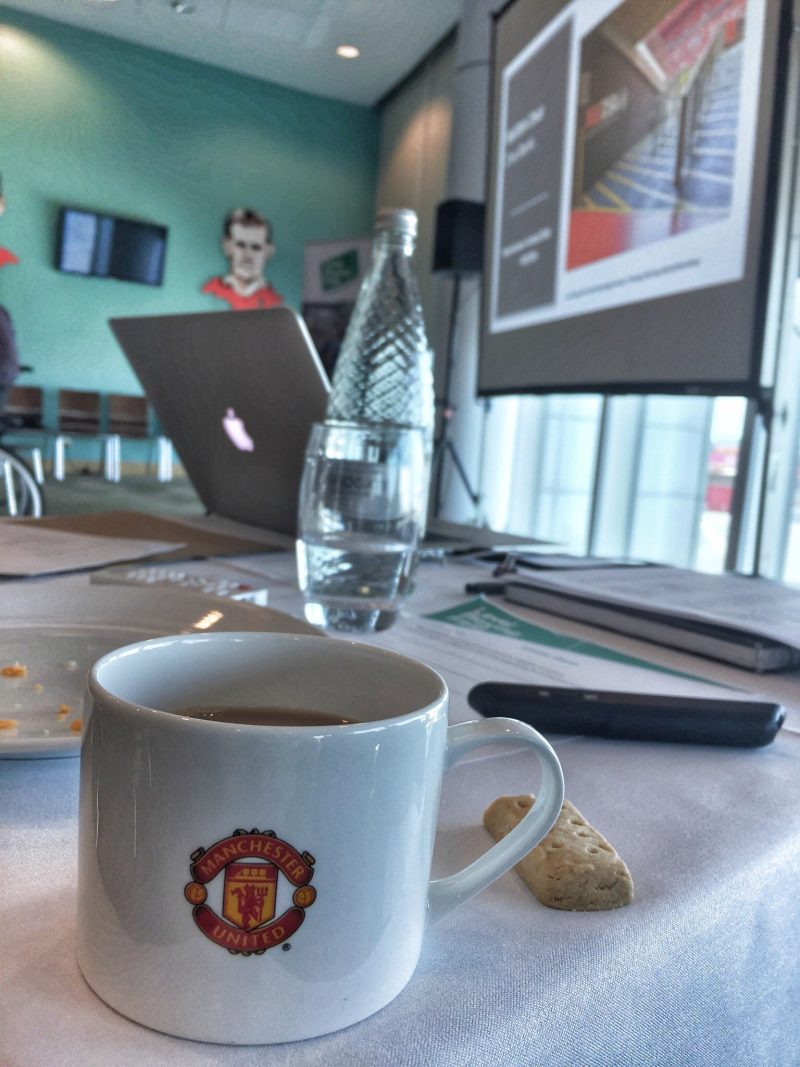 With pens at the ready, the first task of the day was set. Attendees were asked to split up into DSAs and club representatives,[and asked to come together to improve a better matchday experience. After 20 minutes we came together and discussed the ideas shared in the room, before Liam spoke about how small changes to stadia toilets can have a significant impact on disabled supporter's  matchday experience.
A person who has seen their fair share of stadia bathrooms was the first guest speaker of the day. Morgan Parry and his father Steven this year completed the mammoth task of attending every current ground in the top four tiers of English football. That's 92 clubs! Steven spoke about Morgan's match day experiences and travels that included a trip to Russia to attend the 2018 World Cup!
Morgan was then presented with a plaque from Chief Executive, Owain Davies on behalf of Level Playing Field to celebrate his achievement of visiting 92 club.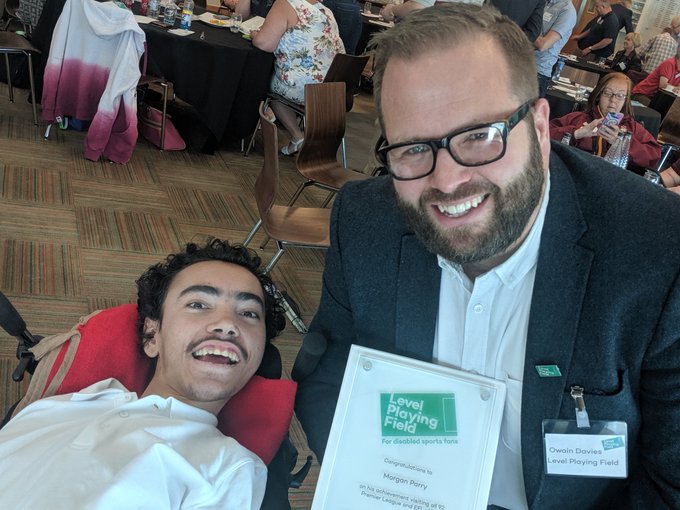 "Having a disabled child in a wheelchair I found this fabulous; if Morgan can visit 92 grounds, there is no reason why we can't." – DSA attendee
As the Forum broke for tea and coffees, Liam tasked the room to speak to someone new and take this break as an opportunity to network with other DSAs and club representatives.
After a brew and a natter, Rishi Jain (Equality & Inclusion Manager at Manchester United) gave a presentation on the extensive accessible stadia work that will be taking place at Old Trafford over the summer before he passed the mic over to the second guest speaker of the day' Rebecca Kemp.
Rebecca currently plays both for mainstream and disability futsal and football teams. She is also currently part of the English Deaf Futsal squad. Rebecca, with the slides flashing behind her, told her informative story of determination to push back the narrative of deaf sports stars[GU24]  and make a semi-pro career in the women's game.
"Did you know that Manchester United are responsible for generating 44% of all Premier League club interactions across Facebook, Twitter and Instagram" – John Whittam.
John is the head of social media at Manchester United and has the power to instantly interact with over 157 million people with a few clicks of a keyboard. John took a few moments to talk about how Manchester United have achieved these social media feats, providing best practice advice when online to DSAs and cubs in attendance.
"This was the biggest North West forum ever. It was fantastic to see strangers come together and engage in positive discussion and debate on the issue of accessibility at stadia. I will continue to take feedback from this and past Forums and use that information to improve and create a forum that will continue to grow and be interactive and inspiring to all that attend" – Liam Bird, Level Playing Field Fans Liaison Officer

Level Playing Field would like to thank all the people who took the time out of their day to attend the forum and a special thank you to Morgan and Steven Parry for telling their story; Rebecca Kemp; for agreeing to be our guest speaker; the F.A. Disability Role Model Workshop; and Manchester United and their catering staff who made sure we were all fed and watered.
If you are interested in attending a future forum, or if you are a football club who would like to host a forum in the future, then please email liam@levelplayingfield.org.uk.