As part of the Level Playing Field (LPF) Weeks of Action campaign we want to hear about what clubs are doing to celebrate this years campaign and to find out more about the staff who lead and champion good access and inclusion at their clubs.
Sport plays an integral part in society today and attending live matches more often than not provides a positive impact on an individual's life and we want to share these experiences are provided.
Today in the hot seat we have:
Name:  Simon Blewett
Role: Disability Access Officer (Tottenham Hotspur)
Club Supported: Spurs
Q) What's your passion for being a Disability Access Officer?
My mum was a wheelchair user, so it was apparent to me from an early age that the playing field was definitely not level! I was very aware of people's attitudes towards her too in terms of assumptions about her abilities and intellect. It was also clear that the built environment was not as it should be. My dad was in the RAF, so we lived a fairly nomadic life in my early years but eventually moved into an accessible complex. This was a real game changer for our family, but even moving there had its issues. Most of the residents were wheelchair users and it quickly became 'the place where disabled people lived' and a target for people knocking on doors and running away, shouting derogatory things through letterboxes etc. This highlighted a need for education, integration and more inclusive housing. Unfortunately, my mother passed away in 1992 and something that I still find astonishing is that at no point in her life were her rights as a disabled person protected by law, and that it was another three years before the Disability Discrimination Act (since replaced by the Equality Act 2010) came to the fore. It was always just clear to me that things could and should be better and that's my goal really. More recently my Daughter was diagnosed with Asperger's Syndrome, so I guess circumstances throughout my life have dictated the path I have taken. I would struggle to do anything else.
Q) What did you do before working for Tottenham Hotspur?
I fell into retail for several years after leaving school but was approached by a friend to assist him in his role as an Access Officer at a large local authority. They had a plan and budget to make their council owned buildings and services DDA compliant and were also adopting the Social Model at that time. I jumped at the chance to be able to do something that I was passionate about and where I could help effect change. I spent 16 very happy years there fulfilling a few different roles, all relating to access and accessibility.
The relationship between a club and its fans is so important so it is essential that clubs engage around campaigns like this. Shining a light on the great work that club DSA's do, highlighting positive work and seeing what happens at other clubs, sharing knowledge and resources, and looking at ways we can improve is vital if we want to progress. It also sets us up nicely for the other 50 weeks of the year because the work doesn't stop on March 14th. I fully support the call for 'Nothing about us without us' and being part of campaigns like this means a lot to the club and to me personally.
Q) What activities do you have planned for this year's Weeks of Action?
Our match with Crystal Palace this weekend is our designated Weeks of Action and the campaign will be discussed on our N17 Live pre match content. The campaign will also be covered on our LED screens around the stadium and in the match programme. We have player engagements with both the men's and women's teams and content that highlights the facilities here, the work of the Foundation and some really exciting developments with our tours and attractions…..watch this space! We have also had a Zoom call with SpursAbility and your good selves.
Q) How have you been keeping in touch with disabled fans during the pandemic?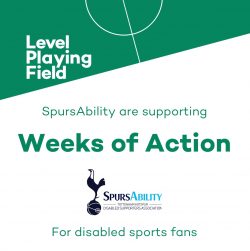 The Club have tried to maintain contact with as many people as possible, via welfare calls, through SpursAbility and through club ambassadors like Gary Mabbutt, who has made over 2000 calls to people who have been shielding or have been struggling during lockdown. For me, as someone fairly new in post, it was great to make some calls, check in with people and hear their Spurs stories and their hopes for a return. My Access Team colleague, Shirley, has a fantastic and longstanding relationship with many fans and has also been checking in with them. These have been unprecedented times and we are only too aware of the issues that disabled people (and so many others) have faced, be it isolation, loneliness or fear for the future. I would certainly hope that people would feel they could also contact us if they needed us and that extends beyond the pandemic and lockdown.
Q) Are fans looking forward to returning and if so what are they looking forward to most?
From the conversations I have had with fans, they are desperate to get back and why wouldn't they be? Football fans are passionate people and the matchday routine is so important to so many people. The journey to the ground, meeting friends, the anticipation, the post-match analysis, celebrating a win (hopefully) and the knowledge that win or lose you will get to do it all again soon are all massive.
Q) What are you looking forward to most about having fans back at the stadium?
To see the fans, knowing how much the club the means to them, back and cheering the teams on, be it here at the Tottenham Hotspur stadium, The Hive or at away matches is something I cannot wait for. The stadium is beautiful at any time, but never more so than when its full of people. How often do you find yourself sharing a space with so many people (in our case over 62,000) that all want the same thing?
For me, as well as being a fan, much of my work involves engaging with people and I have found myself joining the club at a time when nobody can come and watch the team or visit us! I won't fully understand the job at hand and what I can do to help the club move forwards until I have seen the stadium full and rocking.
Q) What's your favorite footballing moment and why?
This is tricky as believe it not, Spurs have brought me a lot of joy over the years. Bringing my son to White Hart Lane for the first time, our first away trip together, wins over Inter and Real Madrid, watching players like Hoddle, Waddle, Ginola and Gazza in their prime are all highlights. If I had to pick one though it would be the '91 Cup final. I had been at Wembley four years previously with my uncle and watched us lose to Coventry City. I was 12 and absolutely heartbroken! In '91 I had saved up my cup final vouchers and was able to go with my friends. The day was packed with drama and incident and seeing Mabbs lift the cup was incredible. COYS!