It's derby day in Manchester as the city splits into Red and Blue, and it also happens to be Manchester United and Manchester United Disabled Supporters Associations (MUDSA) dedicated 'Weeks of Action' game, as a part of the clubs '#allredallequal' campaign.
"It lets us integrate as supporters, we're all Manchester United supporters at the end of the day, disability or not.
We're all Reds, and we come together to watch a game of football at The Theatre of Dreams." – Nathaniel, Manchester United supporter
Fans Liaison Officer, Liam Bird asks: "Why is called the Theatre of Dreams?"
"Because this is the place where dreams come true!" replied Nathaniel.
As part of the clubs celebration, Liam was invited to be shown around the ground to see what work has been done on the new £11 million investment. The new facilities have created space for new wheelchair user positions and amenity seats for both home and away supporters. The changes mean away fans will now have the option to sit with their own supporters, in dedicated facilities across Old Trafford, including a new purpose-built concourse at the back of the Stretford End.
Manchester United's Group Managing Director, Richard Arnold:
"These state-of-the-art facilities will dramatically increase capacity for our supporters who have specific needs and will importantly provide more choice on where they want to sit in the stadium."
Manchester United Disabled Supporters Association's (MUDSA) Chair, Chas Banks, has been supporting the club through these changes and is pleased to see the fruition of MUDSA's labour in this process:
"The club and MUDSA have worked together to deliver this dream scenario for disabled Manchester United fans.
"With new wheelchair and ambulant facilities created in many different locations, there literally is something for everyone."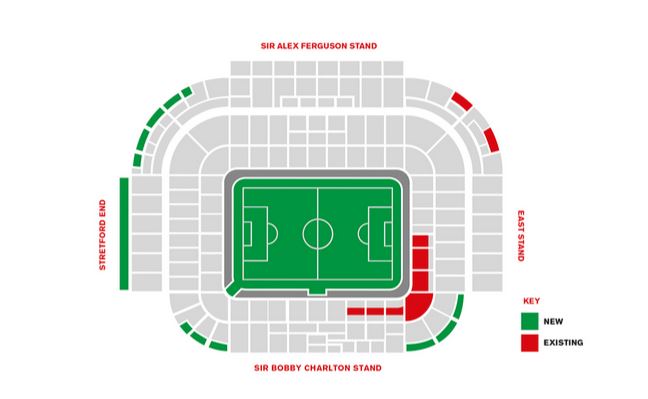 The club and MUDSA have been helped on this journey by the efforts of Level Playing Field, who have given advice and support throughout. As part of our celebration for this year's Weeks of Action campaign, we focus our thoughts on the ongoing nationwide effort to improve facilities for fans with all kinds of disabilities, not just those in wheelchairs.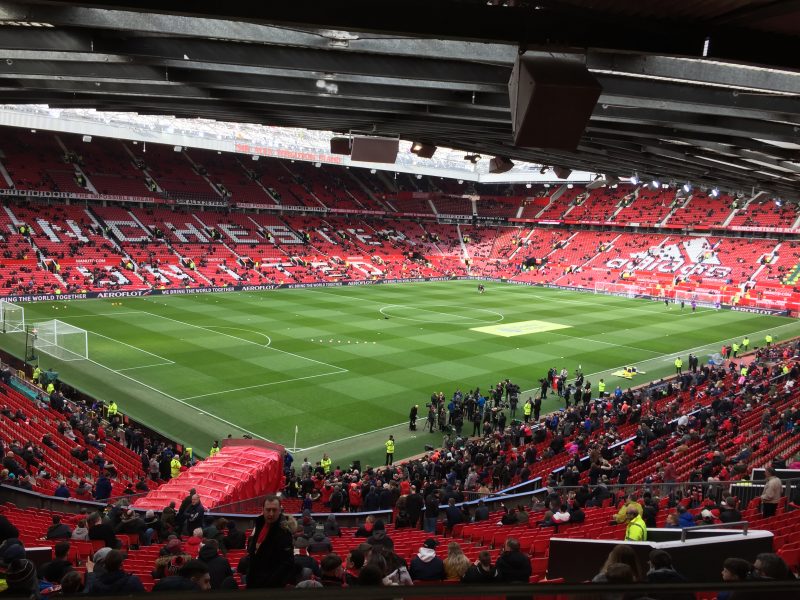 One such supporter is Nathaniel who has been attending Manchester United games since 2003.
"My first game was against Panathinaikos, and I just fell in love with coming here, the atmosphere was amazing, I got to meet new people in the ability suite that we have here at United, I made new friends almost instantly."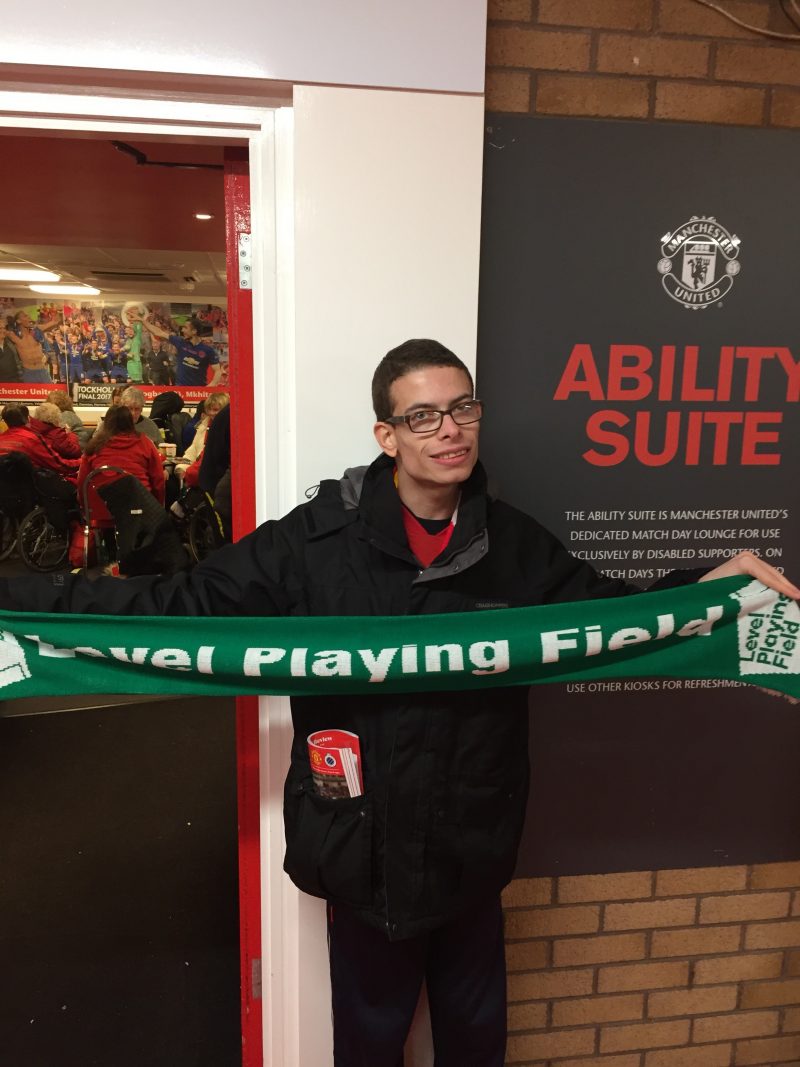 As kick-off was fast approaching, I asked Nathaniel how these new changes at Old Trafford will affect disabled supporters and why he's backing this year's Weeks of Action,
"I'm supporting Weeks of Action because it highlights the positives, as we (disabled fans) all have  challenges when attending football.
"With Level Playing Field here today, you can see all the hard work that MUDSA and the club are doing to try and attract more disabled supporters and improve the match day experience of all supporters who come to United because we are all Reds and we are all equal."
In the concourse under the east wing of the Bobby Charlton stand, Liam spoke to Sergeant Rick Clement, formerly of First Battalion, the Duke of Lancaster's Regiment.
"I learnt a lot about being disabled! I was quite ignorant before becoming a wheelchair user at times. I had no one in my family who was disabled, so I had no one who understood the needs of people in that position. Weeks of Action can bring the discussion of disability and watching live sport more into the mainstream so able bodied people can have a better understanding."
Rick had been coming to watch Manchester United since the age of 7.
"I've been coming now for 33 years. When I first came at 7 it wasn't what was happening on the pitch that excited me… it was just how big the place was and how many people had come together as a collective to watch a game of football."
During a tour in Afghanistan, Rick sustained life changing injuries after an IED blast.
"It was challenging to come to terms with what had happened, and it took the best part of a year to mentally change from the person I was before to the person I am now."
Since that incident, Rick has become an active member of MUDSA and has also been invited by the club to visit Carrington Training Centre and speak to the first team squad about his journey.
"The link between the army and football squads are very similar when you talk about discipline and brotherhood."
As a person who had attended games as an able bodied supporter to becoming a wheelchair user, I spoke to Rick about that transition and how live sport had played its part in making that life changing adjustment.
"I went straight from hospital to Headley Court, then on to the rehabilitation centre, and the first work trip I got to take outside of that was to go to Carrington with MUDSA and then come to a game here at Old Trafford.
"That was my first steps into 'Normal' life, and I saw that I could enjoy myself and enjoy football like a 'normal' person just like I did before, so sport played a massive part in my rehabilitation. By coming to watch United, I've gotten more involved with MUDSA, and that has introduced me to new sports like Wheelchair Rugby."
Liam conducted a short Q&A with Rick about his experience following Manchester United as a disabled fan.
What was it like to attend your first game as a wheelchair user?
"I was nervous. I was nervous about being outside the hospital environment, but the second you go out into the ground, the same old feelings came flooding back. Hairs standing on the back of your neck, the music starts playing and the ref blows his whistle, and then it just felt normal, that was when it first clicked to me, life can still be pretty good!"
As a person who has watched football from two very different points view, how important is it that United have invested £11 million to improve the match day experience for disabled supporters?
"Oh, it's massive! You can look around here and see people with so many different disabilities who have all come together like a family to watch United. We're all together and I love that, it's fantastic. Inclusion is something that's getting far better in society, but I think we can all agree that it's not where we all would like it to be. The fact that United are investing so much into these new facilities it makes you feel valued and proud of the club."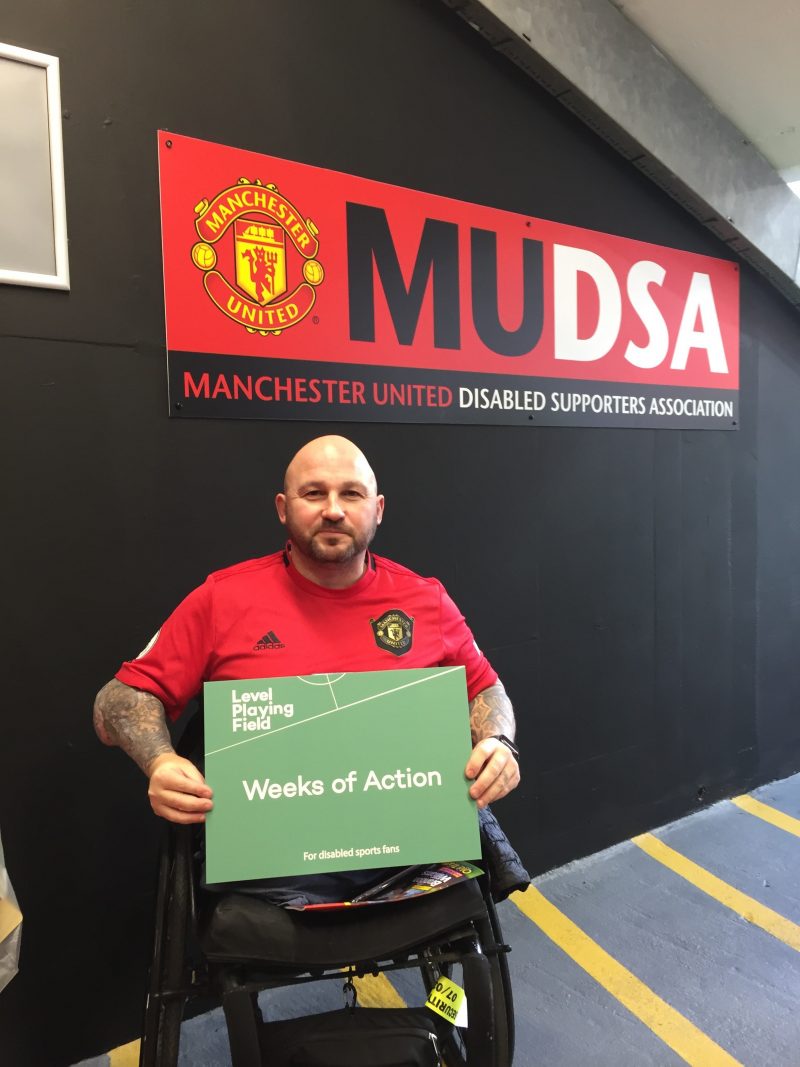 What do you think is the biggest challenge for disabled people wanting to go and watch live sport?
"That's a difficult question to answer as we all have different needs, but speaking for myself I just want to feel the same as everyone else and be included. I think in regards to going to away games, information is critical, I need to know about parking and bathrooms and all those things."
What advice would you give to a non-disabled person reading this, and how they can  support and better improve your match day experience?
"For me, just come speak to me and if you have any questions, ask. Correctly ask, don't be rude!"
"People don't know if they should hold the door open for me or not, for example. Some disabled people might find that degrading. If someone holds the door open for me, I'm fine with that. I don't need that, but I know they mean good.
"So, just ask the questions, ask if you would like to know more about me and my disability, because once you've asked we can understand each other more and come together and enjoy a game of football."