Most supporters will not necessarily need to know the layout and features of a sports stadium in detail before attending for the first time. However, for many disabled supporters, it can make a real difference to their matchday experience or even whether they are able to attend the venue at all.
For people with additional access requirements or those with sensory processing sensitivity, for example, being able navigating around a new venue can be a stressful or overwhelming experience. In fact, one supporter said that the fear of getting lost was the most stressful thing about going to a new venue. Through dialogue and consultation with disabled people at our Think Tank events, we know that there is significant demand for clubs to provide the opportunity for supporters to virtually navigate to and around their venue.
In this era of digital information, it is important to make the most of the technology that's available to help support disabled fans where possible. This guide provides a few different examples of how technology is being used at various clubs to good effect, though it is by no means exhaustive and there are undoubtedly other clubs using different tools effectively as well.
Accessibility map
An accessibility map is a plan of a stadium showing the key features of the ground from a disability perspective.
The image below shows an example from Watford FC's Vicarage Road Stadium. It uses symbols to indicate the locations of various features and includes the names and numbers on the stands and seating blocks.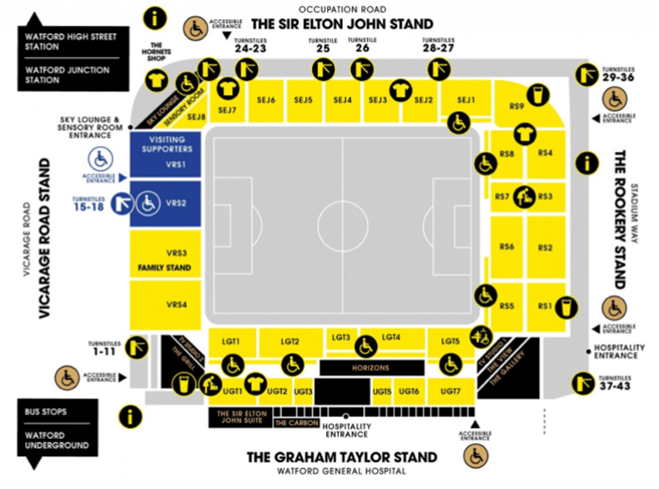 Virtual navigation tour
A virtual navigation website or app that allows the user to virtually navigate through images of a stadium by clicking along the route they want to view. Often the images at each point have a 360° view, meaning that the user can look all around the ground without having to physically visit the stadium.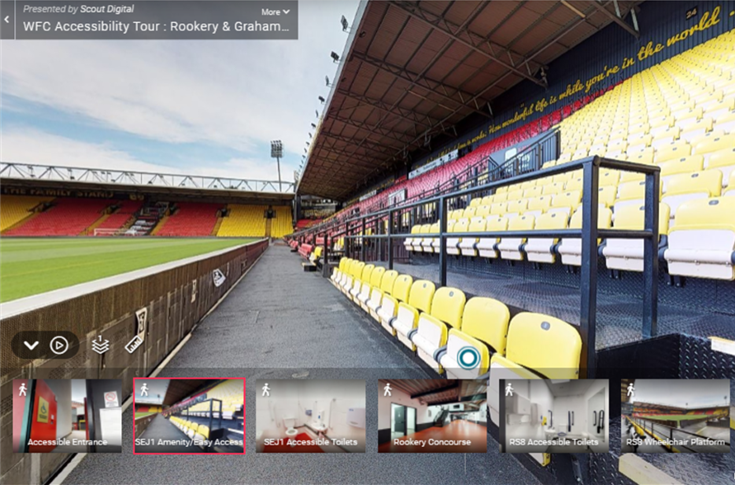 Seat Map
Similar to the virtual navigation tour above, a seat map shows images within the stadium, but with a focus purely on the views from the seats. Seat maps can be integrated with ticket booking systems, giving supporters the opportunity to see the view from their seat before they buy. This could be particularly helpful for some disabled supporters to know what view to expect.
Seat maps can use either photos or digital illustrations. If you're not able to show the view from every seat, you could show each block or stand, along with a text-based description of the accessibility for that particular block.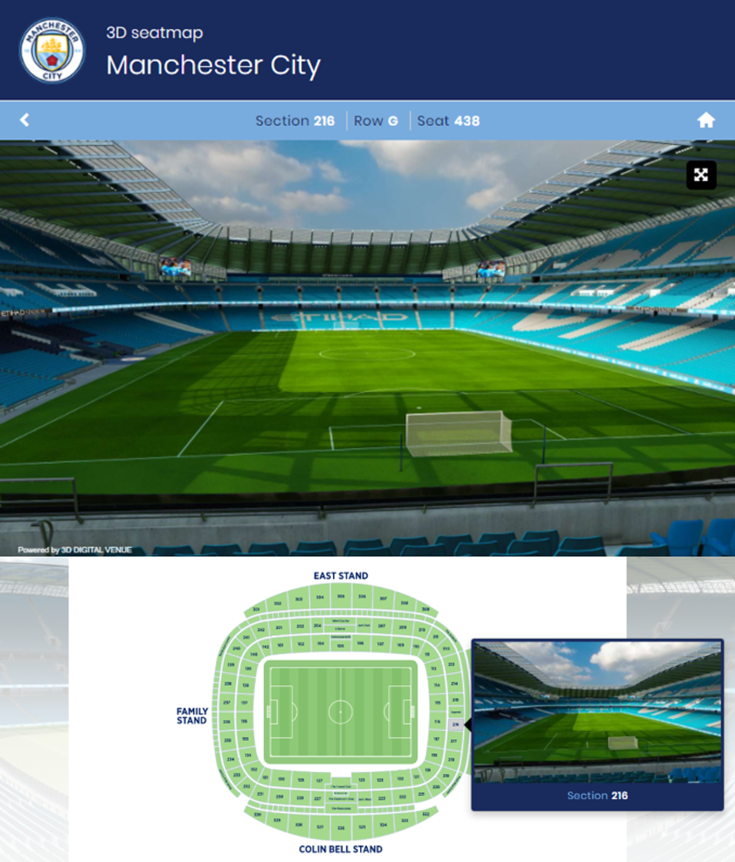 Accessibility Tour Video
An accessibility tour video showing your accessibility features and services, specifically for disabled spectators. The video can be accessed by supporters on public video streaming sites or on the club website. It can be used as an alternative to a virtual-navigation tour, showing the routes to and around the stadium. These videos can be produced comparatively cheaply and can be made with, or by, your disabled supporters.
360° Interactive Video
It is now possible to create videos which record in every direction from where the camera is positioned.
The user can then interact with the published video by scrolling around to view different angles. This is particularly useful to experience what a stadium is like on a matchday, which may be helpful for people with sensory requirements, for example.