The Level Playing Field Weeks of Action 2021 kicked off with five clubs from the Premier League supporting the campaign, including three dedicated matches.
Social media had been buzzing all weekend with dozens of messages of support including those from Wembley Stadium, Principality Stadium, the EFL and the Premier League.
No fans in the grounds due to Covid-19 restrictions meant this year's campaign was going to be very different. We usually rely heavily on the match days and fans' experiences to raise awareness about the importance of good access. So, this year more than ever we are asking clubs to show their support by using social media and involving the players where possible and so far, we haven't been disappointed!
Manchester City v West Ham
Saturday 27th February
Opening the campaign for the Premier League was the blue half of Manchester where they showcased their Audio Descriptive Commentary service they provide for fans. This valuable service is providing essential access for a number of fans with one saying, "There's a lot of people relying upon this service and it's great that the club itself see it as important."
We will be proudly supporting Level Playing Field's Weeks of Action at today's Premier League game against West Ham United 💙

More details 👇

⚽️@lpftweets #weeksofaction
🔷 #ManCity | https://t.co/axa0klD5re

— Manchester City (@ManCity) February 27, 2021
Crystal Palace v Fulham
Sunday 28th February
The final score was a goalless draw, but it was a big win for Level Playing Field as Crystal Palace hosted the Premier League game at Selhurst Park.
A Sunday lunchtime kick-off, televised on BBC1 and it was great to see the Palace squad warming up in LPF T-Shirts and Manager Roy Hodgson and others proudly wearing our new supersized LPF enamelled badges.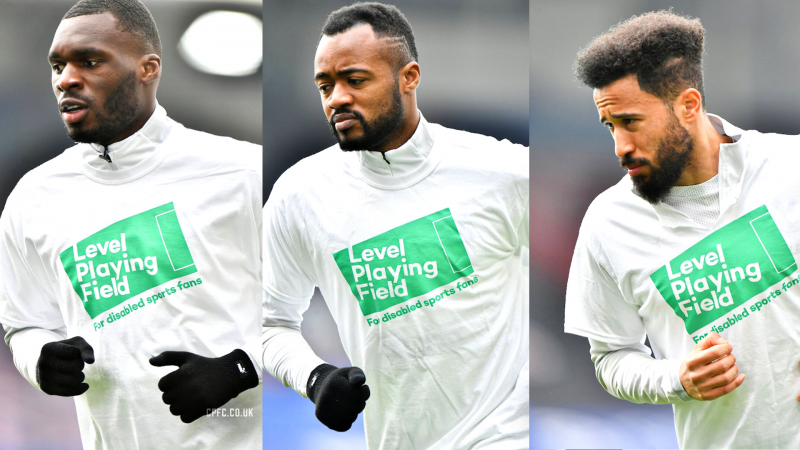 The Comms Team at Palace did us proud too and put out regular Tweets to their 1 million plus followers showing their support for #WeeksOfAction featuring photos of players.
Everton v Southampton
Monday 1st March
The next day, Everton hosted Southampton at Goodison Park for an evening kick-off.
Everton Disabled Supporters Association (EDSA) were the Supporters Club of the Match. We also saw a group of 20 fans from EDSA had the opportunity to be the virtual mascots for the game reaffirming the club's commitment to access and inclusion.
🏟 | A group of 20 fans from the Everton Disabled Supporters' Association (@EdsaEfc) were our virtual mascots for tonight's game, as we reaffirm our commitment to access and inclusion for all fans by supporting @lpftweets #WeeksofAction.

— Everton (@Everton) March 1, 2021
Carlo Ancelotti backed the campaign by wearing Level Playing Field badges whilst Alex Iwobi surprised  a group of fans on a zoom call to celebrate the campaign.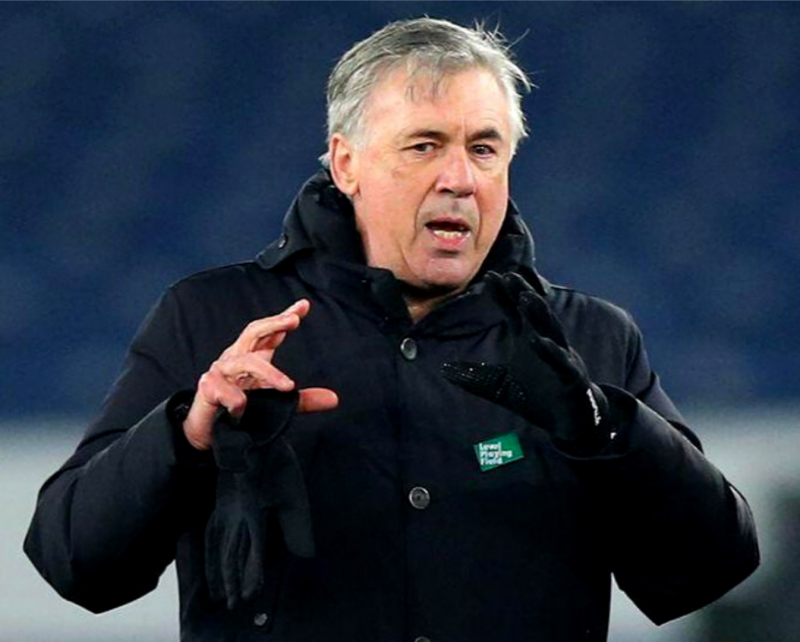 Fulham v Tottenham
Thursday 4th March
On the morning of the match Fulham shared a video message on Twitter from player, Ruben Loftus-Cheek to Fulham Disabled Supporters Association saying they are proud to be supporting the Weeks of Action campaign.
We're proud to support @LPFTweets #WeeksOfAction at tonight's game against Spurs. Thanks to @rlc for his message #FFC @FulhamFC #FulTot #AccessForAll pic.twitter.com/TMyoyfBgdQ

— Fulham DSA (@FulhamDSA) March 4, 2021
Another televised game with Fulham Manager, Scott Parker also wearing a Level Playing Field lapel badge.
Leicester City
Thursday 4th March
"I forget im in a wheelchair when i'm at King Power Stadium."
Leicester City Season Ticket Holder Olivia Fitzgerald-Thompson shares her story and experiences in a football setting as part of the Leicester's support for Weeks of Action.
You can read the article here.
Owain Davies, Chief Executive of Level Playing Field said: "We are delighted to see the support from clubs during this Weeks of Action. Sport is often a catalyst for social change in wider society and coming together during this campaign to celebrate Access and Inclusion is something that will further make the game and hopefully the wider community more inclusive."
Premier League Weeks of Action fixtures coming up…
Aston Villa v Wolverhampton Wanderers – Saturday 6th March
Brighton v Leicester – Saturday 6th March
Burnley v Arsenal – Saturday 6th March
Tottenham Hotspur v Crystal Palace – Saturday 6th March
---
Thank you to all clubs involved for the support.
#WeeksOfAction continues to run until Sunday 14 March.
To get involved, email ben@levelplayingfield.org.uk