We crossed the 100-club mark last week, with a further 16 backing the campaign last weekend.
Before we review the club's activity, on behalf of everyone at Level Playing Field, we'd like to thank all the Clubs, Disabled Supporter's Associations, Foundations, Community Trusts, County FA's Charities and other Organisations who have shown fantastic support in what has been a different, but memorable campaign, after what has been such a difficult time for sport and its fans.
Premier League
Leeds United rounded-off the Premier League's participation this year. The players warmed up in t-shirts ahead of their clash with Chelsea on Sunday.
The Scotland international spent time learning more about Level Playing Field and the work they do alongside the Leeds United Foundation and LUDO in creating more opportunities for those with disabilities to take part in sports and improving accessibility at Elland Road.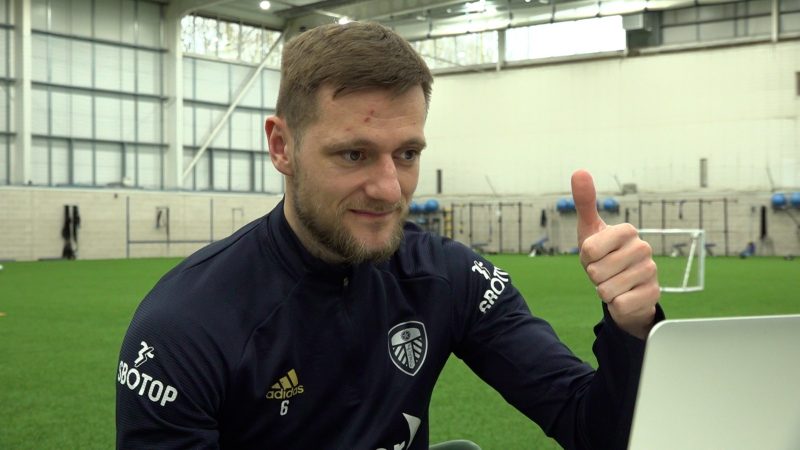 During the Zoom call, the defender also answered some questions from LUDO members and Foundation participants about the season so far, hopes and goals for the 2020/21 campaign and what it has been like for a footballer throughout the COVID-19 pandemic and especially without supporters at matches.
Championship
Friday 12th March
QPR stated how proud they were to support the campaign, along with the encouragement to "Keep up the good work!".
🤝 #QPR are proud to support disability charity Level Playing Field's #WeeksOfAction campaign.

Keep up the great work, @lpftweets! pic.twitter.com/UuZpP2lpNM

— QPR FC (@QPR) March 12, 2021
Saturday 13th March
Luton Town were the first Championship club to show their support of the campaign over the weekend in the build-up to their dedicated Weeks of Action matchday against Swansea. The Hatters posted this article on their website about goalkeeper James Shea, the player patron for the Luton Town Disabled Supporters Association, recently met with some LTDSA members on Zoom.
Today's match is dedicated to @lpftweets Weeks of Action campaign 🧡

Read all about the disability charity's work and how the Hatters have been supporting our disabled fans 👇#COYH https://t.co/DMbTXNQbHC

— Luton Town FC (@LutonTown) March 13, 2021
AFC Bournemouth also wrote an article for their website, highlighting much of the good work that the club and their Community Sports Trust have been doing for disabled Cherries fans. The club also showed some creativity by making a GIF featuring several players wearing Weeks of Action t-shirts, which they tweeted out in support of the campaign.
We're pleased to support @lpftweets and the #WeeksOfAction campaign at this afternoon's game with Barnsley 🙌

More information 👉 https://t.co/VVBI4zEC0H #afcb 🍒 pic.twitter.com/u1Vi3CDqPf

— AFC Bournemouth 🍒 (@afcbournemouth) March 13, 2021
Middlesbrough supported the campaign with typical enthusiasm, tweeting out this excellent photo of our green Weeks of Action flag hanging from the gates of The Riverside.
More matchday views 🔴🔴🔴 #UTB pic.twitter.com/Z3f5qXQbiD

— Middlesbrough FC (@Boro) March 13, 2021
An exciting post from Wycombe Wanderers on Saturday told fans of the pledge that the club had made that week to launch a disabled supporters association (DSA) in partnership with the Wycombe Wanderers Trust. The Chairboys have really got behind the Weeks of Action campaign this year and are showing a real desire to make improvements to accessibility at Adams Park.
#Chairboys are supporting @lpftweets this afternoon, in a week where we pledged to launch a disabled supporters association in partnership with @wwtrust.#WYCvPNE pic.twitter.com/XogglwH3El

— Wycombe Wanderers (@wwfcofficial) March 13, 2021
The Derby County squad were wearing white, as usual, during the warm-up to their match on Saturday against Millwall, except this time it was the white Weeks of Action t-shirts they were wearing. The Rams have been great supporters of the campaign over the years, and 2021 was no different.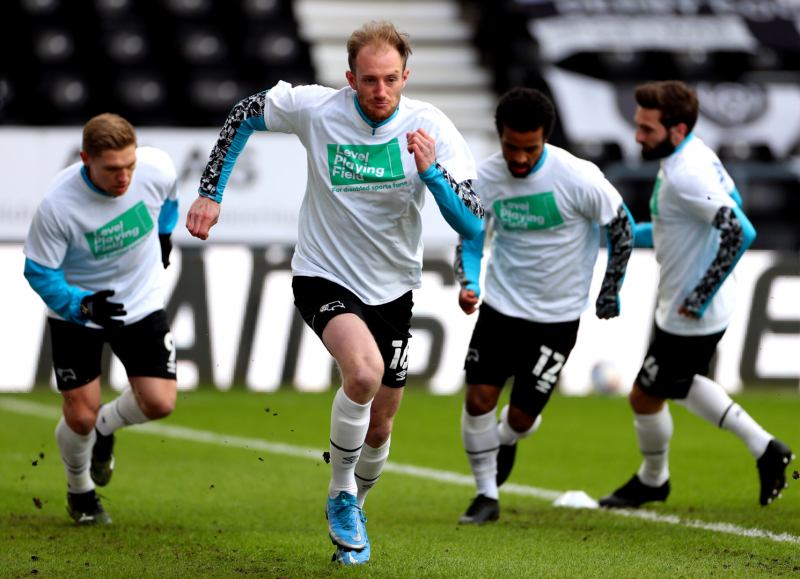 The Birmingham City players showed their team spirit, posing together in Weeks of Action t-shirts as Ivan Sanchez held up a photo board in support of the campaign. Thanks, Blues.
Supporting @lpftweets.#WeeksOfAction pic.twitter.com/aPcDF8z7Na

— Birmingham City FC (@BCFC) March 13, 2021
Sunday 14th March
On the final day of the Weeks of Action campaign (officially), Sheffield Wednesday had their dedicated matchday against league leaders Norwich. The Owls celebrated access and inclusion for disabled supporters as their players warmed up for the match wearing Weeks of Action t-shirts.
Today is our dedicated game to support @lpftweets annual campaign to celebrate access and inclusion in sport for disabled supporters #SHWNOR pic.twitter.com/wBVwE0pHDw

— Sheffield Wednesday (@swfc) March 14, 2021
Monday 15th March
For the Weeks of Action, Brentford took the opportunity to showcase some of the accessible features of their new Brentford Community Stadium. They posted a photo of their new sensory room on social media and published an article on their website describing some of the features the new stadium will offer to The Bees' disabled supporters:
850mm: Dropped counters at an accessible level for all
150 wheelchair spaces
56 ambulant spaces
23 accessible toilets
8 unisex toilets
5 accessible baby changing facilities
2 adult changing rooms
1 baby feeding facility
1 Sensory Room
Designated disabled stadium parking
We were proud to support @lpftweets' 𝗪𝗲𝗲𝗸𝘀 𝗼𝗳 𝗔𝗰𝘁𝗶𝗼𝗻 campaign, to showcase the good work being done by clubs and organisations to improve accessibility and inclusion across sport.

Details ➡️ https://t.co/McdOvtTCkc#WeeksOfAction | #BeeTogether | #BrentfordFC 🐝 pic.twitter.com/IVvff9VFXA

— Brentford FC (@BrentfordFC) March 15, 2021
Tuesday 16th March
Rotherham's Weeks of Action matchday took place outside of the official campaign dates, but The Millers were still very keen to support the campaign and chose their midweek game against Watford as their dedicated matchday. The club posted some great photos on social media, including this excellent shot of the team huddled around our Weeks of Action flag.
📸 | Showing our support to the @lpftweets #WeeksofAction today ahead of tonight's fixture with @WatfordFC#rufc | #ForeverTogetherForeverProud pic.twitter.com/GGmOVWpFHY

— Rotherham United (@OfficialRUFC) March 16, 2021
League 1
Friday 12th March
Just before the final weekend of the campaign, we were delighted to have the support of Oxford Utd on social media. The Yellows were the final League One club to show their support for the campaign as they tweeted on Friday in advance of their game at the weekend against Hull City.
We're proud to be supporting Level Playing Field's #WeeksOfAction campaign!

The charity are celebrating good accessibility and inclusion at sports venues across the countryhttps://t.co/EnQ4CLGhYG#AccessForAll @lpftweets #OUFC pic.twitter.com/2sQ57qM9Oh

— Oxford United FC (@OUFCOfficial) March 12, 2021
League 2
This final week saw another four teams from League 2 celebrate Weeks of Action.
Many of the Clubs wore t-shirts to recognise and celebrate access and inclusion for disabled fans.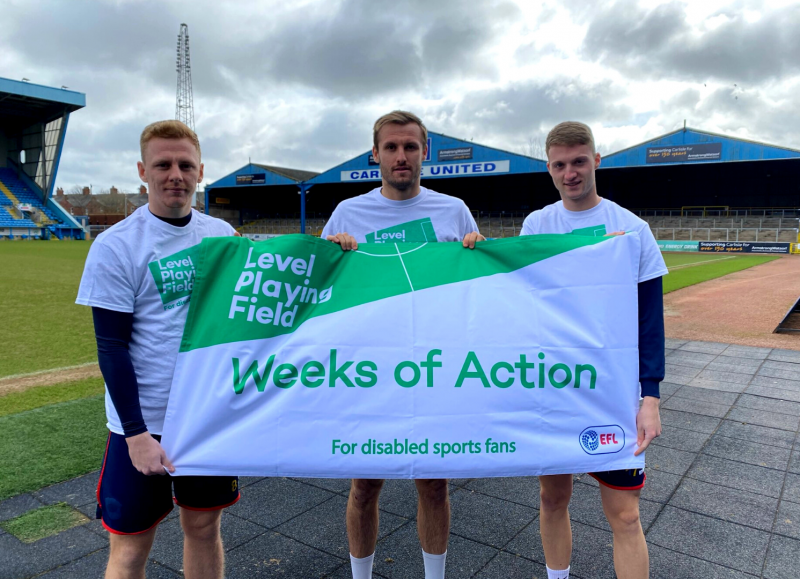 The Clubs involved this week were: Carlisle United FC, Harrogate Town AFC, Leyton Orient FC and Walsall FC.
Grimsby Town will be using their matchday on 7th April against Bolton Wanderers.
HIGHLIGHTING THE IMPORTANCE OF LIVE SPORT