The campaign had many supporters with likes of Baroness Tanni Grey-Thompson, Neville Southall (Everton and Wales), Danny Mills (Manchester City, Leeds, Middlesbrough) and many more.
Some highlights of the 2015 #WeeksOfAction saw Joe Ayton talk about his matchday Experience as a disabled fan. Newport County's DSA launched as a part of LPFs working together project, you can read more of the story by clicking here. We also saw Bradford City DSA and Sheffield United DSA join forces to celebrate the #WeeksOfAction.
LPF ambassador and supporter June Wratten said about the 2015 #WeeksOfAction "The LPF Weeks of Action is a great initiative which puts access and inclusion issues in sport firmly in the spotlight. I cannot emphasise enough how important it is for clubs at all levels to embrace all of its supporters."
Neville Southall (Everton and Wales- Goalkeeper) said "It is with great pleasure that I can offer my s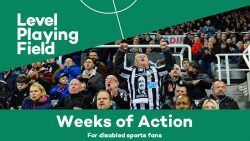 upport to Level Playing Field's Weeks of Action 2015. In my career playing football what was always noticeable was the passion of the supporters, and how simply going to the game brought so many people together. It is vital that all sport venues should ensure disability is not a barrier to enjoying that same feeling and passion. I wish those taking part in this year's campaign every success."
The #WeeksOfAction campaign may have progressed over the past 4 years, but the message is still the same. We want clubs to showcase the positive work they do and look to provide an inclusive matchday experience for disabled fans.
Owain Davies, Chief Executive of Level Playing Field said: "The Weeks of Action is an important factor on showcasing the positive work that clubs do to support disabled fans. Statistically it is estimated that 50% of disabled people have never participated in leisure or sports activities and we want to see this change and more people to experience the 'beautiful game'."
If you or your club haven't signed up to this years #WeeksOfAction, there is still time. Just get in touch and we can help. Click here for contact details or visit the 2019 #WeeksOfAction Page