Cathy Bayford joined us to highlight the work West Ham United are doing for disabled supporters, as part of the club's Weeks of Action plans.
Cathy, who is co-chair of the West Ham United Disabled Supporter's Board (DSB), spoke pitch side at the club's dedicated Weeks of Action fixture to promote the group, accessibility at London Stadium, and Level Playing Field's Weeks of Action.
First of all, can you explain what the Disabled Supporters Board is?
The board was formed back in 2017 as a stand-alone group when it was identified that significant chunks of the various fan group meetings were being monopolised by disability issues. Working with the club, with Trevor Bright and myself as co-chairs, disabled supporters were invited to apply to form the DSB, and we now have 15 members on the Board, with ages 17 through to 70 and together we represent a range of disabilities. We meet regularly as full member meetings with the club and in-between Trevor & I are regularly in conversation with the accessibility team and supporter services.
We also sit on the Premier League Disabled Advisory Group where we are kept up to date with nationwide issues (and in fact, we are hosting a meeting at the London Stadium this month), and I represent the DSB on West Ham's own Independent Supporters Committee, whilst other members of the DSB sit on the various sub committees.
What did West Ham and the DSB do for Weeks of Action?
We used the opportunity to launch our own West Ham United Disabled Supporters Facebook page. Trevor and I, along with other members of the DSB, staff from the club's supporter services department, and representatives from the disabled supporter assistant team set up a meet and greet at the disabled shuttle bus drop off point. We were able to hand out leaflets with our contact details on and generally highlight the fact we have a DSB! Trevor and I were invited pitch side where I was interviewed prior to the match to further promote the DSB and Level Playing Field's Weeks of Action.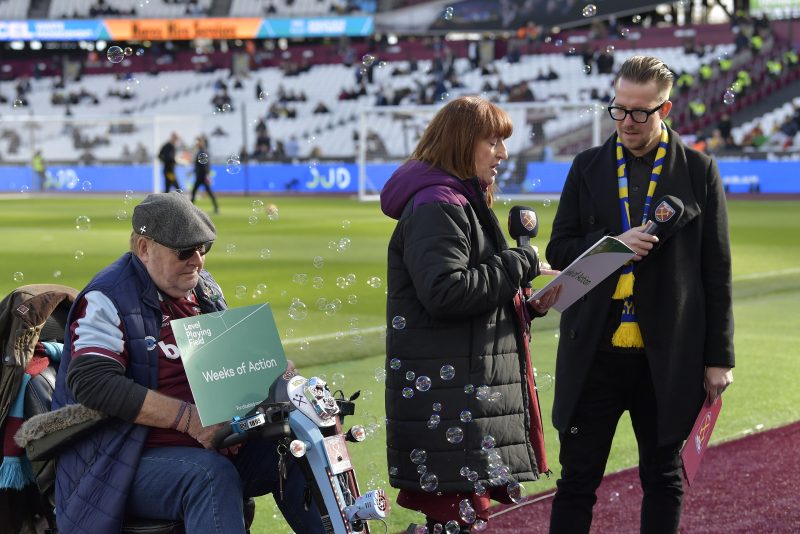 How does the DSB help disabled fans who attend football at the London Stadium?
We are fortunate to have a close working relationship with the club, I know this isn't the case for all disabled supporter groups. Together we have worked on many projects with the club since moving to the new Stadium in 2016 to further improve the matchday experience for our own disabled supporters and those that visit. I have already mentioned the shuttle buses – the stadium sits in a designated green area and as such vehicular movement is restricted, with parking very limited. This free service runs backwards and forwards from Stratford International Station before and after a game. This has been so popular, we started off with four buses and we now have 18 vehicles running on a matchday. The service is for disabled supporters, those with mobility issues and their accompanying companions/carers and passes are issued by supporter services.
Other initiatives we have worked on with the club include disabled-only search lanes and turnstile entrances, and discreet disability passes to allow access for those whose disabilities are not immediately obvious or visible. The lowering of and additional signage at a number of catering kiosk counters, radar keys fitted to all accessible toilets and the fitting of coat and bag hooks on the back of the toilet doors. We have also seen through the introduction of the sensory room available to those who may find the hustle and bustle of matchday challenging, and championed 'Purple Tuesdays' at the stadium store, giving a quieter and more relaxed shopping experience for those with sensory issues.
How can the public and fellow West Ham fans find out more about the board and get in touch?
As previously mentioned, supporters can join our new Facebook page, email us at dsb@westhamunited.co.uk, or find us via the West Ham United Independent Supporters Committee website.
Our details can also be found on the club website, where the minutes of previous meetings can be accessed alongside various articles that we have been a part of.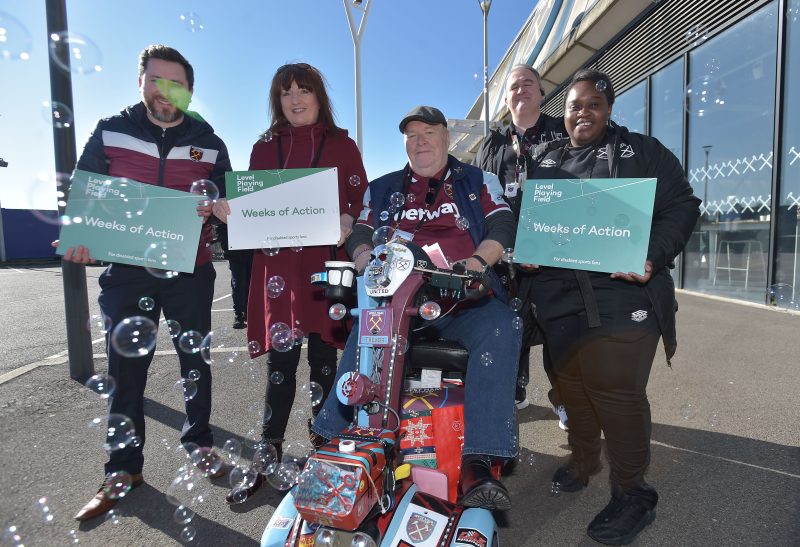 Talk to us about getting interviewed pitch side! What was discussed?
Being down on the pitch was amazing, it really puts into perspective how huge the stadium is. It also gave me a chance to see how big the capacity seating is, which increased my level of nerves! I was anxious to get all the information out there so ended up reading the prompt notes I had prepared. I have received positive feedback and we have had a number of requests to become part of our Facebook group and seen an increase in the number of emails we receive so it was worth the nerves and preparation!
We talked about much the same as we are here, the origin of the DSB, what we had achieved and how to get involved. I was also able to highlight the work of Level Playing Field, whilst the LPF charity's green and white signs were displayed on our large screens while I was speaking.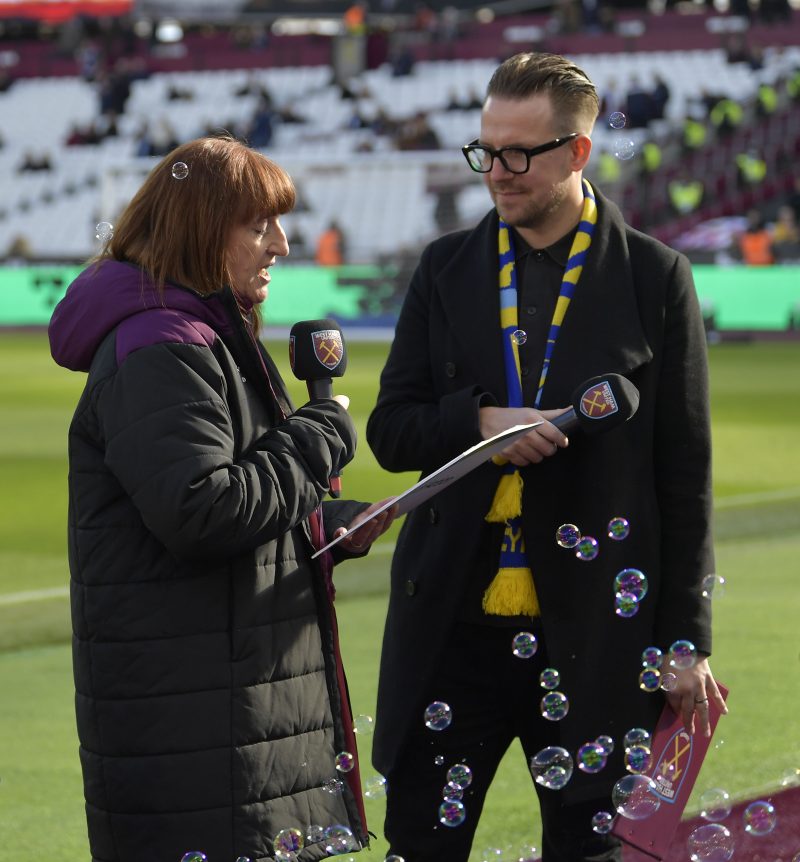 How do you think attitudes towards disability had changed over the past five years?
Attitudes are so much more positive, more on what we can do and not what we can't! I think a lot of this is down to the success we saw from our own Paralympians in the very stadium we now play football in!
Alongside that the changes, required by new law as to making stadiums fully accessible are now being implemented. Other non-disabled fans are often surprised to hear we are not given the same opportunities to attend games than those without disabilities. Everyone now expects that reasonable adjustments are put in place so we can all attend the football games we want to.
What are your hopes for the coming years regarding accessibility at stadiums up and down the UK?
I would like to see all grounds fully accessible to all. We are aware that there are still some stadiums yet to completely embrace the expectations that their facilities must be of a level to fully meet the needs of all disabled supporters. From the availability of refreshments to an acceptable view of the pitch.
However, most clubs have already made or are making positive steps in making the adaptions required of them and we acknowledge many grounds are old and their design is a challenge when it comes to designing and implementing the changes. There seems to have been a marked increase in the number of fans persistently standing at Games outside of the safe standing project right across the football league. Our fellow supporters seem to pay little attention to the stewards that ask them to sit down. This can cause real issues for those who simply cannot stand up when the row in front of them takes to their feet and I am hopeful this can be recognised and addressed, if need be, by the Premier League before it becomes too much more of an issue.