Recently featured in Prescot Cables Matchday Programme, the following is Amy's story of how she was won over by all things Pesky.
"As the start of the tune that has become synonymous with a certain Prescot Cables goal scoring machine goes "where it began, I can't begin to knowing" but unlike that classic Neil Diamond song, I do know where it all began Cables wise – Saturday 12 November 2016 at home against Clitheroe.
For someone who lives less than two miles away from Volair Park, it shouldn't have taken me so long to eventually get myself down to a Cables game, particularly as I've since found out that my dad used to go to odd games there back in the day.
So why, after years of going past Hope Street numerous times when in Prescot, did I decide on that cold November day to go to a Cables game? Two reasons really – the first being that some of my good mates starting going to matches a year or so before. They instantly became hooked on all things Prescot Cables, continually talking about the club and how great a place it was. (And yeah, to be honest my close proximity to the ground gave them a bit of ammunition to have a go at me, so partly to stop that, I went).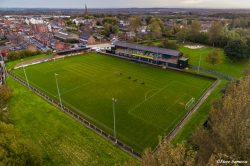 Secondly and more importantly, thanks to one mate in particular, I knew before going that as a wheelchair user, I would be able to go to a Cables game, be able to get into the ground easily, see the match clearly and that there was an accessible toilet! This last point may seem a bit trivial to
most, but believe me as a disabled person, this is massively important and is often the decision breaker as to if you go to a venue or not.
As a disabled fan, I can go to a Cables home match and position myself in the corner of the ground to soak up the sun (I can even rest my pint on the post which may or may not have been specifically installed for me).
My favourite Cables memory comes from sitting here and seeing the fence collapse when Joe Herbert scored THAT goal, no other words are needed!
When the elements are not good, like the Droylsden game earlier this month, I can take shelter in the Shed end. Both areas allow me to see the pitch clearly, see my mates and feel part of our ever-growing crowd. Things that any football fan wants, disabled or not. Having been to many grounds over the years, this is not always the case for disabled fans.
Even in my relatively short time of going to Cables, the club have made changes to benefit disabled supporters. These include the introduction of clear signage in the accessible viewing area in the Shed End and the installation of a RADAR lock on the accessible toilet (something that has taken years to be installed at many Premier League grounds).
Now don't get me wrong, whilst Volair Park has the basics in place and in my opinion is one of the better grounds at our level for disabled supporters (did I mention we have an accessible toilet?), just like at all venues, there is room for improvement to enhance the matchday experience even further for disabled supporters.
Easier access into the Shed end, better access in to the clubhouse and easy access seating for supporters with limited mobility are some of the changes the club should be looking to make and will help to bring more people to club. Good access does not just benefit disabled fans, but all fans. These changes and more will hopefully be achievable over time. Meanwhile, back to Cables. I never expected after a 2-2 draw against Clitheroe in which we sickeningly blew a two-goal lead with practically the last kick of the game that the club would become such a big part of my life. Just like with my mates a year previously, I'd fallen under the spell of this club.
The defence of the Liverpool Senior Cup was simply glorious (and most definitely pesky) and even though it didn't end the way we wanted, I was so glad to have persuaded my brother not to go to watch Everton struggle to get a draw against Southampton and to go to the play-off final at Bamber Bridge with me. Seeing the reaction of the players and fans alike at the final whistle was a proper indication of how special this club is, both got each other through. Our clubhouse after that game was even more special, no doom and gloom about the result, just positivity about the future.
All fans have their own reasons for loving their club, but one of the things that got me about Cables is how I can just go to a home game and just be a Cables fan. My disability does not matter when I am there and you can't get much more pesky than that!"