Catherine Dyer is a Swansea City fan, and a member of the Swans Disabled Supporter's Association. She has two daughters who both have autism, and as part of World Autism Acceptance Week has sat down with Level Playing Field to discuss their matchday experiences.
Her youngest daughter Nicola, 26, is mildly autistic, deaf, but has agoraphobia and huge anxieties. On a matchday they arrive as soon as the turnstiles open, an hour-and-a-half before kick-off, and take up their seats.
Cath said: "The Disability Liaison Officer and stewards just smile at us, and leave us be until she calms, which could be well into the second half.
"The ticket office staff have also been brilliant in letting Nicola into the ground early."
To avoid crowds, Cath and her daughters leave the stadium prior to the final whistle.
Nicola's sister Claire, 28, has severe autism, and struggles with attending matches due to the noise, crowds, her concentration levels, and not being able to sit still.
"When she used to attend matches, we would spend a lot of our time in the concourse where she used to run around," Cath said.
This changed though, when the Disabled Supporters' Association and the club worked together to open a new sensory room at the now named Swansea.com Stadium, and Claire was offered the opportunity to use it.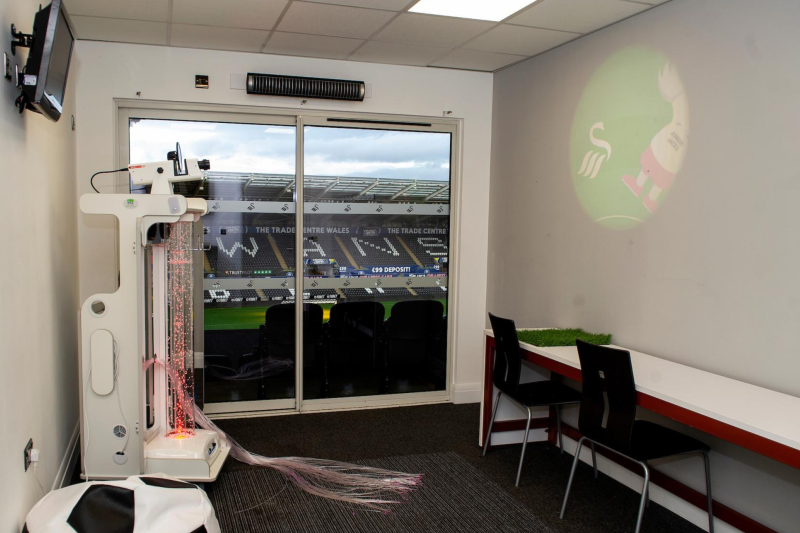 "It was absolutely fantastic," Cath said. "She spent her time calm and settled, watching the bubble tube and projector, would wander outside in her headphones, but due to the noise would immediately return to the sensory room."
Cath also explained how the head of hospitality at the stadium was great with the girls, and always invited them to help with the room preparations during an awards night.