Fan's Liaison Officer Liam Bird:
A few weeks ago on December 27, I was standing outside Moss Lane, (now known as J. Davidson Stadium) the home of Altrincham FC. I made the 168-mile journey from my house to witness history in the making!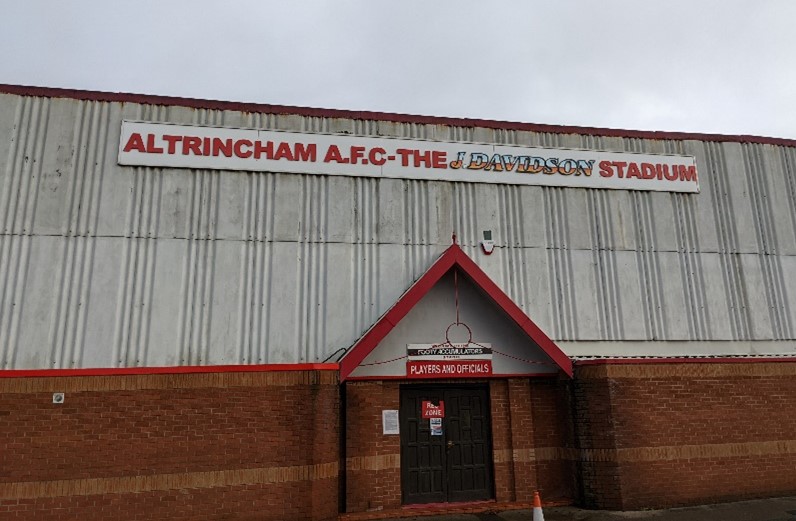 This would be the first time in England or Wales that a visiting team (in this case Wexham AFC) would provide its own Audio Descriptive Commentary (ADC) service to a home club as well as its own travelling fans.
How did this come about?
I spoke to Steve Gilbert, Chair of the Wrexham Disabled Supporters Association (DSA), at the back of the main stand at Altrincham about an hour before kick-off, to ask him how this small historical event come to be.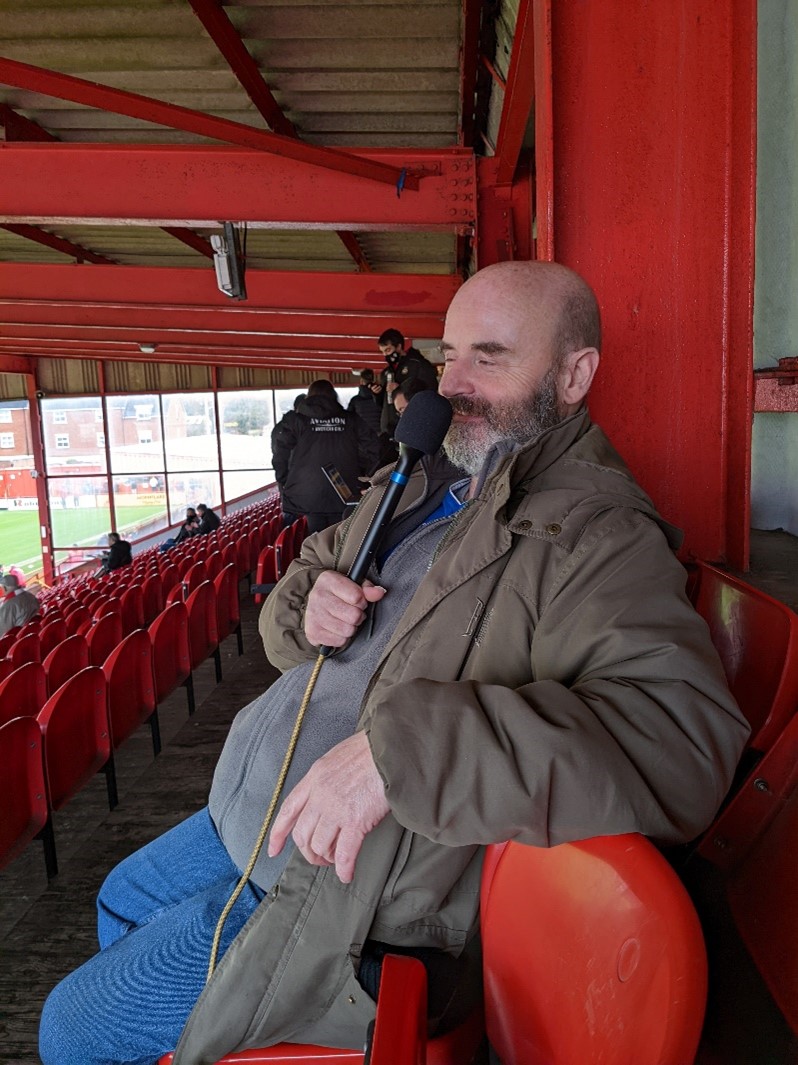 "Basically, a conversion in a car park after a home game," Steve explained.
"One of the ADC commentary teams mentioned that they would like to do an away game. So I looked through the fixture list for somewhere local.
"The Altrincham fixture was over Christmas and some people would still be off work, that fixture just leapt out.
"Altrincham are a community club, community-minded, and I was pretty sure that they would be up for it, and they really were. They said yes right away!"
Some might be thinking, what is ADC, and how is it different from radio commentary?
Luckily enough, I asked the same very question to the travelling Wrexham ADC commentator Alan Fox.
"We are specially trained commentators whose job is to keep on describing what's going on throughout the game; what I mean by that is that we won't tail off and overload the listeners with stats or our own opinions.
"The important thing is to always let the listener know where the ball is and describe the player's surroundings. There are always two ADC commentators because we are constantly talking, so we do one half each."
Alan's commentary partner Alex Carter added: "The clue is in the name, really. What you wouldn't get in your traditional commentary is the shade of the away team socks are.
"It's our job to be the listener's eyes on the pitch and not take for granted that supporters can't see everything that's going on. So, for instance, a listener might not know how tall a certain player is. It's our job to go that extra mile."
On a matchday, Altrincham's Press and Media Officer Brian Flynn is a hard man to find, he's needed all over the stadium but it was Brian who picked up the offer from Steven at Wrexham DSA and agreed to bring the service to the Altrincham fan base.
"Today's event is kind of a test event. We are very interested in bringing the ADC service to Altrincham because we know that there are blind and partially sighted supporters in the Greater Manchester area who might not be going to watch live football because their football club doesn't provide this specialist service," Brian said.
Altrincham is a small club, and that's not being disrespectful. It's a part-time community club, their record signing cost only £15,000, and the average club attendance in 2019 was just over 1000 fans. However, Brian wanted to stress that the size of the club should not be a factor when trying to accommodate an accessible match day for the community of the town.
"We are trying to be a better community club every season, and we think bringing ADC to this club would definitely achieve that.
"We are trying to grow our fan base and we know that the numbers of people who might use the ADC commentary might not be huge at the start; but we believe it would grow, and that's why we feel its something we, as a club should look to invest in."
Two fans who will be using the ADC at the club for today's match are husband and wife Neil and Lora Fachie. Do those names sound familiar?
Lora and Neil both won Paralympic Gold for team GB in Tokyo 2020 after a thrilling final day of track cycling.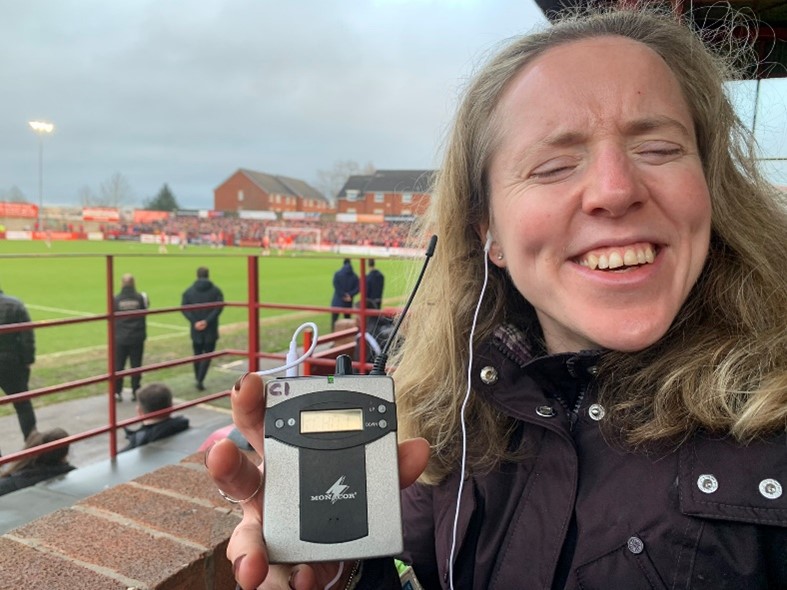 Today they have swapped the bike seat for the terraces to experience the audio descriptive commentary service for the first time at a live football match.
"Altrincham have their own radio commentary called 'Radio Robins' and we typically use that, but it's not currently set up to be used in the ground so there is usually a minute delay from what is going on in the stadium, meaning you're not fully part of the real-time match experience," said Lora.
"However, we are looking forward to experiencing the ADC Wrexham will be providing today, and I'm hoping in-depth commentary will be coming to me in real-time and will give an enhanced match day experience. I'm looking forward to it!"
Neil and Lora joined me for the latest episode of the Level Playing Field podcast to review the ADC used at Altrincham, that will be out later this month.
For now, you can listen to previous episodes here.
---
Away Fan Survey
Last week, Level Playing Field launched their latest fan survey, which asks disabled supporters about their experiences of attending away matches.
The survey asks fans about their travel to away matches, their access requirements, and what some of the potential barriers are that they face when attending away matches.
Results will be shared with clubs and should provide an insight into the experiences of disabled supporters at away matches across the country.