To qualify for the award, the club or venue must first commission an LPF Audit and demonstrate that it meets the requirements of existing equality and access legislation, building regulations and accessible sports grounds and stadia good practice standards. It must demonstrate the highest access and inclusion standards in accommodating disabled spectators and visitors on match (or event) and non-matchdays.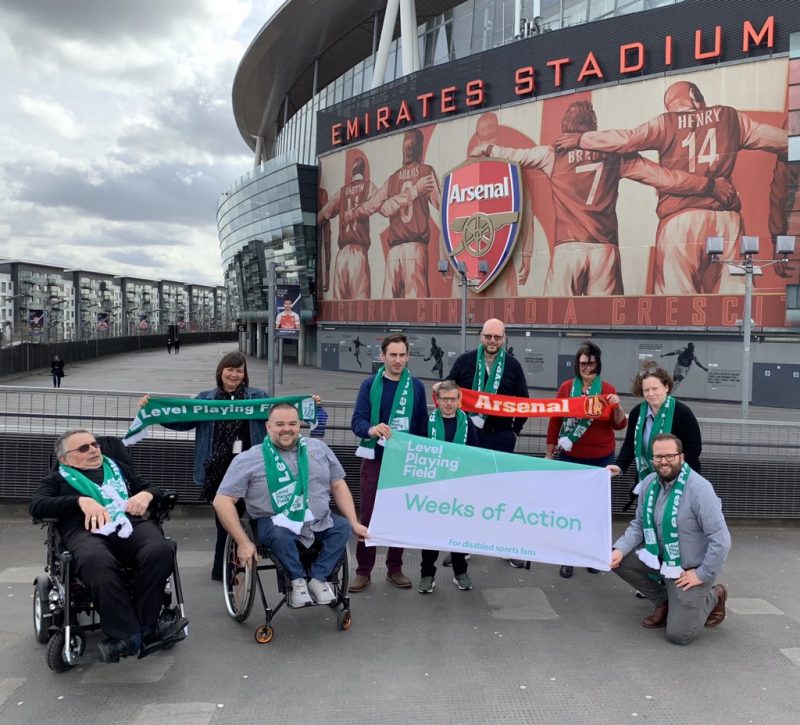 Wembley Stadium and Arsenal FC lead the way
The LPF Board of Trustees is delighted to announce that the first LPF Centre of Excellence awards are to be presented to Wembley National Stadium and to the Emirates Stadium, home of Arsenal Football Club. It is expected that other stadia and sporting venues will soon follow suit in achieving this prestigious award by first commissioning an LPF Access Audit and by then demonstrating good practice access standards and in providing a fully inclusive matchday and non-matchday experience.
Wembley National Stadium Managing Director, Roger Maslin said of the award "WNSL is delighted to be joining forces with Level Playing Field moving forward. We share in their vision to ensure accessibility issues are addressed and that suitable solutions are identified and implemented. At the centre of Wembley Stadium's ethos is inspiring memories for our fans and as such we take great pride in providing the best customer experience for everyone at all our events."
John Beattie, Stadium and Facilities Director at Arsenal FC said "We are extremely proud to have been recognised in this way. Our aim is to make our stadium a welcoming place for everyone who visits and this shows we are getting things right."
LPF Chair, Joyce Cook, OBE said 'We have been delighted by the success of the LPF Audit programme and the respect and recognition that our audits have gained across a range of sports. The programme has been delivered under the expert stewardship of Gary Deards, LPF's Vice Chair and Stadia Development Lead, with audits undertaken by our professional LPF auditors (who specialise in sports stadia) and we are very proud of the high level of service and support that they are providing to our clients. It is also fitting that we should recognise those clubs and venues that have undergone a full LPF Audit and those that have achieved the highest standards as 'Centres of Excellence' in providing an inclusive and accessible fan experience. We hope that the new LPF audit awards will act as an inspiration to other clubs and venues.'
Level Playing Field 'Centre of Excellence' awarded to Derby County FC
The iPro Stadium is the first in the Football League to achieve this award and sits alongside Wembley and the Emirates Stadiums as the only football grounds to have reached this standard.
The 'LPF Centre of Excellence' Award is presented to sporting venues that demonstrate the highest access and inclusion standards in accommodating disabled spectators and visitors on match (or event) and non-match days. To qualify for the award, the club or venue undergoes a Level Playing Field Professional Access Audit and must demonstrate that it meets all good practice standards, equality and access legislation and building regulations for accessible sports stadia.
Derby County has been innovative in making many excellent improvements and provisions for its disabled fans. These include several smart and low cost ground breaking solutions that have established good practice examples for existing stadiums that LPF now hopes other clubs will look to adopt. The club works closely with its Disabled Supporters Association and recognises the value of ongoing user-led consultation.
Level Playing Field (LPF) recognises Derby County Football Club as an excellent example of a club making continued improvements to its disabled fans facilities. We are particularly impressed by the "can do" culture throughout the club and based on the findings of the access audit and in recognition of the work that has been done and continues to be done, the LPF Board of Trustees are delighted to award the 'LPF Centre of Excellence'.
LPF Centre of Excellence Awards
Arsenal FC Emirates Stadium (November 2012)
Wembley Stadium (November 2012)
Derby County iPro Stadium (September 2014)
Brighton and Hove's Amex Stadium (January 2017)
Manchester City Etihad Stadium (February 2018)
Click here for more information about LPF and the LPF Audit programme, and click here for more information about what to expect from an accessible sports stadium (new and existing) or venue.