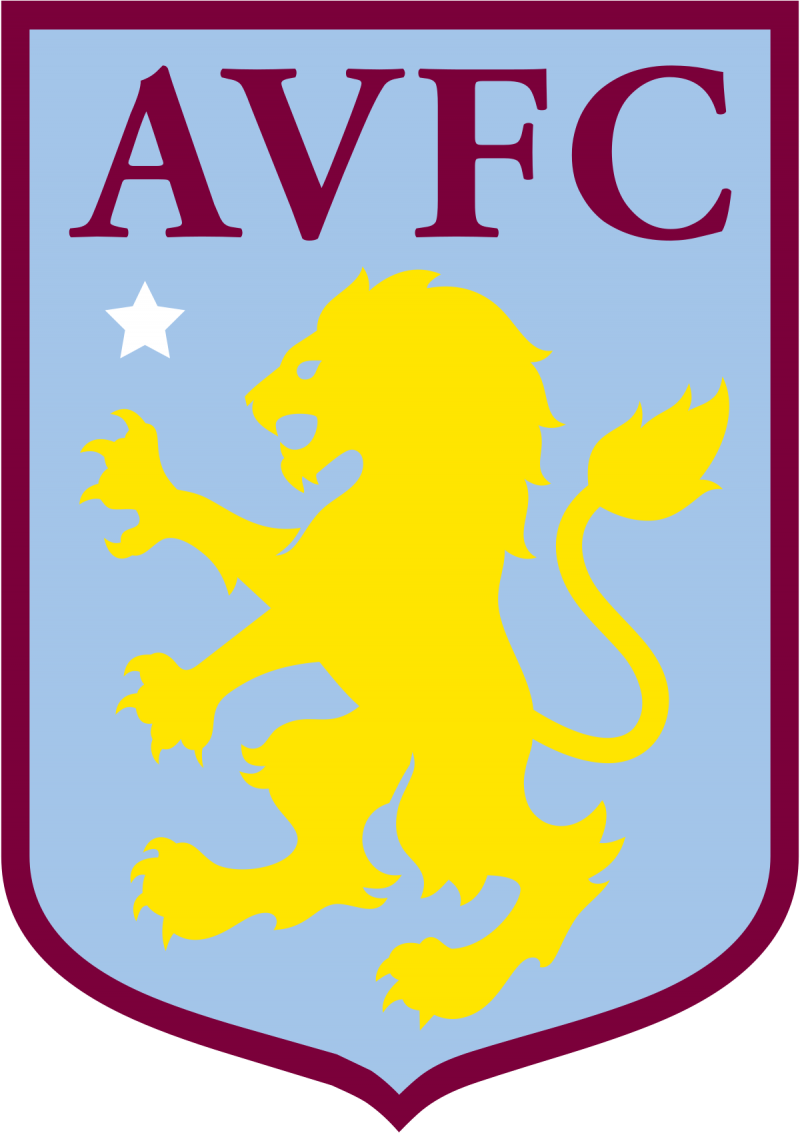 Aston Villa
Premier League

Villa Park
Capacity: 42,777
Villa Park
Birmingham
B6 6HE

Disabled supporters contact
Club or stadium contact
 for disabled fans
Anthony Richards
Disability Access Officer
accessibility@avfc.co.uk
General ticket office contact
Lynne O'Reardon
Head of Ticketing Operations
Disabled supporters association
Aston Villa have two DSAs. Please see notes below for contact information.
See below.
AVDSA
Joanne Mckibbens chairwoman.avdsa@hotmail.com 07757084692 AVIDs Tim Craythorne tcraythorne.avids@hotmail.co.uk 01527 894756
Accessibility information
Stadium map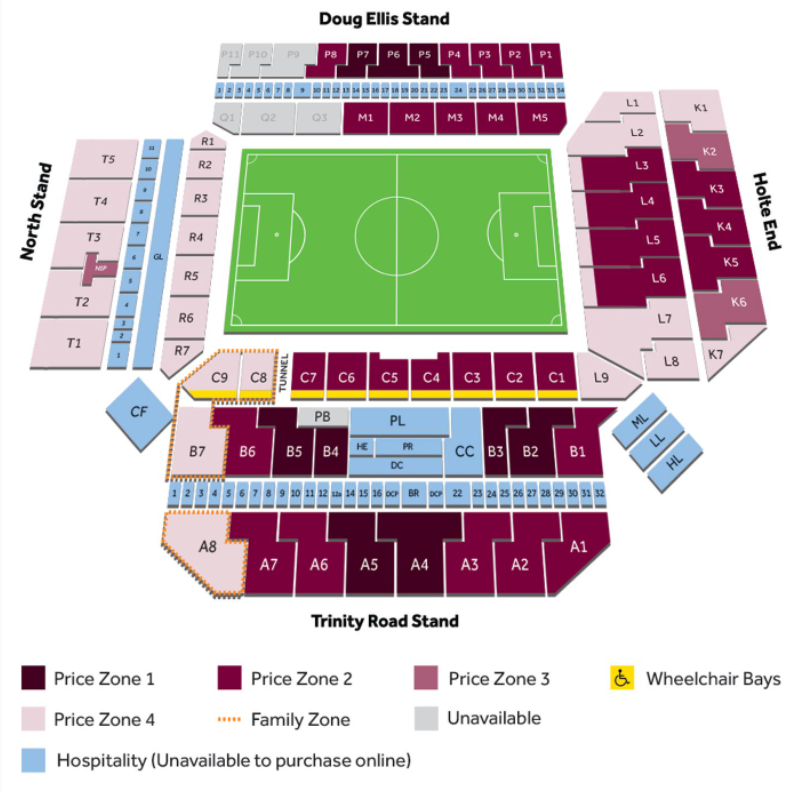 Number of wheelchair user spaces
Aston Villa accommodate both home and away supporters who are wheelchair users and their PA's within the Trinity Road Stand, providing a number of wheelchair bays with PA seating. There are three accessible entrances available to wheelchair supporters at Villa Park, all of which offer ground level access to wheelchair viewing facilities.
Number of easy access and amenity seats
Seating for ambulant disabled supporters is located in a variety of areas around Villa Park. Such spaces may benefit from increased leg room, may be close to an entrance/exit or may otherwise be more easily accessible and are considered, by the Club, best suited to ambulant disabled supporters. Ambulant disabled supporters are advised to contact the Consumer Sales Department at Aston Villa prior to purchasing tickets for fixtures at Villa Park.
Number of accessible toilets
Toilets which have been adapted specifically for disabled persons are located in the lower tier concourse of the Trinity Road Stand and are in close proximity to the wheelchair bays located in the same stand. The facilities are designed to give visitors independent use and can only be accessed with a Radar Key which can be obtained from any steward patrolling the area.
Audio commentary
Headsets, which feature full audio commentary of matches, will be provided by the Ticket Office to visually impaired supporters upon request. This audio commentary service is provided free of charge.
Sensory room
There are two dedicated sensory rooms located in the North Stand. Sensory rooms provide a calming environment for supporters on the autism spectrum, or those with other similar hidden disabilities to watch a match. Supporters often use these facilities as a gateway into the general seating areas. These rooms can be booked on a match-by-match basis, subject to availability by contacting Disability Access Officer. Please note that to enable the sensory rooms to be used by as many people who require them as possible, a limit on the number of times this facility can be used in a season may be utilised.
Accessible services + information
Assistance dogs
Aston Villa welcome all disabled supporters using an assistance dog (in line with Guide Dogs for the Blind Association guidelines). Please club know when purchasing tickets, that you will be accompanied by an assistance dog when attending matches. If you would like to ensure that your assistance dog is familiar with Villa Park and its surroundings before a matchday, Aston Villa would be happy to facilitate a pre-match visit. Please contact the Disability Access Officer to make these arrangements.
Hearing loops
Villa Park has permanent induction loops located at the following information points: North Stand Reception Villa Village Ticket Office Villa Village Shop Trinity Road Ticket Office Trinity Road Stand Reception Security Lodge Trinity Road Press Interview Room A British Sign Language Interpreter is available in the North Stand Reception on a matchday.
Club shop
The Club's flagship store "Villa Village", is located on the North Stand car park next to the ticket office. The store is located on ground level, and has accessible parking bays located adjacent to the entrance. The doors at entrance are push button operated. Our staff would be happy to assist you with any enquiries or to access goods placed at higher levels. Induction loops are fitted and signposted at both payment tills and the shirt lettering counter.
Club hospitality
Aston Villa are able to offer high quality dining experiences in several of our lounges with accessible viewing facilities to match. Please be aware that not all hospitality suites are fully accessible. It is recommended you to contact the sales team on 0333 323 1982 option 1 or email hospitality@avfc.co.uk as far as possible in advance. Hospitality suites and packages are booked on a first-come first-served basis. The capacity of wheelchair users the club can accommodate within each stand at Villa Park is governed by the number of wheelchair users they can safely evacuate in the event of an emergency. Headsets, which feature full audio commentary of matches, can be provided for visually impaired supporters upon request. This audio commentary service is provided free of charge. For details in advance of your visit, please contact Disability Access Officer. Menus in alternative formats are available upon request with prior notice given to the hospitality sales team.
Braille and large print provision
Menus in alternative formats are available upon request with prior notice given.
Food concession stands
A number of snack/beverage kiosks with low level counters are located in concourses throughout the lower tier of the Trinity Road Stand and are within easy access of the wheelchair bays which are situated on the same level.
Total number of parking spaces
Due to the limited number of stadium car parking spaces available to supporters on match days, the Club is unfortunately unable to offer stadium car parking to every Blue Badge holder. However, the Club endeavours to fulfil the needs of disabled drivers and passengers and will sell stadium car parking to Blue Badge holders subject to availability. Passes are available to purchase on a match-by-match or seasonal basis. Car parking spaces for disabled supporters are situated in the Holte End and North Stand car parks at Villa Park and the away supporters' coach park, which is situated directly across the road from Villa Park.
Travel options
The club offers accessible away travel for fans, personal assistants are charged. This page was reviewed and updated by Level Playing Field staff and the club on 30 May 2022.
How we set targets
We use accepted industry standards to set the club targets. The reference documents include: Accessible Stadia Guide 2003 and Accessible Stadia Supplementary Guidance 2015; Building Regulations Approved Document M, Access to and Use of Buildings; BS 8300, Design of buildings and their approaches to meet the needs of disabled people; Guide to Safety at Sports Grounds (Green Guide); Access for All, UEFA and CAFE Good Practice Guide to Creating an Accessible Stadium and Matchday Experience
Have you got a question, complement or complaint?
Let us know about your matchday experience at Aston Villa to help improve access and inclusion.
About this page
This information is provided by Aston Villa. Level Playing Field (LPF) cannot be held responsible if the service and provision differs from what is stated here.
If you have any queries please contact us.
Updated June 2022
Have your say
To ensure dialogue is fair and without malice, all comments are evaluated by Level Playing Field before they are published on the site. This can cause a slight delay before comments appear.
Fields marked * are required
How we manage your data
Level Playing Field take great care in managing your data. To see what measures we put in place to keep your data safe and how we use it please click here.
Fan comments
Comments reflect the views of the fans themselves and do not necessarily reflect the views of LPF.