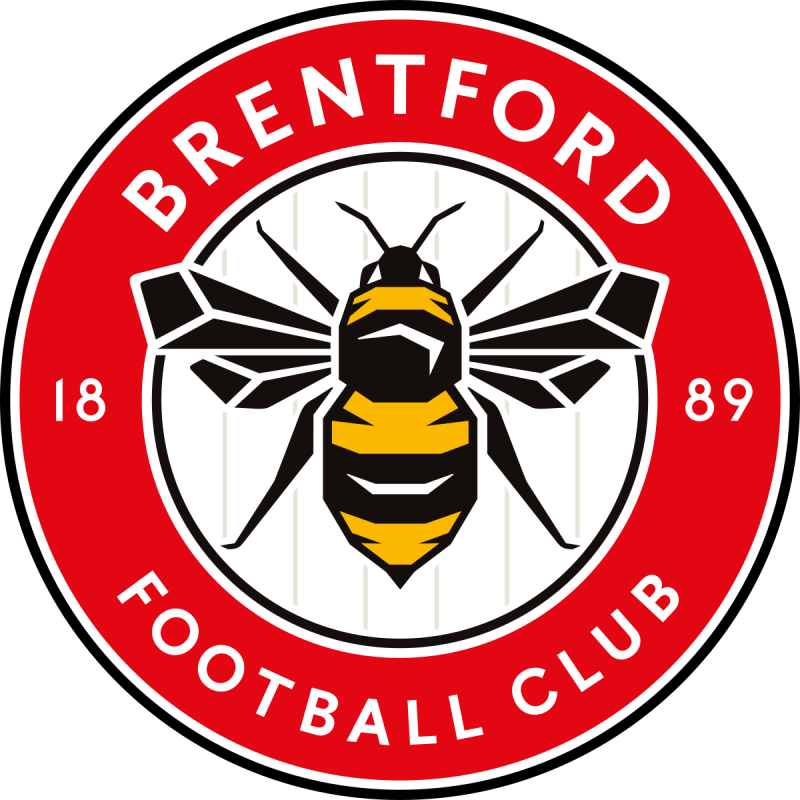 Brentford
Premier League

Community Stadium
Capacity: 17,250
Brentford Community Stadium
Lionel Road South
Brentford
TW8 0RU

Disabled supporters contact
Club or stadium contact
 for disabled fans
Sophie McGill
Disability Liaison Officer
CLUB PAGE UPDATED : 07/04/2022
General ticket office contact
Marc Crown
Venue Sales Team Leader
Accessible ticket contact
Sophie McGill
Disability Liaison Officer
Accessibility information
Stadium map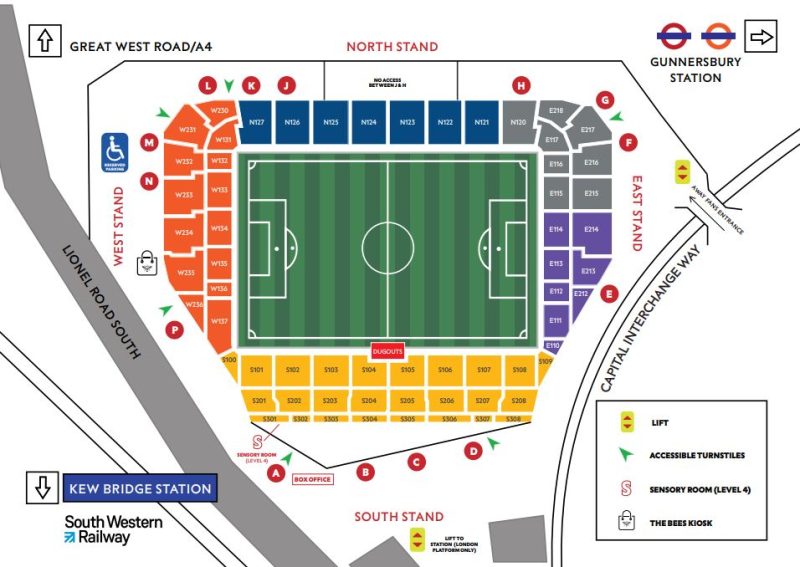 Number of wheelchair user spaces
Within the stadium we have 138 wheelchair spaces in the seating bowl supported by companion spaces for each wheelchair user. This includes 14 spaces for away supporters. Home - South and East stands all wheelchair spaces are midlevel. - West and North stands have a mixture of midlevel and pitch level Away - 3 spaces pitch level - 11 spaces midlevel A personal assistant seat is located next to each wheelchair user space
Number of easy access and amenity seats
Home - 63 Ambulant - 61 Easy access Away - 14 Easy access 90% of our ambulant/easy access seats which are elevated meaning above pitch level.
Number of accessible toilets
There are 23 accessible toilets across the stadium, in each stand and in the hospitality lounges. All accessible toilets are clearly signposted, and stewards are on hand to provide directions where necessary.
Audio commentary
At Brentford Community Stadium, the club provide matchday commentary for both home and away supporters through their in-house commentator. They provide receivers and headsets that can be booked through our Accessibility team by emailing accessibility@brentfordfc.com and letting the club know which match you will be attending. You can also visit the box office on a matchday and be issued with a headset (subject to availability).
Sensory room
At the top of the South Stand, in the far west corner, the Club's Sensory Room offers a full view of the pitch with special glass to protect against the noise. It allows families that might not otherwise be able to come to watch The Bees have access to Brentford FC matches. It is aimed at supporters who have sensory processing issues and that struggle to deal with the large crowds and the matchday atmosphere. The room can be booked on a match-by-match basis with priority going to season ticket holders and members. There is limited space in the room so booking is required, the club will try and accommodate all requests to use the room subject to availability. To book space in the Sensory Room, please contact us at accessibility@brentfordfc.com to complete an application form. Once you have filled out the application form, a member of the Accessibility team will be in contact to follow up with your request and provide available dates.
Accessible services + information
Assistance dogs
The community stadium allows assistant dogs, the club do ask that supporters let the accessibility team know beforehand so they can inform their operations team. Please email accessibility@brentfordfc.com The club do not currently have any dog relieving areas within the stadium or on the stadium grounds.
Hearing loops
The club currently have hearing loops installed at the box office windows, they are also looking to provide further hearing loops at other locations this summer (2022).
Club shop
The new Bees Superstore is now open on Lionel Road South (near the junction with the A4/M4) Step-free access is available at the Bees Superstore and staff will be on hand to assist any supporters once inside the store. The store also has low level counters to make it easier for supporters to purchase items. 
Club hospitality
All club hospitality areas are accessible allowing supporters to access any level of hospitality package. This includes accessible toilets, wheelchair bays and access to a Changing Places.
Braille and large print provision
None provided.
Accessible lounge
None provided.
Food concession stands
Throughout the stadium including the clubs hospitality lounges they provide low level bar and serving areas to allow all supporters to access them. They also have wireless card readers to allow all supporters to make payments in an easy way. Supporters with specific dietary allergies should ask for advice from catering staff - all food and drink areas have a folder listing the allergens for any options being served. If you have any specific catering requirements or questions, please contact the Accessibility team and if they cannot answer your question, they will put you in touch with our catering partner who will be able to assist.
Total number of parking spaces
The club have 12 onsite parking spaces for home blue badge holders these are bookable through our ticketing system – full details are available in their access statement for home supporters, see link above or visit - https://www.brentfordfc.com/fans-and-community/access-statement/ For away supporters the club have very limited spaces, so they ask supporters to contact the accessibility team on email accessibility@brentfordfc.com They also have parking at their Chiswick Business Park site bookings can be made through – https://brentfordfcparking.co.uk/ There is a 15min walk to the stadium from this site. The club also have a shuttle bus for blue badge holders (please not this is not suitable for wheelchair users) that will run before and after the game dropping supporters in Capital Interchange way right by our away end. To enquire about the shuttle bus please email our accessibility team on accessibility@brentfordfc.com
Travel options
The club offers accessible travel for disabled fans to away games, and companions are not charged for this service. This page was reviewed and updated by Level Playing Field staff and the club on 30 May 2022.
How we set targets
We use accepted industry standards to set the club targets. The reference documents include: Accessible Stadia Guide 2003 and Accessible Stadia Supplementary Guidance 2015; Building Regulations Approved Document M, Access to and Use of Buildings; BS 8300, Design of buildings and their approaches to meet the needs of disabled people; Guide to Safety at Sports Grounds (Green Guide); Access for All, UEFA and CAFE Good Practice Guide to Creating an Accessible Stadium and Matchday Experience
Have you got a question, complement or complaint?
Let us know about your matchday experience at Brentford to help improve access and inclusion.
About this page
This information is provided by Brentford. Level Playing Field (LPF) cannot be held responsible if the service and provision differs from what is stated here.
If you have any queries please contact us.
Updated May 2022
Have your say
To ensure dialogue is fair and without malice, all comments are evaluated by Level Playing Field before they are published on the site. This can cause a slight delay before comments appear.
Fields marked * are required
How we manage your data
Level Playing Field take great care in managing your data. To see what measures we put in place to keep your data safe and how we use it please click here.
Fan comments
Comments reflect the views of the fans themselves and do not necessarily reflect the views of LPF.