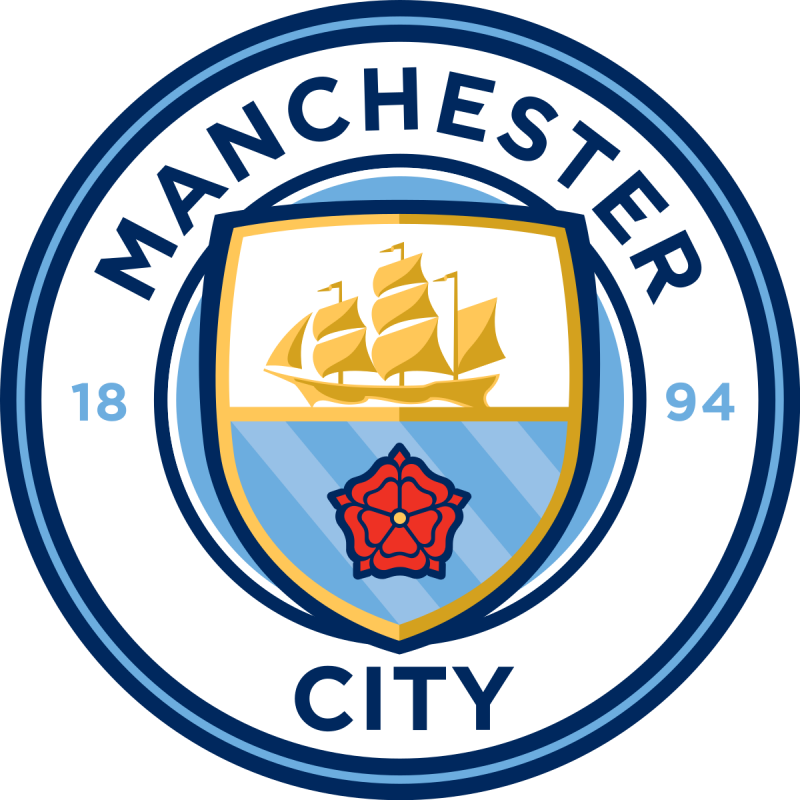 Manchester City
Premier League

Etihad Stadium
Capacity: 55,535
Etihad Stadium
Etihad Campus
Manchester
M11 3FF

Disabled supporters contact
Club or stadium contact
 for disabled fans
Jennifer Kenyon
Access Co-ordinator
General ticket office contact
Accessible ticket contact
Disabled supporters association
Accessibility information
Stadium map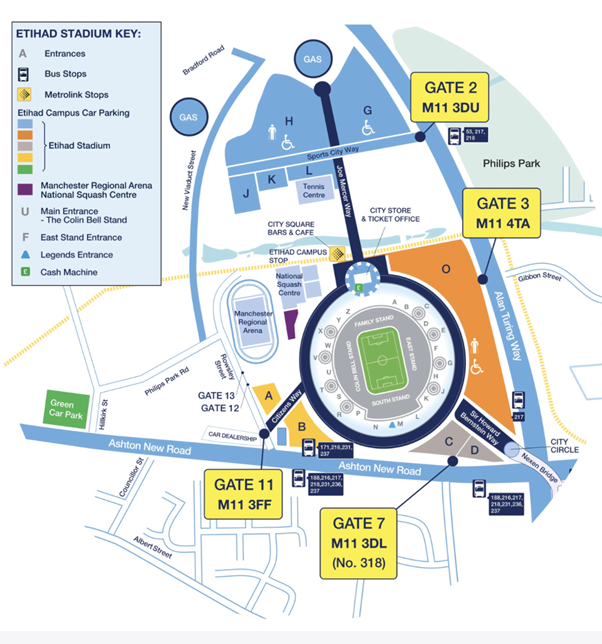 Number of wheelchair user spaces
There are 255 wheelchair positions in the Etihad Stadium. There are five accessible entrances at the Etihad Stadium: D, H, M1, S and W doors, all of which are clearly sign posted.
Elevated wheelchair spaces are available in all stands at the stadium. There are no pitch side positions . Wheelchair user spaces are also available in hospitality and private boxes. To purchase tickets please contact the Access Team via telephone, email (details above) or in person at the box office which is located within the City Store. Online bookings are available for home games.
For supporters located on Levels 2 and 3, a lift is available at these entrances.
Please note that whilst every effort is made to allocate assistant seats adjacent to the wheelchair bay some Etihad Stadium seating constraints may apply and as such, the assistant seat will be allocated in the closest available location. For example, there may be three wheelchair bays, then three carer seats.
Powered wheelchairs and powered scooters are permitted into the Stadium, but please note the maximum permitted speed for powered wheelchairs or scooters is 4mph.
Larger Scooters may not be able to access some wheelchair positions, please contact the access team for more information.
Number of easy access and amenity seats
All ambulant supporters are able to enjoy the game in the Etihad Stadium with their personal assistant (subject to qualification and requirement), from any seat they choose.
If, for any reason, any ambulant supporter feels they have more specific seating requirements (a certain area, block or row) they should contact the Club's Disability Access Team to discuss their requirements in more detail.
We ask all supporters to consider the height and rake of the Level 3 stands as they may not be suitable. Handrails are available to provide support should you choose to sit on this level. There are also rest seats available on the Colin Bell Stand and East Stand Level 2 and Level 3 concourses. AEA seats (117) are available for both home and away supporters.
To purchase tickets please contact the Access Team via telephone, email (details above) or in person at the box office which is located within the City Store. Online bookings are available for home games.
Number of accessible toilets
There are 42 wheelchair accessible toilets within the Etihad Stadium.
16 toilets on Level 1, 20 toilets on Level 2 and six toilets on Level 3. All toilets are fitted with RADAR locks and keys that are available from nearby stewards.
Every concourse washroom has one compartment (cubicle) that is suitable for ambulant supporters.
There are accessible toilets located in City Square.
There is a changing places room is located in the South Stand on Level 1. This contains a hoist (loop slings only which must be provided by the supporter), a changing table, shower, toilet, and height-adjustable sink. The room can be accessed via a RADAR key.
Audio commentary
Complimentary headsets are provided at the Etihad Stadium upon request to enable supporters to listen to the audio match commentary and can be pre-ordered through the club.
This service is provided free of charge and delivered by our in-house commentary team.
Sensory room
A specially designed space for children with sensory processing issues to attend a match in a calm environment at the Etihad stadium.
The Sensory Room offers an individually tailored matchday experience for each family's sensory requirements. A quiet space for families to watch matches, either from the room itself or outside seating in the stadium bowl. Full, unrestricted view of the pitch behind soundproof glass, creating a safe and controlled environment to watch the game.
Optional additional seating in the stadium bowl on the private balcony for those who want to spend time experiencing the match in the crowd This dedicated sensory space will be in use throughout the season both on matchdays.
To enquire about booking tickets for the Sensory Room for Manchester City home games, please contact access@mancity.com or call +44 (0)161 444 1894 . Prior to your matchday experience, the Access Team will offer you the opportunity to view the facilities on a non-match day, so you and your family can familiarise yourself with the route, room, and stadium.
Accessible services + information
Assistance dogs
Any supporter wishing to attend the Etihad Stadium with an assistance dog must contact the club on 0161 444 1894 or email access@mancity.com so that the appropriate match tickets (subject to availability) are allocated and adequate arrangements have been made.
Hearing loops
The Club have induction loop equipment in all reception areas, the club shop, ticket office and at designated and signed food kiosks in the stadium.
On match days at the Etihad Stadium, information will be carried on the electronic scoreboard and via the Public Address System.
Club shop
The Club shop is fully accessible. There is a lift access. Aisles are wider with spaces between displays. The store is fitted with a hearing loop system.
Club hospitality
Disabled supporters are able to enjoy matches at the Etihad Stadium, choosing any hospitality package to suit their needs.
Where a disabled supporter is a wheelchair user, due to the location of the wheelchair bays, it is advised that they speak to a Hospitality Sales Representative to ensure the best package is offered and that the chosen package has access to an available wheelchair bay.
Where a personal assistant is required to accompany a Disabled Supporter over the age of 14, the personal assistant of said supporter shall receive a seat free of charge (subject to availability and the provision of supporting proof of eligibility).
All other elements of the Hospitality package are to be paid at the full prevailing rate.
Braille and large print provision
Upon request the Club will take steps to provide accessible information on CD, large print and Braille. The news articles on the official Manchester City website are fully accessible for blind and partially sighted supporters who use text based browsers (with the exception of any video content)
Accessible lounge
Lounges within the stadium are accessible. For more information contact hospitality team on 0161 444 1894 (option 1 ) or email hospitality@mancity.com.
Food concession stands
Inside the stadium there are designated accessible counters, these are lowered and clearly signed. Each concession has a lowered counter. Handheld menus and straws are available on request.
Seat side service is available on Level 2
Accessible platforms in the South-West and South-East corners for disabled supporters who do not have direct access to the concourse.
Total number of parking spaces
Disabled parking is available on-site in the Blue car park, however, it is limited due to the number already allocated to our seasonal supporters. Please call Disability Access Officer on +44 (0)161 444 1894 to discuss further.
Travel options
Dedicated tram stop at the Etihad Stadium - further details in guide.
How we set targets
We use accepted industry standards to set the club targets. The reference documents include: Accessible Stadia Guide 2003 and Accessible Stadia Supplementary Guidance 2015; Building Regulations Approved Document M, Access to and Use of Buildings; BS 8300, Design of buildings and their approaches to meet the needs of disabled people; Guide to Safety at Sports Grounds (Green Guide); Access for All, UEFA and CAFE Good Practice Guide to Creating an Accessible Stadium and Matchday Experience
Have you got a question, complement or complaint?
Let us know about your matchday experience at Manchester City to help improve access and inclusion.
About this page
This information is provided by Manchester City. Level Playing Field (LPF) cannot be held responsible if the service and provision differs from what is stated here.
If you have any queries please contact us.
Updated May 2022
Have your say
To ensure dialogue is fair and without malice, all comments are evaluated by Level Playing Field before they are published on the site. This can cause a slight delay before comments appear.
Fields marked * are required
How we manage your data
Level Playing Field take great care in managing your data. To see what measures we put in place to keep your data safe and how we use it please click here.
Fan comments
Comments reflect the views of the fans themselves and do not necessarily reflect the views of LPF.