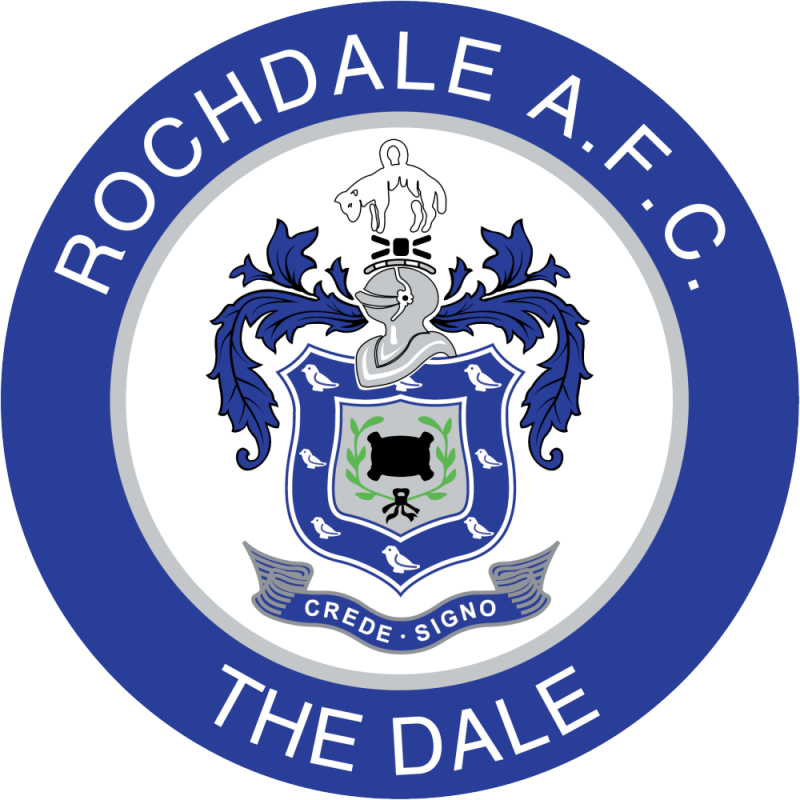 Rochdale
League 2

Crown Oil Arena
Capacity: 9,561
Crown Oil Arena
Sandy Lane
Rochdale
OL11 5DR

Disabled supporters contact
Club or stadium contact
 for disabled fans
Nicola Toolan
PA to Board/SLO/DLO
General ticket office contact
Jan Marsh
Ticket Office Manager
Accessible ticket contact
Jan Marsh
Ticket Office Manager
Accessibility information
Number of wheelchair user spaces
The club has 33 positions for wheelchair supporters with adjoining seats for their Personal Assistants (carers) if required. These are situated in The Reside Agency Stand (16) for away supporters, Main Stand (8) and The Smith Metals Stand (9) for home supporters.
Number of easy access and amenity seats
There are areas within the stadium that have been prioritised for ambulant disabled supporters. These areas are all around the ground and have been chosen for its clear entry and exit routes. Supporters should request these areas when purchasing their tickets. To discuss requirements and for more information please call the ticket office on 01706 644648 Option 1.
Number of accessible toilets
There is one accessible toilet in each stand with a choice of "sided" transfers. If you experience any problems with the use of the disabled toilets (or they are being abused), please contact the nearest steward on the day, or the Disability Liason Officer, Nicola Toolan, after the match. Nicola can be contacted by calling the club on 01706 644648 or by email Nicola.Toolan@rochdaleafc.co.uk.
Audio commentary
The club has two positions for visually impaired supporters and if required, their personal assistant. These are situated in the Main Stand. Visually impaired supporters using this area will be charged the concessionary price for their tickets. Should a personal assistant be required, they will not be charged for a match ticket. Match commentary is provided by the Rochdale AFC Club Website and the headset are available from the Ticket Office by prior arrangement. The club strongly recommends that each visually impaired person attending a match should be accompanied by a person who is fully able to support their needs in the event of an emergency.
Sensory room
Not currently available.
Accessible services + information
Assistance dogs
Guide Dogs are allowed into the Stadium but it is recommended that supporters with Guide Dogs contact the club before the match so that the club can discuss with them access to the ground, facilities inside the ground and the welfare of the Guide Dog before, during and after the match.
Hearing loops
Not currently available.
Club shop
Rochdale AFC offer personalised shopping for those with access requirements. The club also offer weekly slots.
Club hospitality
All club hospitality areas are accessible. Disabled supporters are able to enjoy the matches at The Crown Oil Arena, choosing any hospitality package to suit their needs, subject to availability.
Braille and large print provision
Not currently available.
Accessible lounge
The 1907 Lounge, Carlsberg Lounge, The Ratcliffe Suite and The Dale Bar are all accessible to disabled supporters.
Food concession stands
Matchday catering for supporters with a disability is provided in the concourses. Where there is no lowered serving area for supporters who require a wheelchair, we would ask your personal assistant or the clubs stewards to assist in getting refreshments.
Total number of parking spaces
Rochdale AFC has ten disabled parking bays for home supporters which are allocated to disabled people with the most severe mobility difficulties. These are sold on a seasonal basis. Applications can be made to Jan Marsh and each request will subject to availability. Rochdale AFC have two disabled parking bays reserved for away supporters, who can book the spaces by contacting Jan Marsh on 01706 644648, option 1, at least 24 hours prior to the game. Cost of £5 to be pre-paid in advance of the match. RAFC would ask that people recognise that there is a limited number of places available and it will not be possible to accommodate everyone who has a Blue Badge. Street parking is available around the stadium, however, please be aware that parking restrictions are in place in the yellow coned areas, these are monitored by traffic control. Please note that we do not take responsibility for vehicles left on the street.
How we set targets
We use accepted industry standards to set the club targets. The reference documents include: Accessible Stadia Guide 2003 and Accessible Stadia Supplementary Guidance 2015; Building Regulations Approved Document M, Access to and Use of Buildings; BS 8300, Design of buildings and their approaches to meet the needs of disabled people; Guide to Safety at Sports Grounds (Green Guide); Access for All, UEFA and CAFE Good Practice Guide to Creating an Accessible Stadium and Matchday Experience
Have you got a question, complement or complaint?
Let us know about your matchday experience at Rochdale to help improve access and inclusion.
About this page
This information is provided by Rochdale. Level Playing Field (LPF) cannot be held responsible if the service and provision differs from what is stated here.
If you have any queries please contact us.
Updated June 2021
Have your say
To ensure dialogue is fair and without malice, all comments are evaluated by Level Playing Field before they are published on the site. This can cause a slight delay before comments appear.
Fields marked * are required
How we manage your data
Level Playing Field take great care in managing your data. To see what measures we put in place to keep your data safe and how we use it please click here.
Fan comments
Comments reflect the views of the fans themselves and do not necessarily reflect the views of LPF.