At Level Playing Field, we know that this period without live sport has been tough for some. Over the past few weeks, we have published news stories about how COVID-19 and the suspension of live sport has been affecting you, the supporters.
You can go back a read NUDSA and Paralympic superstar Stephen Miller's inspiring article or go and get some Netflix recommendations from Derby County fan Alex Stewart.
In this week's article, Fans Liaison Officer Liam, spoke to Everton fan Colin over the phone to talk about his Everton fanatic son Michel who suffers from severe health issues, about football, and community.
"For 23 years he's lived in fear of dying!
When he's at the game, nothing in the world matters to him but Everton Football Club. He calls the club his family. The fans, the staff, everyone.
Now that's all been ripped away from him because of this virus. It's not just a game of football for him!" – Colin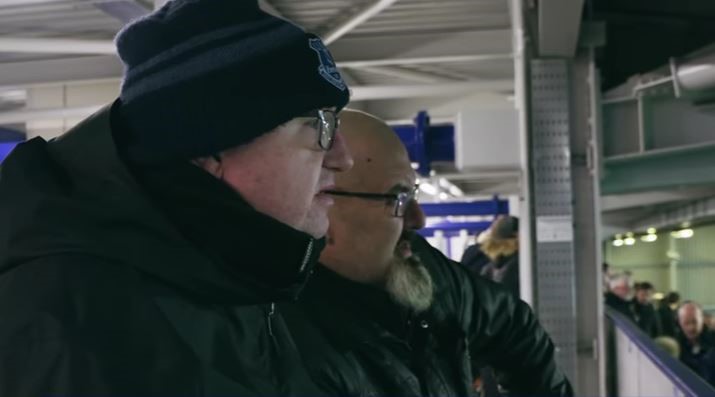 Colin is a father and carer for his son Michael, aged 38. Colin and Michael have been going to watch Everton for nearly 30 years.
"Michael has been going to Goodison since he was 8. We were only going to limited games because of Michael's health.
But 2 years ago, we became season ticket holders because of the new accessible platform in the Park End, and it's incredible."
Michael was born with a congenital heart defect and had a transplant 25 years ago; this has resulted in health complications that include having to use dialysis.
Because of Michaels health, he was deemed to be in the' higher risk ' category of catching the Coronavirus, also known as COVID-19.
Colin informs us that Michael has been self-isolating in his bedroom since March 22nd to follow government advice.
Liam asked Colin, how Michael is getting by without his football fix and how is Michael coping mentally?
"He's not, in all honesty.
Without his football he's on the Internet all the time trying to find out what's going on at Everton.
You have to understand that Everton is his life, when it's sunny we used to go to 'Finch Farm' (Everton training ground) once every couple of weeks and the players would stop because they came to recognise him. They would ask him how he was and that made him feel great.
Going from that and watching the lads on the pitch to nothing! It's really taken him back regarding his mental state."
Colin is not only Michaels Dad but his also his full-time carer.
Going to watch Everton was also an opportunity for Colin to relax and enjoy some quality time with his son, we asked Colin if the lack of match days has also taken a toll on him.
"It has..
I'm now talking to you in the garden, it's a lovely spring day, birds are singing, and he's stuck up in his bedroom.
He's having all his meals in his room. Don't get me wrong, he has everything he would ever want in his bedroom. But he's bored, and you can see it's affecting him mentally it's tough to see.
But this is where the club has been fantastic, Rachel Lomax (Access Advisor and Disabled Liaison Officer), from the club, gave us a call a couple of weeks ago to see how we were doing, asked if we were struggling with anything and let us know that she and the club were there for us. 
We are called the 'Peoples Club', and I genuinely believe that. And not just for disabled supporters, I know the club have been calling 100's of people just to check-in, and it means so much to us."
Over the past few weeks, the Merseyside clubs' staff have been calling up local people who are self-isolating, to check how they're doing and to offer assistance such as delivering groceries or picking up prescriptions.
You can read more about the work that Everton has been doing by going back and reading an article written for Level Playing Field by the club's Access Advisor, and Disabled Liaison Officer, Rachel Lomax.
It's that element of community, Colin tells us, that he is missing from watching live sport.
"Liam, I can't tell you how much we miss seeing people at the game.
Up in the Park End we all know each other, we all talk to each other before, during and after the game. Not just the fans but the stewards too.
We've made so many friends up there since we've been going, but we know that this will be over soon and when the football is back we will be back, supporting the club, seeing our friends again and win lose or draw, I know it will bring a smile to Michael's face."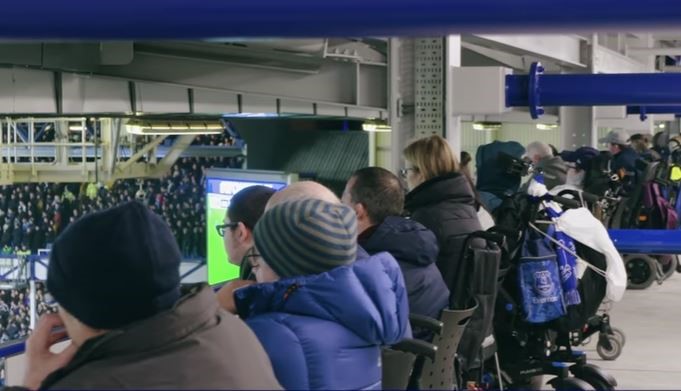 Thank you to Colin and Michael for sharing their story.
If you have been affected by anything you have read in this article, then please contact Liam (liam@levelplayingfield.org.uk), and we will do their best to put you in contact with organisations that can help and support you.
If you would like to see what other clubs up and down the country are doing  to support their local community, check out this video produced by Level Playing Field.