From research projects to new partnerships, 2021 has not only been challenging but has also been a busy and successful period for Level Playing Field.
We have, at least for now, seen the return of fans after a season-and-a-half of watching football behind closed doors, we managed to showcase our biggest Weeks of Action campaign to date despite the suspension of fans in stadiums, and we have announced partnership agreements that will go well into the future as we look to continuously improve access and inclusion for disabled fans across all sports.
January
Neurodiverse Sports Fans Research Project Launch
We turn the clocks back 12 months and start in January, where we announced a national research project in partnership with the Sports Ground Safety Authority into the experiences of neurodiverse sports fans when attending live sports events.
The research project ran from January 2021 and was managed by Britain's largest independent social research agency, NatCen.
We sought to recruit sports fans who have autism, ADHD, dyslexia, dyspraxia, or dyscalculia, Tourette's Syndrome, or other neurodevelopmental conditions. They did not necessarily have to attend live sports events regularly, or at all, as we are also interested in understanding why those fans do not attend live sports events.
The research findings can be found later on in this article.
Level Playing Field TV Sports Streaming Survey
With stadiums being closed throughout the country in 2020, tv streaming services became the essential way for sports fans to follow their team's live-action. As a disability access and inclusion charity, Level Playing Field wanted to investigate whether these services were fully accessible for disabled supporters, so we conducted an online 'Streaming Services Survey' to find out.
View the TV Sports Streaming Survey report here.
February
National Stadiums celebrate the launch of the Weeks of Action campaign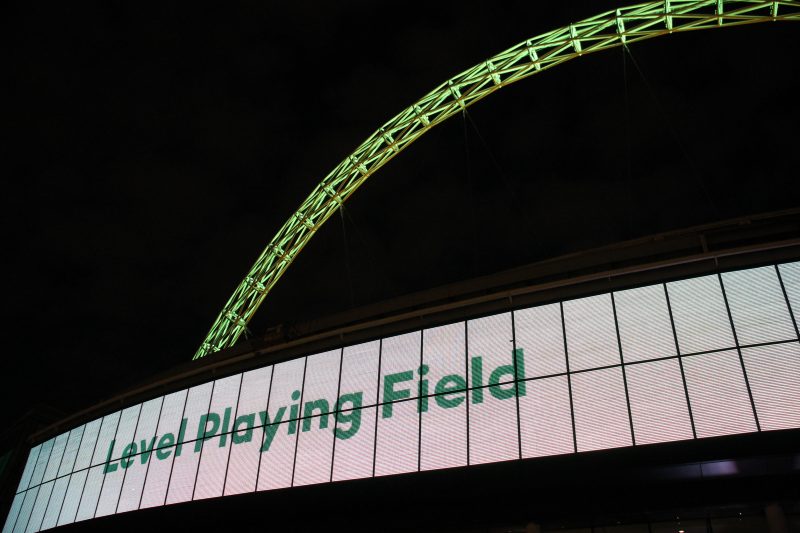 Level Playing Field's 'Weeks of Action' campaign kicked off in February, as both England and Wales' national stadiums supported the campaign in dramatic fashion.
Wembley stadium kicked things off by lighting up the world-famous arch in the green of Level Playing Field's logo. The large digital display screens at the front of the stadium also shone out across the London skyline, boldly announcing the imminent start to the Weeks of Action and displaying the important message of the campaign: #AccessForAll.
The Principality Stadium, the proud home of Welsh rugby, also got behind the Weeks of Action as they lit up their giant display screen to announce that start of the campaign.
March
Official Partnership Launch with The Wheelchair Football Association
In May Level Playing Field announced a partnership with the Wheelchair Football Association, the national governing body of wheelchair football.
The announcement was made via a short video clip on social media on Wednesday morning, as part of Level Playing Field's 'Weeks of Action' campaign. The video clip was an excerpt from a longer interview video between Level Playing Field's Nicky Baker and the WFA's Adam McEvoy, which you can watch here.
April
The story of Weeks of Action 2021
Over 100 clubs supported the campaign, which included clubs from the Premier League, the EFL, National League, non-league, the Women's Super League and Championship, as well as contributions from the Welsh Cymru leagues.
Club's published content across websites and social media platforms, expressing their support for the campaign by engaging with disabled fans during what has been an especially difficult year.
May
The Level Playing Field podcast: Disability language
In the seventh episode of the podcast, we bring you a round table discussion on the sometimes contentious subject matter of disability language and how it's used.
June
Weeks of Action 2021 report – Level Playing Field
Level Playing Field was excited to share the Weeks of Action 2021 report in June, highlighting another successful campaign despite the difficulties in live sport being played behind closed doors.
Download Level Playing Field's Weeks of Action 2021 report here.
Level Playing Field fan-led review evidence session
In June, Level Playing Field and several fans provided verbal evidence to a panel led by Tracey Crouch MP ahead of the fan-led review of football governance, due to be released in November.
The session provided a brief opportunity to outline key issues and experience where football governance needed to be improved to account for disabled fans and other matters relating to disability.
In the time permitted, the key areas raised were focused on the representation of disabled people at the board level, regulatory obligations and bodies and fan voice/consultation.
Read Level Playing Field's recommendations here.
July
Level Playing Field statement regarding the Euro 2020 final
After the horrific scenes witnessed at Wembley Stadium ahead of the Euro 2020 final between England and Italy, Level Playing Field issued the following statement:
"The scenes at Wembley Stadium away from the pitch last Sunday were saddening to witness. We join with all decent-minded people in condemning the vile and disgusting racist abuse that followed the match. Such abuse must never be tolerated.
"We were also deeply concerned about the potential threat to the safety of disabled spectators at the match – hearing that people were 'packed' into the 'disabled area' is worrying and should never happen.
"The issues at the final last Sunday could have been catastrophic for all fans but particularly disabled supporters caught in the violence or injured as a result of reported breaches at the accessible entrance and wheelchair user viewing areas.
"We know from the feedback we have received already that this has left some disabled supporters feeling extremely uneasy about attending live sporting events.
"Level Playing Field has sought assurances from Wembley Stadium and the Metropolitan Police that a thorough and detailed investigation will be undertaken, including the impact on disabled fans."
August
New research highlights access and safety requirements of Neurodiverse fans at live sporting events
Developments to ticketing, staff training and matchday information will improve the experience of neurodiverse fans, according to new research commissioned by the Sports Grounds Safety Authority (SGSA).
The research carried out in partnership with Level Playing Field and conducted by the National Centre for Social Research (NatCen), aimed to better understand the experiences and safety requirements of neurodiverse fans when attending live sporting events.
Read the feedback from the research in full here.
Over 1400 disabled fans have their say in Level Playing Field's largest survey to-date
Level Playing Field's annual fan survey report revealed the most in-depth results in the charity's 22-year history!
Level Playing Field has carried out a number of specific surveys in the past, but this is the most comprehensive survey ever, reviewing the matchday experience of disabled fans.
The survey is a first of its kind, with a strong focus on club-specific feedback that will help clubs target specific areas to improve their facilities and services.
Thanks to support from clubs, leagues and partners who helped to publicise the survey, Level Playing Field received a total of 1408 responses.
Download the annual fans survey report.
September
Rail seating – Level Playing Field response
Level Playing Field's response to the announcement (on 22 September) regarding rail seating/safe standing at Premier League and Championship clubs:
"Today, the SGSA announced that it is inviting clubs from the Premier League and Championship to put forward an 'expression of interest' to install rail seating at their ground by Wednesday 6 October.
"With this in mind, Level Playing Field wishes to reiterate that disabled fans should be given the opportunity to raise questions or concerns with their club regarding the use of rail seating.  Disabled fans should also be given the option to choose if they wish to be accommodated in rail seated areas.
"For the first time in more than 25 years, fans will have the opportunity to watch a game standing up.  During this same period, some disabled fans have had to endure obstructed views as a result of other spectators standing up in from of them, often at key moments in a match/event.
"For some supporters, the news that they may be able to stand at a game from 1 January 2022 will be a welcome and exciting change, but we know that some disabled fans will inevitably have questions and genuine concerns.
"We are therefore encouraging clubs to open up discussions with their Disabled Supporters Associations and individual disabled fans in order to have a full dialogue in advance of any application for rail seating is submitted."
October
Sensory Room helps turn matchday experience into a 'great memory' for Arsenal fan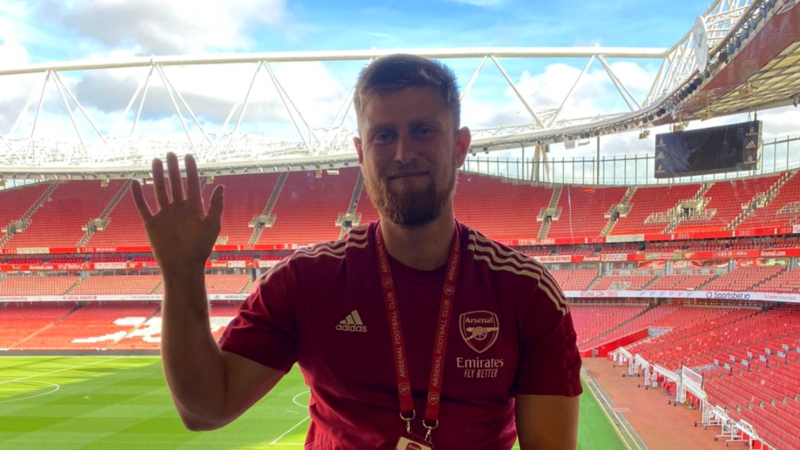 Arsenal's Premier League clash with Aston Villa was one fan's first game at the Emirates Stadium, made memorable by a crucial accessible facility.
November
Level Playing Field team up with the Racecourse Association to enhance race day experience for disabled racegoers
In November, Level Playing Field announced a new contract with the Racecourse Association (RCA).
Level Playing Field and LiveTourism were selected as specialist organisations to conduct audits of racecourses across the country.
The RCA has commissioned pan-disability access audits across British Racecourses to identify areas where the race day experience can be enhanced to support disabled racegoers.
Racecourses that have opted into the project will receive an audit of the race day experience in its current form plus a detailed site audit to identify areas that can be developed to support racegoer accessibility. Following these audits, the RCA will work closely with racecourses to implement the findings whilst disseminating best practices from other relevant sectors to maintain British racing's commitment as a sport for all.
Fan-led review – Level Playing Field statement
Level Playing Field's response to the publication of the fan-led review:
"Level Playing Field acknowledges the release of the independent fan-led review of football governance, conducted by Tracey Crouch MP, which we believe to be a significant piece of work for which we congratulate all those involved.
"We are encouraged by this examination of the English football system and agree with the need for greater fan engagement and involvement in the game and in particular the role of an independent regulator. We are extremely disappointed, but sadly not surprised, at the lack of reference to disabled fans and the importance of disabled supporters' voices in the governance of our national sport.
"Despite the review being 162 pages of observations and recommendations, actions regarding disability are disappointingly thin."
December
Level Playing Field response to the Baroness Casey Review – Euro 2020 Final
Level Playing Field issued a response to the findings of the Baroness Casey Review regarding the reckless actions that took place at Wembley before the 2021 European Championships final.
"Level Playing Field is pleased to see the detailed representation of disabled fans experience in the Baroness Casey Review.
"We completely condemn the reckless and abhorrent actions of the individuals who chose to put people's lives in danger including staff and fans by breaking into Wembley Stadium.
"Baroness Casey Opens her report stating: "The events of Sunday 11 July 2021 at Wembley Stadium were a "near miss'". I am clear that we were close to fatalities and/or life-changing injuries for some, potentially many, in attendance."
"In the 21st century, we should not be reading reports such as this. Disabled people were significantly impacted by the terrible actions of the reckless ticketless people targeting accessible entrances. Over a 40-minute period, the report outlines that accessible (disabled) entrances were breached 11 times with hundreds of individuals breaking into the stadium."