"A unified voice is the most powerful instrument for change, and for some disabled supporters, their voices are not being heard" – Liam Bird, LPF's Fan's Liaison Officer.
So, you are thinking about setting up a DSA, Great! Let us explain how Level Playing Field can help you to do this.
By setting up a DSA, you can amplify the voices of your fellow disabled supporters and create changes in areas that they feel need improvement, while also educating your club and fellow non-disabled supporters about access and inclusion issues while building a bond with your fellow fan. It's also an opportunity to build strong community engagement and shared experiences with DSAs in England and Wales (An opportunity to raise awareness and share experiences)
Level Playing Field has helped to establish more than 25 DSAs across England and Wales. We will help you get your DSAs up and running by offering practical advice and support such as…
Assistance in setting up a self-sufficient and sustainable guideline, including job descriptions and draft constitutions
Help create a 3-year strategy action plan that works around you and your members' availability to help your DSA develop and grow.
Arrange regional forums so your DSA can meet other regional DSAs so clubs and disabled fans can network, share information and best practice.
Help your DSA work with your club to share current and future good practice.
Support your DSA and club to promote disability awareness among disabled and non-disabled fans to bring about education and positive change.
We will assist in creating links between local community organisations/charities that provide alternative/accessible services such as Braille documents and audio commentary.
Examples,
Crystal Palace
Crystal Palace DSA was established during the 2015-2016 season and officially launched in March 2016 at an event at Selhurst Park Stadium. Level Playing Field supported the DSA throughout its formation and attended several meetings at Selhurst Park. The DSA will also be represented at the first London forum at Arsenal FC.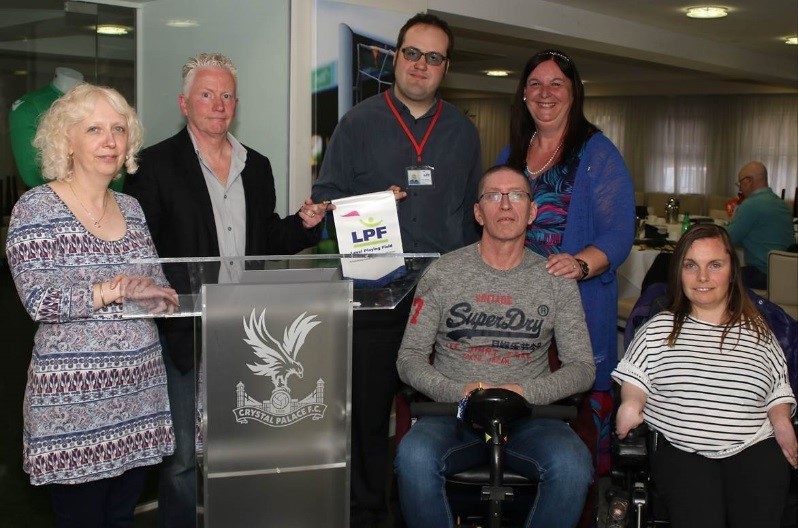 Since its formation the DSA has formed a strong relationship with the club and was consulted on a number of improvements made to the ground's accessible facilities in summer 2017. This includes an increase of over 50% in the number of wheelchair user spaces, a changing places toilet and a sensory room. The club has also reported that there has been an increased demand for accessible tickets.
Goalkeeper Julian Speroni agreed to become an ambassador for the DSA and attended their AGM in March 2017.  The DSA also participated in the 2017 Weeks of Action where they were recognised with a reward from the club. The DSA now has over 100 members.
Arsenal
Arsenal DSA (ADSA) was re-established in December 2016 after being inactive for several years. LPF attended a meeting in October 2016 with the club's disabled supporters' representative and Disability Liaison Officer (DLO) and agreed a plan to reform the DSA. The reformed DSA was launched at the clubs disabled supporters Christmas Party in December 2016.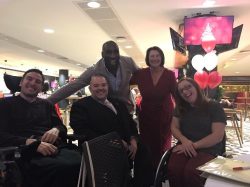 The DSA has a strong relationship with the club and is regularly in consultation with them. The Emirates stadium is now compliant with the Accessible Stadia Guide and a sensory room was opened ahead of the 2017/2018 season. The DSA also campaigned successfully for a larger ticket allocation for wheelchair users at the 2017 FA Cup final after Chelsea had originally been allocated more tickets. The DSA has been in contact with other clubs/DSAs so they can offer advice to their members who travel to away games and away supporters visiting the Emirates Stadium.
The DSA have organised regular social events, often attended by former players such as Sol Campbell, and has close links with Arsenal in the community. All DSA members also receive a monthly newsletter and ADSA will host the first London Regional Forum.
FC United of Manchester DSA
FC United of Manchester DSA was formed in February 2017. It is the first DSA to be established at a club in the National League North. LPF already had a strong relationship with the club who have a long standing commitment to the topic of access and inclusion for disabled supporters.
The DSA was officially launched in September 2017 as part of the club's disability awareness day which was organised by the DSA. The day included the official launch of the DSA and a match for the club's disability football team. LPF's General Manager and Project Officer attended and were interviewed for the club's online TV channel.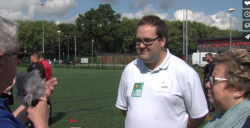 The DSA have also formed strong links with local community groups and attended the first North West forum in February 2017. They have also distributed a disability language sheet to staff and volunteers at the club which was provided by Level Playing Field.
If you would like to learn more about how you can go about setting up your own DSA then please email our Fans Liaison Officer Liam at liam@levelplayingfield.org.uk or call 01923 545 370 or 07566 831 627