Let's cast our memories back to the beginning of the year and remember the best of 2019, month by month!
A word from Chief Executive, Owain Davies:
"2019 has been an extremely busy year with a number of firsts for Level Playing Field.
In November we had our inaugural National Forum with over 140 delegates from Clubs, Fans, Disabled supporters associations coming together to discuss disabled fans experience and to share best practice.
We also launched our first impact report which clearly outlines our strategy and takes a deeper look at some key areas and some interesting fan insight.
We have a brilliant team of staff who are passionate in making a difference and driving change. This past 12 months has been a great example of this, we have never carried out as many Club and DSA visits along with meeting individual fans.
The positive impact of the strategic review Level Playing Field went through in 2017/18 continues to make a difference and the new rebrand has had a great response from all stakeholders."
January
South Coast Forum
The first forum of the year was kicked off at the home of Brighton and Hove Albion, the Amex Stadium, attended by south coast clubs Southampton, Portsmouth, Crawley DSA and newly formed AFC Wimbledon DSA. Also in attendance was Southampton and Portsmouth DAOs, local Brighton charities and members of Brighton and Hove Albion staff.
"Really enjoyed the event, I learnt loads to take back to the club." Jess, AFC Wimbledon DSA Chair.
You can read the full South Coast news article here.
February
Fan Flashback – Morgan Parry Interview
Level Playing Field interviewed ambassador Morgan Parry, about his experiences following his beloved Bolton Wanderers and England, up and down the country and oversees.
Morgan Parry is a passionate Bolton Wanderers fan who has been following the Trotters since 2004 and as well as being a season ticket holder at the University of Bolton Stadium he travels to away games. Morgan is also an England supporter and has travelled to see England at Wembley and other grounds in England. He went to see the 2014 World Cup in Brazil, the 2016 Euros in France and the 2018 Russia World Cup.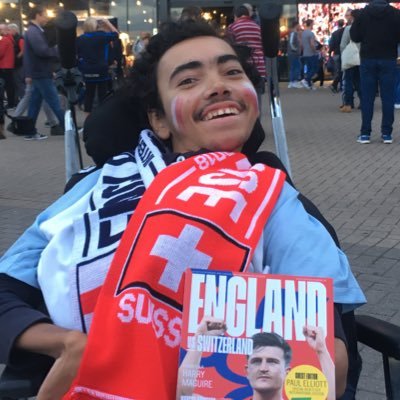 Q) If you could give any advice to a disabled fan who hasn't yet attended a live football match, what would you say?
MP: Go with friends or your family. Find a team you want to support through the good times and the more difficult times. Link up with your club's Disability Access Officer and Disabled Supporters Association.
Q) Why in your opinion is it important for disabled people to have access to live sport?
MP: People with disabilities should have the chance to have the same experiences that everyone else has. When you go to live sports events you see interesting places, meet different people and are able to see the best sportsmen and women in the world. It is great to be able to say ' I was there!'.
Read Morgan's interview in full here.
March
Weeks of Action 2019
Our BIGGEST and BEST Weeks of Action Campaign in its 15 year history!
A huge 123 clubs from the Premier League, EFL, National League and Welsh Premier stepped up their efforts to support and promote the work that goes on to celebrate the good access and inclusion in sporting venues for disabled sports fans.
A further 35 DSAs were also involved and 160 other organisations.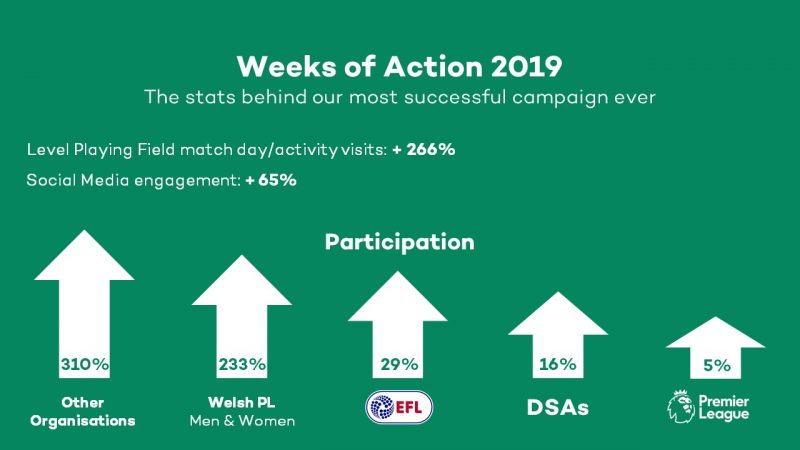 Tony Taylor, Chair of Level Playing Field, said:
"Our Weeks of Action are key to breaking down barriers and improving the overall match day experience for disabled fans.  The Weeks of Action have allowed us to champion and celebrate the good work that is done by clubs, fans and Disabled Supporter Associations throughout England and Wales in providing an inclusive matchday experience and support for their communities."
"Football", said Taylor, "has a unique power to bring people together and we are pleased to see the impact of this year's campaign. Clubs, fans, Disabled Supporters Associations and governing bodies have certainly gone that extra mile in making this our biggest and most successful campaign to date!"
"I would like to thank everyone in the football family who either participated or made it possible for these Weeks of Action to have such an impact and who do so much to make match days accessible and inclusive for all."
Read the full Weeks of Action 2019 report.
April
Fan flashback – Stephen Kelly's match day experience.
Stephen's a passionate Charlton Athletic fan who has been following 'The Addicks' home and away for over 20 years, from a young boy to a season ticket holder at the Valley.
Q) What's the most enjoyable part about your matchday?
SK: There are a lot of things that I like when I go to matches home and away. I like to get behind the players, supporting them and sometimes telling them what they need to do. I also like to let the referees what the need to do better.  But I really like mixing in with the fans.
Q) What are the positive things your club does to make your matchday as inclusive and enjoyable as possible?
SK: With us (Charlton) some clubs do accessible parking on a match by match basis however we can book 3 fixtures at a time, this is very helpful. What the club also do is that when it pours with rain the club provide rain capes for disabled fans. Overall, it's a really positive matchday experience for me at the Valley.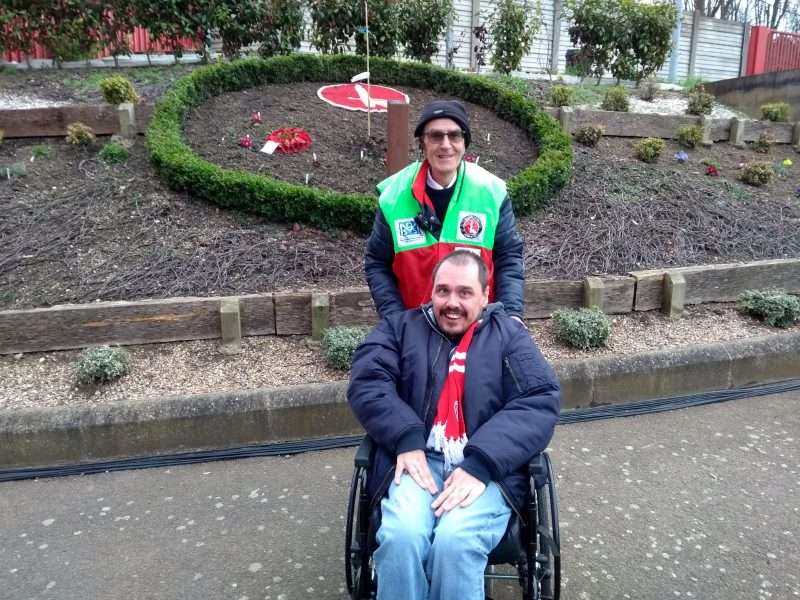 Read the full interview with Stephen here.
May
Daniel Townley joins
The first of two changes to the staff team during the summer was the recruitment of Development Officer Daniel Townley.
Daniel has been involved both in charity work and training for many years. He previously worked for a training consultancy firm, helping to develop training materials relating to Continuous Improvement. He also worked part-time as a local church leader, strengthening his firm belief that everyone should be treated with value and dignity.
As a part of the role, Daniel will be liaising with clubs across the Championship and League One, helping to provide a better matchday experience for disabled supporters throughout the English Football League. He will also be delivering a wide range of training to staff and volunteers, including Stewards Training and Disability Inclusion & Etiquette Training.
June
Level Playing Field appoint Media and Communications Officer
In June, Level Playing Field appointed a Media and Communications Officer  to drive content and amplify the message of access and inclusion. Ben Southby joined the team from Hertfordshire FA to lead in this area.
Ben will oversee the communications department and will be responsible for creating content for the website, social media channels and campaigns such as our annual Weeks of Action. He will also manage the new membership process for the 2019/20 season.
The addition of Ben completed a full team ready to face the new season, lead by CEO Owain Davies and joined by General Manager Ruth Hopkins, Fans Liaison Officer Liam Bird, Disability Access Officer Nicky Baker and newly appointed Development Officer, Daniel Townley.
July
New membership scheme launched
Level Playing Field were delighted to launch its new Membership Scheme for the 2019-20 season, communicating closer with disabled sports fans across England and Wales to work towards a better and enhanced match day experience.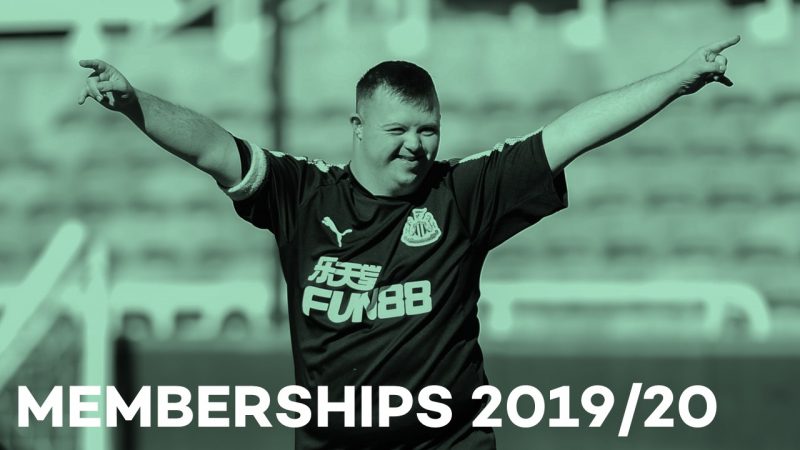 The new look membership scheme consists of 3 available membership options.
Fan membership
DSA membership
Club, Governing Body and other Organisations membership
Harlequins were the first club to sign up to our 'Club membership' this season, and Head of engagement at the Gallagher Premiership club, Levi Harris, had this to say:
"We're delighted to formalise our relationship by becoming their first Club member of the 2019/20 season and look forward to contributing to their networks and events as we work together to improve experience for all.
Level Playing Field's advice, guidance and training has been crucial."
Click here to read more about our memberships and sign up!
August
Forum first – North East Forum
Level Playing Field visited St. James's Park in Newcastle for our first ever North East forum.
The forum was well attended, with Club and DSA representatives from Newcastle United, Newcastle Falcons, Carlisle and Middlesbrough, as well as some friends from north of the border, Glasgow Rangers, Hearts and Hibs.
We had guest speakers from Tony Jameson-Allen, the co-founder of the charity Sporting Memories, as well as the triple gold Paralympic home hero Stephen Miller, who spoke about his love for Newcastle United and sport whilst updating us on his journey to Tokyo 2020.
Head of Inclusion at Newcastle United, Lucy Oliver who discussed accessibility at St James Part, and what's being planned in the future, said:
"We, at Newcastle United, were delighted to host the North East Forum for Level Playing Field recently. Events such as these are a fantastic opportunity for clubs and other stakeholders to share best practice and build relationships which will only result in football becoming more inclusive and accessible."
You can read plenty more from the information packed North East forum here.
September
East Midlands forum
Burton Albion's Pirelli stadium was next to host a Level Playing Field regional forum, another forum first for the East Mids.
"The forum really opened our eyes to what else we could potentially do to improve the experience of those with disabilities and we were delight to present as well as host the event." 
Matt Hancock, Head of Community at Burton Albion Community Trust explained, after giving a fantastic speech about the club's community trust and how they work with disabled people to give them better and exciting opportunities within football and sport.
Liam Bird, Fans Liaison Officer at Level Playing Field, said:
"This was the first forum in the East Midlands region, and it won't be the last.
I'm already looking forward to next year's forum, and I invite all sport lovers to attend and be part of the discussion on how we can continue to move forward and bring about our goal, access for all."
Again, there's plenty more to read up on here.
October
Tony Taylor  included in the Disability Power List 2019
The Chairman of Level Playing Field was announced as one of the most influential people with a disability in the UK at a reception at the House of Lords in September.
The Shaw Trust Disability Power List 100 is an annual publication of the 100 most influential disabled people in the UK. Nearly 200 nominations were received for the 100 places. The Disability Power List 100 is compiled by an independent judging panel, chaired by Kate Nash OBE. Kate is the world's leading authority in 'Networkology' – the science behind the growth of workplace networks and resource groups. In 2007 she was awarded an OBE for services to disabled people. In 2013 she was appointed Ambassador to Disability Rights UK.
Tony has worked tirelessly as a management Trustee of Level Playing Field for a number of years, having been Secretary prior to taking on his present responsibilities. He is also a director of partners CAFE (the Centre for Access to Football in Europe).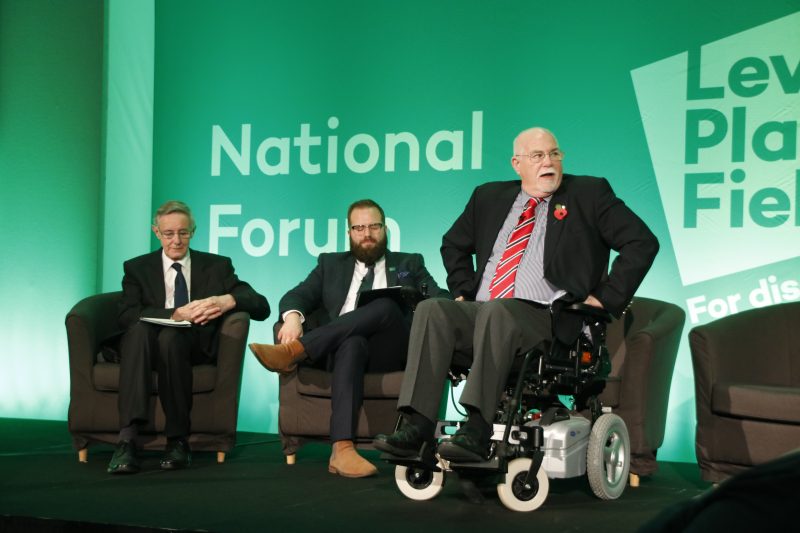 Tony, said:
"It's an honour to be named on the Shaw Trust Power List 2019 as one of Britain's most influential disabled people, in the company of some of the country's most influential names that are making positive movements as we all tackle discrimination.
I know from personal experience as a disabled person  just what a difference attending sporting events really makes. I chair the charity 'Level Playing Field', and we hear so many positive stories from people whose lives have been changed for the good through being able to follow their team. Level Playing Field is a campaigning and advisory organisation for disabled supporters, governing bodies and other stakeholders across a variety of sports.
We are delighted at the progress that continues to be made ensuring that attending sports events is inclusive and it's incredibly important to see the tremendous work of our staff – and volunteers around the country – isn't going unnoticed.  Access for all is not aspirational – it's a fundamental right  and our work continues."
November
Impact Report release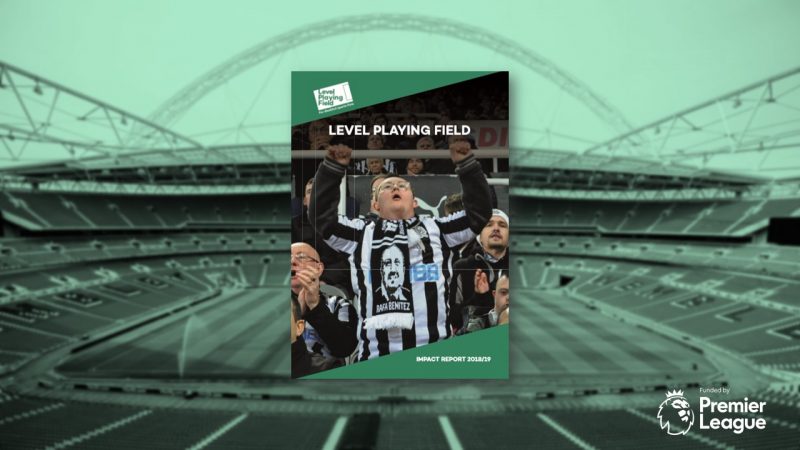 In a huge month for Level Playing Field, the latest annual impact report was released, highlighting all the fantastic work done and campaigns achieved by the Level Playing Field staff, ambassadors, trustees, Clubs, DSA's, governing bodies and so many more.
The report features lots of detailed information around our mission and vision, our new strategy and how we will work alongside the four main pillars; for the Fans, for the Clubs, Campaigns and Knowledge Centre.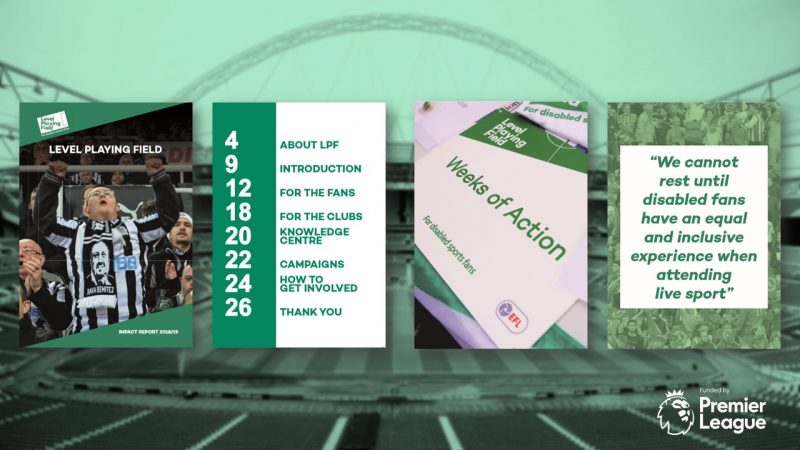 There's lots of features, fact and figures, and messages from the Chair and CEO on what has been a fantastic year for the charity.
Download a copy of the report here, or request a hard copy by emailing ben@levelplayingfield.org.uk.
National Forum
After two debut regional forums in 2019, we went on to host our first ever National Forum. Clubs, DSAs, Fans and Governing Bodies travelled from all over the country to the home of MK Dons, Stadium MK.
We had panel discussions, guest speakers, break-out sessions and plenty of Q&A opportunities for the audience to get involved and ask the all-important questions.
Owain Davies, CEO of Level Playing Field, said:
"We were delighted to welcome so many people to our first National Forum. We had attendees from all over England and Wales  including fans, club staff, governing bodies, disabled supporter associations and  more.
"The day provided many opportunities to discuss the barriers that prevent disabled people from either attending live sport or maximising their matchday, whilst sharing best practice that is already taking place."
Read a full review of our first ever National Forum here.
December
Plan your match day: National League
Level Playing Field are pleased to announce that as well as the 20 Premier League clubs and 72 EFL clubs currently displayed on our website providing accessibility information, 24 clubs have been added from the National League.
With the arrival of difficult winter conditions, it's more vital than ever that disabled fans are able to plan their match day before travelling across the country.
Some grounds may not have the necessary accessible facilities to suit all fans, they may not know what to expect on their arrival. This is why we have a service on our website that enables fans to view the accessible facilities and key contact information to help them decide whether to travel or not.
The feedback we have received for the information we currently have on clubs from the Premier League, Championship, League 1 and 2 has encouraged us to widen our list of clubs which now includes the addition of the National League.
Fans Liaison Officer, Liam Bird, said:
"For many people, football doesn't just stop at the 72 clubs inside the football league. Many football fans want to attend 'non-league' football.
By providing accessible information and relevant contact details for National League clubs, I hope to see a rise in attendance for disabled supporters attending non-league football which in turn (I hope) will see continued access improvements."
As well as collating all the vital information disabled fans need to know, there is also a comment section on each club page for every ground. If you're attending a game in the National League in the near future, help to get the ball rolling by posting your own thoughts, this can help disabled fans plan their match day.
You can find all 116 clubs here, including the National League.
As we end 2019, we would like to thank everyone who has worked alongside us to achieve our goal of Access For All.
Happy new year, from all the staff at Level Playing Field.