Introduction
Level Playing Field's Stewards Training is a unique, competitively priced, and flexible training package.
Level Playing Field's Steward training is a detailed course set up to support match day stewards and provide them with best practice guidance on working with disabled supporters. From extensive research and consultation with disabled supporters and match day stewards, we have identified a need to develop a tailored training package to best support match day stewards.
Who's it for?
The training is designed to support front-line staff. The package is particularly tailored for match day stewards but can be adapted to support any customer-facing staff  & volunteers.  The training is focused on how to empower and support disabled supporters.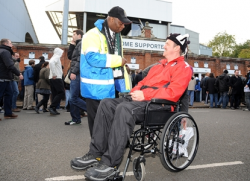 What does it cover
Introduction to Disability
The Role of the Match Day steward
Responsibilities in working with disabled supporters
Practical tips to ensure disabled supporters are understood
Previous cases involving stewards and disabled supporters
How is the training delivered?
The training is designed to be very interactive with a number of activities for the whole group to engage in. Sessions are flexible and can range from 30  – 90 minutes and take place on location. Each session can have a maximum of 15 – 50 participants.
Cost
A 90 minute session will cost £500 not including expenses. These sessions can be bundled together with our Disability Access Officer Training and our Disability Inclusion and Etiquette Training for match day Stewards. Please contact us for more information.
This training is CPD (Continuing Professional Development) accredited.
Email: info@levelplayingfield.org.uk
Phone: 01923 545370